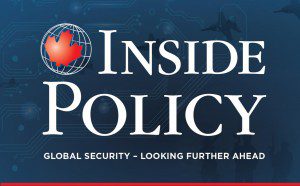 Canada's new foreign and defence policy expresses a noble commitment to a vision of the international system consistent with Canadian values, writes Christopher Sands. But, as he goes to ask, will the government's policy actually deliver?
By Christopher Sands, June 9, 2017
In his first overseas tour, US President Donald Trump met with leaders of Middle East countries and called for a new alliance against Iran, met with NATO allies and called on them to increase defence spending, met with Group of Seven leaders and pledged to support liberalized trade but also to fight unfair trade practices and put America first in his global economic policies. Then, Trump returned to Washington and formally withdrew from US commitments under the Paris Agreement on climate change.
On June 6, Canadian Foreign Minister Chrystia Freeland stood in the House of Commons and delivered an address on the new direction she intended for Canadian foreign Policy. It was in many ways a response to the new direction of US foreign policy. Echoing German Chancellor Angela Merkel, Freeland argued that Canada cannot rely on American leadership, and must support action against climate change under the Paris Agreement framework, promote liberalized trade within North America as NAFTA is renegotiated but also engage with Trans Pacific Partnership countries in a TPP minus one agreement. Freeland committed Canada to uphold multilateralism and partner with likeminded countries to engage rising powers such as India and China in building a stable international order.
Doing all of this, Freeland cautioned Parliament, would require hard power as well as soft power. Her speech was followed by the release of Canada's long-awaited Defence Policy Review, which included commitments to raise Canadian military spending by 70 percent over ten years.
There are three risks that Canada has taken with its new foreign policy direction.
First, although Freeland never mentioned Trump's name, there is the risk that Canada will be seen to be opposed to the Trump administration and the United States in world affairs. The government of Prime Minister Justin Trudeau has been careful and remarkably disciplined thus far in developing a productive and positive working relationship with the Trump administration. Trump himself is notoriously thin-skinned when it comes to criticism, and rejects the charge that his foreign policy abandons US international leadership; rather, the president wishes to lead the world in a different direction than President Obama had, and on a different basis.
There is the risk that Canada will be seen to be opposed to the Trump administration and the United States in world affairs.
Many Americans, particularly in the US foreign policy establishment, are cheering that Canada is staying faithful to the multilateral agenda of the Obama years. Trump too shall pass, they know, and Canada's stance will keep open the possibility that a future president will return the United States to the global consensus.
A similar dynamic took hold during the early years of the George W. Bush presidency. The international community had cheered the multilateral, progressive foreign policy of the Bill Clinton administration and saw Bush as a nationalist and even an isolationist. During the Clinton years, the Kyoto Protocol, the International Criminal Court, the United Nations Conventions on Racism, the Uruguay Round Agreement's creation of the World Trade Organization, and more all placed US resources in the service of a global elite consensus that Bush's election seemed to reject. Indeed, Bush started to change the course of US foreign policy even before the 2001 terrorist attacks on New York and Washington. Efforts to delegitimize Bush in Washington (after the US Supreme Court was forced to intervene to settle a close election) fueled a resistance to the new direction of US leadership. Canada's government, led by Prime Minister Jean Chrétien, sought to hold fast to the Clinton agenda.
Looking back, none of this had much lasting impact. The United States changed its foreign policy direction in the Bush years and the multilateral order struggled to show accomplishments without US, engagement and support. Eventually, some elements of the Bush approach, including the promotion of democracy, confronting terrorism with military and intelligence cooperation, and advancing trade liberalization, won grudging support abroad.
Bush took foreign criticism of his policies in stride. Trump may not.
Bush took foreign criticism of his policies in stride. Trump may not. But the underlying risk for the new Canadian foreign policy direction is the same. Canada might wish that a foreign policy designed to sustain an international agenda absent US support might be effective, and Freeland's views will garner praise from world leaders, but the chances of success remain modest based on historical experience. And unlike during the Bush years, the implicit Canadian criticism of US leadership could spark a negative reaction from Trump and consequences for Canadian interests.
A second risk arises from the expectations of other countries based on this new Canadian foreign policy. To date, Canada has been one of the few countries to manage its relationship with Trump well. Foreign leaders have looked to Trudeau for advice on everything from his read on Washington's influential voices to how to shake Trump's hand without looking foolish. If Canada is now joining "the Resistance" to Trump, at least in foreign policy terms, there will be a new set of requests. Canada will be asked to step in to fund United Nations programs on climate and peacekeeping. Canadians will be approached to contribute development assistance to countries that are not US priorities. And US rivals, from China to the European Union and even Russia will seek to bring Canada into their efforts to stymie Washington's new agenda.
Previous Canadian governments have made similar funding promises, and not just on defence…that never fully materialized.
Will Canada be able to meet all of these expectations? A look at the Defence Policy Review suggests that perhaps it is not. While the document pledges important new military funding, much of it is back-end loaded. Previous Canadian governments have made similar funding promises, and not just on defence – think about the Arctic under Harper or First Nations under Martin – that never fully materialized. The Trudeau government won't deliver on significant new resources for the Canadian Forces until after the next federal election in 2019. And this sets up the third risk in Freeland's new foreign policy.
The third and perhaps most significant risk in Canada's new direction in world affairs is failure. As a middle power, Canada's leadership on a host of issues in international affairs is aspirational. Freeland's vision of Canada's role in the world will appeal to many Canadians as well as many Americans. But as the Bush years demonstrated, events can shift the global agenda, and the United States will not be passive observer but instead continue to assert its influence and attempt global leadership in new directions.
By 2019, the lofty ambitions of Freeland's address will almost certainly be unrealized. How will Canadians view this then? Will voters re-elect a government that tried nobly but failed to turn the tide? If Trump begins treating Canada like he has treated Mexico during NAFTA renegotiations, could Canadians lose market access for important exports? In new markets, will Canadian energy and manufactured be muscled out by US exports? Will Trump's America First policies draw investment and jobs to the United States at Canada's expense because nervous CEOs want to avoid association with a Canadian government that has chosen to resist the Trump agenda – and if so, what will Canadian voters think about the price tag for the feel-good foreign policy that the Trudeau government has set out?
For taking on such risks, Trudeau and Freeland deserve credit. They are expressing a noble Canadian commitment to important issues and a vision of the international system that is consistent with Canadian values.
And risks do not always lead to consequences. Canada may achieve some success in this approach, and mollify Washington in the way that past governments managed relations with the George W. Bush administration by cooperating on a range of issues while championing its own agenda around the world.
This is an important moment for the international system, and Canada's determination to shape the moment, rather than be an innocent and fretful bystander, is commendable. Time will tell whether it Canada follows-through, and whether the Trudeau government can achieve results that meet high expectations.
Christopher Sands is a senior research professor and director of the Center for Canadian Studies at the Johns Hopkins University School of Advanced International Studies and a member of the research advisory board of the Macdonald-Laurier Institute.