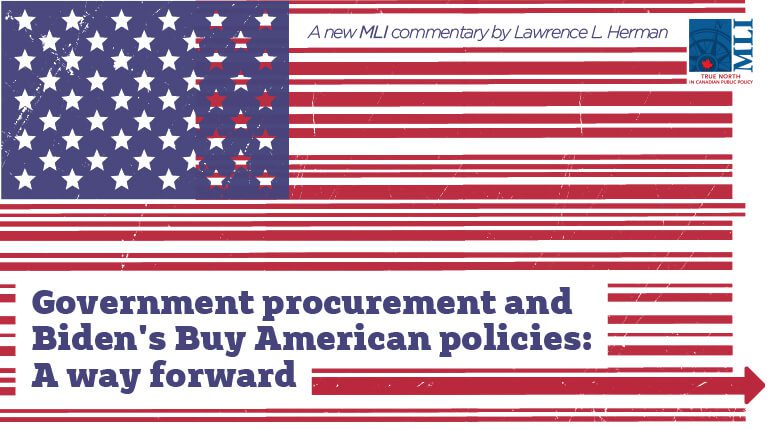 Ottawa, ON (February 25, 2021): In a virtual bilateral meeting, Prime Minister Justin Trudeau and US President Joe Biden discussed upcoming priorities for the two countries. While there were many positive aspects of the Biden-Trudeau meeting on February 22, notably absent from the agenda was the US administration's new Buy American policy.
In a new MLI commentary titled, "Government procurement and Biden's Buy American policies: A way forward," author Lawrence Herman addresses aspects and the implications of Biden's Buy American policies for Canada.
The executive order, signed on January 25, 2021, requires increased preferences for US-made goods in government procurements. Depending on how its policies are implemented, President Biden's order could jeopardize the interests of Canadian suppliers of goods and services to that market. Herman notes that the order would add new restrictions on foreign suppliers to the US procurement market.
The executive order is unclear on exactly how far implementation of policies will go under agreements with the World Trade Organization (WTO). However, under the Canada-US-Mexico Agreement (CUSMA), all Canada-US government procurement obligations will be dealt with exclusively under the Government Procurement Agreement (GPA) within the WTO framework. So, what does all this mean for Canada and Canadian suppliers?
"The US has listed 85 covered entities at the federal level as well as a number in each of the 37 states listed on its GPA schedule. But there are entities and procurements not listed. In those non-listed areas – and they are large – the US has no GPA obligations and can do whatever it likes in terms of expanding Buy American preferences," writes Herman.
Additionally, there are dollar thresholds that must be met or exceeded for GPA obligations to apply. Buy American preferences for any projects that are valued at less than these amounts are not constrained in any way by US treaty obligations. Herman points to other worrisome aspects of the executive order and questions if the implementation of these policies would strike a balance between Canada and the US.
What is needed is dialogue between the two countries, which would help allay the nervousness of Canadian suppliers and governments. Herman argues that Canada's first task is to ensure that the new order doesn't erode Canadian GPA rights. According to Herman, to highlight the benefits Canadian suppliers bring to American procurements, the Canadian government should underscore the value of integrated commercial linkages. We have mutually beneficial interests in not interrupting or limiting these arrangements.
Finally, Herman proposes that the best solution for both countries could be an agreement embodied in a memorandum of understanding (MOU), an exchange of letters, or a bilateral protocol.
"Whatever the vehicle, even if the US does recog­nize our shared mutual interests, the bargaining will be hard – a fact of life in dealing with the United States, regardless of which party controls the White House," concludes Herman.
Read the full commentary here.
***
Lawrence Herman a former Canadian diplomat, practices international trade and investment law at Herman & Associates. He is a Senior Fellow at the C. D. Howe Institute, Toronto. Jon Johnson and Gerry Stobo provided helpful comments in the preparation of this article.
For more information, media are invited to contact:
Brett Byers
Communications and Digital Media Manager
613-482-8327 x105
brett.byers@macdonaldlaurier.ca