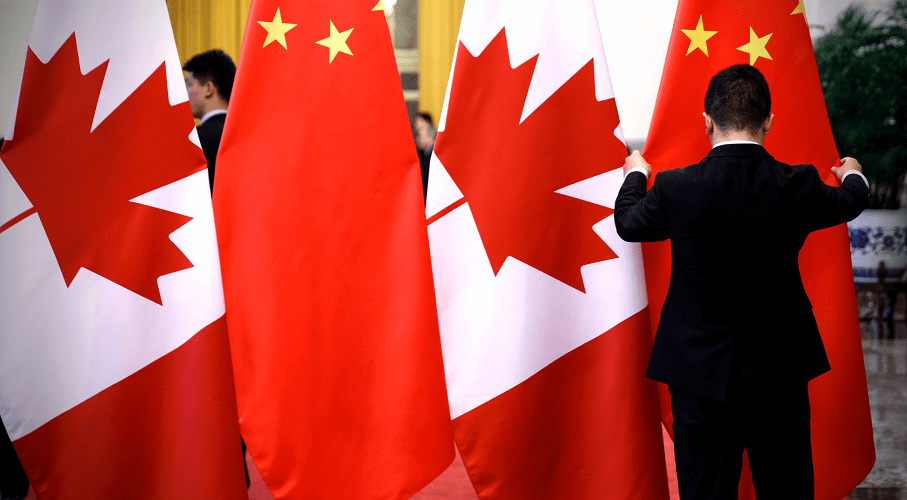 By taking a tough stance, China's bullying tactics will finally be met with resistance. Not only is this morally right, but it is the only way to protect Canadian interests in this dispute, writes Anastasia Lin. 
By Anastasia Lin, July 23, 2019
I'm a Chinese-Canadian. When I was crowned Miss World Canada in 2015, hoping to get a bigger platform to speak about human-rights issues, the Chinese Communist Party tried to silence me by threatening my father and other relatives in China. My family and I were left to defend ourselves against the might of the regime.
I felt frightened and alone. My family was in danger because I had exercised my right to free expression as a Canadian citizen. And my government was not there to support me. I met bureaucrats and diplomats at Global Affairs Canada, asking them to raise the issue with their Chinese counterparts. They insisted the situation was "complex" and they had no "action responsibility." The best they could do was "monitor" such cases, like my father's.
My story illustrates the nature of Communist China. To intimidate overseas Chinese critics, the party uses their families in China for leverage, targeting their livelihoods, reputations and connections. This unprincipled regime functions purely on the basis of fear and reward. Its leaders fear strength and dominate people by exploiting their fear and greed.
For all its economic power and pretence of modernization, China is ruled by the same unrepentant totalitarian state that has killed some 65 million citizens over 70 years. It is the same regime that mowed down peaceful students in Tiananmen Square in 1989. It is the same government that is locking up over a million Uyghur Muslims in concentration camps. It is the same government that arrests innocent Chinese citizens and slaughters them for their organs.
The party takes a similar approach to foreign states and businesses. It pressures governments to act contrary to their democratic principles. It forces foreign companies to turn over their intellectual property as a precondition of doing business in China and otherwise manipulates the domestic Chinese economy to secure unfair advantages.
Western countries, including Canada, have long believed that "engagement" — such as accession to the World Trade Organization in 2001 — will change China for the better. Instead, Beijing has exploited the rules for its own advantage while failing to abide by them.
Since December, China has imprisoned two Canadian citizens, Michael Spavor and Michael Kovrig, in an effort to pressure Canada to release Huawei executive Meng Wanzhou, who faces U.S. fraud charges. China has also held Sun Qian, a dual Chinese-Canadian citizen, since her arrest in February 2017, routinely torturing her because she is a Falun Gong practitioner while our political leaders remain silent.
In this context, Canada's tired "business as usual" appeasement strategy must be abandoned. China will not be persuaded by passivity, and Canadians languishing in Chinese prisons won't be released until we stand up to Beijing. We must take a tougher stance on China, with consistent, measured, and firm responses in order to show that its attempts to coerce Canada will never work.
We should continue to engage our allies in the region to support us in this current dispute, but that will require we prove willing to stand up for ourselves by taking bold action — and we have many tools at our disposal.
For example, Canada should improve our relationships with like-minded countries, such as Taiwan and India, apply Magnitsky sanctions against officials involved in the inhumane treatment of Uyghurs, and pass laws to combat Chinese influence operations in Canada.
We should accept the findings of the China Tribunal and advance further investigations into the organ harvesting of prisoners of conscience. We should also expel or arrest Chinese officials in Canada suspected or known to be engaged in espionage. And the government should ban Huawei from involvement in Canada's 5G.
By taking a tough stance, China's bullying tactics will finally be met with resistance. Not only is this morally right, but it is the only way to protect Canadian interests in this dispute.
For decades, the world has turned a blind eye to Communist China's atrocities in the naive hope that prosperity would lead to political liberalization. This approach now threatens to erode the freedoms Westerners take for granted. If free nations stand up for our principles, it will preserve our own liberty and give hope to the Chinese people, who have endured seven decades of repression.
Anastasia Lin is an actor, human rights activist and former Miss World Canada. She is the ambassador on Canada-China Policy for the Macdonald-Laurier Institute and a senior fellow at the Raoul Wallenberg Centre for Human Rights. "Badass Beauty Queen," a documentary about Lin's story, is available to view online.