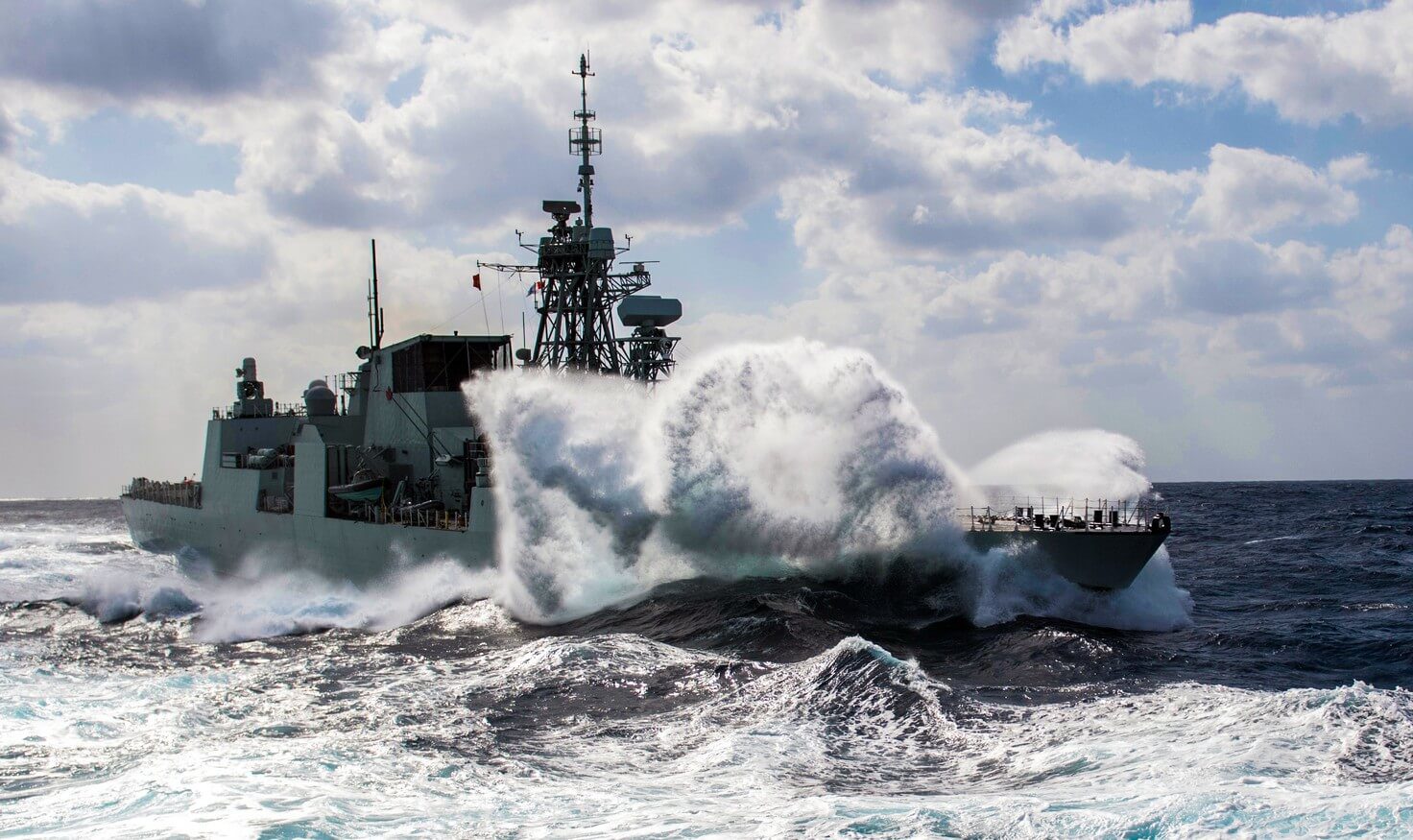 Canada and its allies should step up, work together, and protect the international norms and institutions that safeguard the maritime security of the Indo-Pacific, writes Brett Byers.
By Brett Byers, November 20, 2019
Seven years into Xi Jinping's tenure as China's despot-in-chief, the world has yet to figure out how to deal with China's strongman and this "new era" of Chinese power. Not since the eras of Mao Zedong and Deng Xiaoping has a Chinese leader consolidated so much power or acted so belligerently on the world stage.
In particular, the troubling military behaviour from Beijing has only mounted as Xi continues to consolidate his grip over the Chinese Communist Party apparatus. Whether it be its tense standoffs with India in the Doklam region of Bhutan, its aggressive naval manoeuvres and posturing near Japan's Senkaku Islands—also claimed by China and referred to as the Diaoyu—or its air incursions over the Taiwan Strait, China is presenting a serious security challenge to the entire Indo-Pacific region.
Perhaps most troubling has been Chinese behaviour in the South China Sea, where Beijing has unilaterally laid claim to islets and rocks, built up artificial islands and military outposts, and aggressively patrols its expansive (and heavily disputed) maritime claims.
These maritime challenges are of such concern because the foundations of regional commerce and security are secured through the freedom of navigation and secure sea lines of communication. All manner of international activities are intimately tied to these rules and norms—from the co-ordination of humanitarian disaster relief, to the absurdly large volumes of international commerce.
Take international trade as an example. Though estimates vary, even conservative data suggest that well over $3-trillion of trade transits annually through the South China Sea—the precise region that Beijing is militarizing with the creation of artificial islands and its rapid development of runways, hangars, barracks, and other infrastructure throughout the area.
Allowing Beijing to have a vice grip over maritime routes through the South China Sea would give it significant leverage in its dealings with other countries. China might prove unwilling to actually disrupt trade flows, given the extent to which its own economy is highly reliant on the free flow of trade, but even the spectre of such a threat could prove potent.
With its military outposts in the South China Sea, China is also providing the foundation for a more robust presence for its military and law enforcement forces, and its para-military maritime militia, thereby strengthening its de facto control over this disputed maritime region—and acting as a possible forward-staging area for operations further afield.
So what is to be done? Despite China's aggressive activities, its behaviour (and indeed, the behaviour of other bad actors) can be constrained by pursuing greater security co-operation between allies in the region. Traditionally, the United States has served as a reliable counterweight, but given American retrenchment and inconsistency in foreign policy, other countries may need to step up and play a bigger role.
The key to filling this power vacuum lies within Asia itself. Japan and India have expanded their security and economic partnerships in an effort to restrain a rising China. Both countries have distinct but complementary interests to counter Beijing's power.
India has a long history of competition with China, unresolved border disputes, and contends with China's close ally in the form of nuclear-armed Pakistan. Japan has long been wary about China's rise, even as its own capacity for self-defence remains limited by its pacifist constitution, low defence budget, and over-reliance on the U.S.—weaknesses the Abe government is committed to repairing.
These two countries have been joined by both Australia and the United States, the latter of which has signed significant security agreements with both India and Australia in recent years, and its relationship with Japan remains strong. The "Quad" between the four countries was revived in 2017, following growing tension in the South China Sea caused primarily by China.
Canada's contribution should be to help bring other countries together into this burgeoning group of like-minded states. Ottawa has some capacity (albeit a limited one) to engage in freedom of navigation missions and participate in more multinational military exercises. Our partners in Japan, India, South Korea, Taiwan, Australia, and more would welcome such contributions, even if they are modest.
By doing so, Canada will be further encouraging other middle powers to participate in safeguarding maritime security in the region, signalling to China, in a united and multilateral fashion, that its attempts to coerce the region will ultimately be unsuccessful.
Countries like the United States, Japan, and Australia have also recently expanded their efforts at funding infrastructure development in the Indo-Pacific. While undoubtedly a response to China's Belt and Road Initiative, this co-operation should not be seen as aggressive in nature against China. Indeed, co-ordination amongst our allies on infrastructure development—in light of the massive infrastructure needs across the region—has inherent benefits that go beyond the challenges emanating from Beijing. And Canada should consider participating.
But, as far as security co-operation goes vis-à-vis China, it is best understood as a strategy to limit bad behaviour and encourage China to embrace international institutions. While engagement with China cannot, and should not, be avoided, neither can China's aggression go unanswered. This necessitates a multilateral commitment to the maritime security of the region in a fair but firm manner.
Getting this delicate balance right is difficult, and doing so unilaterally is impossible. This is why, for the sake of the security and prosperity of the world, Canada and its allies should step up, work together, and protect the international norms and institutions that safeguard the maritime security of the Indo-Pacific.
Brett Byers is the communications and digital media manager at the Macdonald-Laurier Institute.