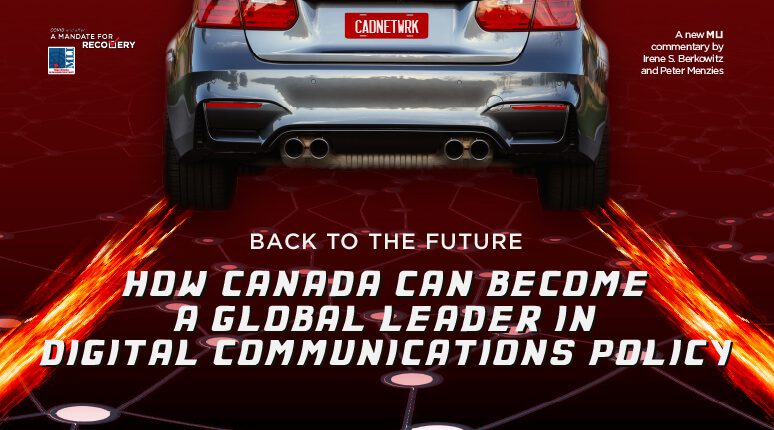 OTTAWA, ON (September 16, 2021): For many years, Canada has fallen behind the world when it comes to updating our digital communications policy, and sadly, over the course of this election, there has been little attention paid to the fact that Canada remains so out of step.
In a new commentary titled "Back to the future: How Canada can become a global leader in digital communications policy," authors Irene S. Berkowitz and Peter Menzies argue that Canadian decision-makers need to break out from the narrow and outdated thinking that has defined telecommunications, broadcasting, and Internet policy for decades. Only then can a world-class communications policy framework be possible.
This commentary is the latest contribution to MLI's COVID and After: A Mandate for Recovery series.
"Canada has an opportunity to seize the global stage with what could be home-run policies for a borderless, global era that goes beyond simply copying approaches by the US, Europe and others," write Berkowitz and Menzies. "This, however, is only possible with visionary, forward-looking legislation, which requires looking towards a future goal – not looking back towards the past and proposing policies based on a bygone era with legislation such as Bills C-10 and C-36."
Commenting on recent failed or misguided reform efforts, the authors argue that policy-makers remain too narrowly focused on attempting to apply Canada's dated regulatory approach to the Internet. They  argue for a rethink that positions the government as an enabler rather than a protector of Canadian content. That way, creators can tap into wide and dynamic audiences around the world and consumers can enjoy the full range of content that the Internet provides.
According to Berkowitz and Menzies, attempts to further regulate the Internet, such as with Bill C-10, exemplify a lack of innovation from government. They note that Canadians are already successfully exporting content: "With 90 percent of views from outside the country, Canadian creators rank first in exports on YouTube." Additionally, further controls on what content Canadian users can consume are unnecessary, unwanted, and could damage content creators' ability to continue to generate revenue online.
What would a world-leading, forward-looking approach to digital communications look like? According to Berkowitz and Menzies, Canada needs to:
Reduce our burdensome regulation in the creative sector and reward creators who produce content for which there is demand;
Create a new Communications Act centred on the Internet and the needs of citizens to access it at a price they can afford, embracing net-neutrality and eschewing preferential treatment for all legal content;
Ensure the needs and interests of citizens – economic and social – are at the centre of the system, rather than the narrow interests of lobbyists and powerful players in the broadcasting and telecommunications space; and
Abandon unilateral state-control approaches to addressing online harms, such as Bill C-36, and instead work with international partners to produce global regulations recognizing that controlling free speech is neither viable nor desirable.
For Berkowitz and Menzies, the role of the next government is to "set the policy stage with progressive legislation that looks forward and not back to the last century; that envisions a Canadian creative sector that aggressively seeks global markets instead of building walls behind which to seek protection."
To learn more, click on the button below.

***
Irene S. Berkowitz, PhD, is a Senior Policy Fellow at Audience Lab, a research group in The Creative School at Ryerson University. She is author of the 2021 book on legacy media, MEDIAUCRACY: Why Canada hasn't made global TV hits and how it can. Peter Menzies is a Senior Fellow with the Macdonald-Laurier Institute, where he specializes in communications policy. He spent almost 10 years as a member of the CRTC, first as a parttime member, then as Alberta and Northwest Territories commissioner, and then as vice chair of Telecommunications.
For more information, media are invited to contact:
Brett Byers
Communications and Digital Media Manager
613-482-8327 x105
brett.byers@macdonaldlaurier.ca