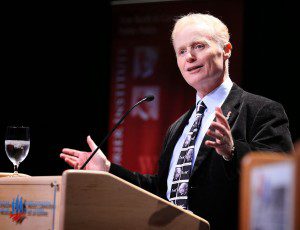 How do you get approval from local communities for natural resource development without subverting the rule of law?
That was a question at the heart of a series of talks given recently by Brian Lee Crowley, the managing director of the Macdonald-Laurier Institute, in northern British Columbia.
Of particular interest was the concept of social licence – the notion that development projects must win public approval before they can go ahead.
Crowley says it's desirable for developers to have a good reputation with local residents, including the Aboriginal communities who have to approve the use of their land. But in recent years the notion of social licence has been taken to such an extreme that it is now subverting the rule of law and democracy.
"There are certain groups in society that are actually opposed in principle to natural resource development", said Crowley, according to the Prince Rupert Northern View.
"They think it's wrong for Canada to be developing its natural resource endowment and they have latched on to social licence and turned it into a kind of right of veto for opponents of natural resource development".
This, he says, undermines the certainty with which businesses can operate – a key driver of their decision to invest in natural resource development.
Crowley spoke at events in Prince Rupert, Terrace and Kitimat.