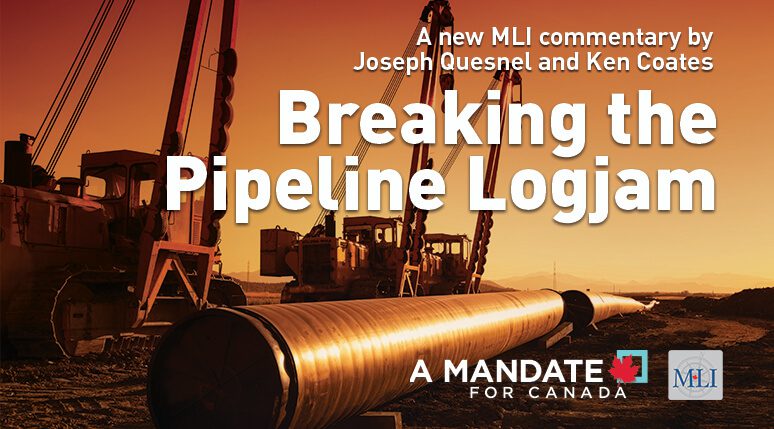 OTTAWA, ON (June 17, 2019):  As the June 18 deadline for federal Cabinet to approve the Trans Mountain expansion project looms and an election campaign approaches, Canadians of all regions are reminded how critical oil and gas pipelines are to Canada's economy.
Moreover, controversial bills affecting energy projects, such as Bill C-48, Bill C-69, and Bill C-262 are facing increased scrutiny and delay in the legislative process.  Over the last several years, Canada has seen oil and gas pipeline projects delayed, scuttled and outright killed for a variety of policy and regulatory reasons. The "pipeline logjam" we are experiencing, according to recent polling, is correctly seen by Canadians of all regions as a national crisis.
In a timely and provocative new Macdonald-Laurier Institute report, MLI program manager Joseph Quesnel and Munk Senior Fellow Ken Coates look at how to resolve the crisis in energy infrastructure facing Canada. Titled "Breaking the Pipeline Logjam," the paper is the latest edition in MLI's new "A Mandate for Canada" series examining key election issues.
In this study, Quesnel and Coates identify the costs of a lack of pipeline capacity, in terms of Canadian jobs, our international competitiveness, and even our federation. The authors also outline the challenges we face in building oil and gas pipelines, especially in terms of federal authority over inter-provincial trade and commerce, but also in terms of our consultation policies with Indigenous communities. They argue that unclear Indigenous consultation and governance protocols can be improved to better facilitate pipeline approvals and ensure Indigenous rights are respected.
"Canadians are beginning to understand what is at stake with the current pipeline logjam. They need to see how this issue affects more than just workers and economies in the West. Delayed and stalled pipelines affect us all. With this paper we aim to provide some guidance to all federal parties grappling with these issues," write the authors.
The authors also argue for a more assertive role for the federal government in ensuring that new pipelines are being built. In this section, the authors draw upon the expert legal analysis of MLI Munk Senior Fellow Dwight Newman, a constitutional expert, in arguing for a renewed federal role in the issue.
"The federal government must stand up for the national interest by taking a robust and direct approach towards supporting the pipeline projects. It needs to recognize that most Canadians support the oil and gas industry and understand that the delays have created a national crisis. The government of Canada must immediately abandon its tepid, non-confrontational approach and embrace its proper position as a leader in building inter-provincial pipelines," write Quesnel and Coates.
Lastly, the authors also provide a roadmap for helping overcome the pipeline logjam. In it, they provide realistic and practical recommendations for any federal political party to adopt as we approach the next federal election.
"All political parties running in the 2019 election must indicate that they understand the critical importance of pipeline projects to Canada's national economy and vital national interests. The pipelines issue has implications for the future of our federation and for the time-sensitive matter of Indigenous reconciliation," the authors conclude.
The authors recommend the following concrete steps to move past the pipeline logjam:
The Federal Parliament should insulate these pipelines from delay by passing legislation to better facilitate pipeline construction.
Ottawa must develop, in direct consultation with Indigenous organizations, clear protocols on the duty to consult with and accommodate Indigenous peoples on development projects.
Ottawa must also work with Indigenous communities on establishing governance protocols that make it clear who speaks for the community on resource development.
The federal government must support Indigenous engagement with pipeline development, including ownership and environmental oversight, in part by providing access to equity capital.
The federal government must delay Bill C-69 for at least three years to allow for improvements to the legislation and to permit the industry to rebound from current difficulties. The government must scrap Bill C-48.
Canadian supporters of the energy sector must make sure that Canadians understand the forces that are influencing national debates and conversations. The federal government needs to take an active role in exposing the foreign-funded groups that are undermining our economic interests.
To read the commentary in full, click here.
***
Joseph Quesnel is program manager of MLI's Aboriginal Canada and the Natural Resource Economy (ACNRE) project. Ken Coates is MLI's Munk Senior Fellow in Aboriginal and Northern Canadian Issues. He is the Canada Research Chair in Regional Innovation in the Johnson Shoyama Graduate School of Public Policy at the University of Saskatchewan.
For more information media are invited to contact:
David Watson
Managing Editor and Communications Director
613-482-8327 x 103
david.watson@macdonaldlaurier.ca