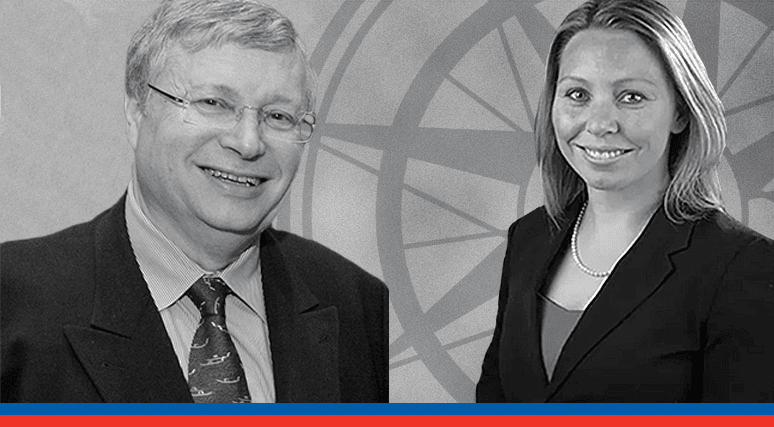 OTTAWA, ON (April 9, 2021): The Macdonald-Laurier Institute is pleased to welcome Aurel Braun and Heather Exner-Pirot to our Advisory Council and roster of fellows, respectively.
"MLI is fortunate to have worked extensively in the past with Aurel Braun, helping us shape how Canadians think about Eurasia, Russia, and Eastern Europe," says MLI Managing Director Brian Lee Crowley. "Aurel's participation on our Advisory Council will undoubtedly sharpen MLI's already substantial thought leadership on the dangers posed by a resurgent Russia to Canada, Europe and the liberal world order."
In addition, according to Crowley, "few Canadians can match Heather Exner-Pirot's understanding of the complex challenges and opportunities facing the Arctic, Northern Canada, Indigenous peoples, and rural communities. We are pleased to have Heather join our team of fellows and expand our indispensable work on these important issues."
Aurel Braun is currently a Professor of International Relations and Political Science at the University of Toronto. He is also a Center Associate of the Davis Center at Harvard University. Braun is also a senior member of the Centre for Eurasian, Russian and East European Studies at the Munk School of Global Affairs, and a Fellow and Senator of Trinity College, all at the University of Toronto.
Braun specializes in communist affairs and strategic studies with a specific focus on the transformation of the socialist systems in the former Soviet Union and in Eastern Europe. He is also a specialist in international law. He is the author and/or editor of several books. His latest book is NATO-Russia Relations in the 21st Century. His forthcoming book is on Russia, the West and Arctic Security.
"Aurel Braun is a force," says MLI Munk Senior Fellow and Foreign Policy Program Director, Shuvaloy Majumdar. "We have been fortunate to work with Aurel many times in the past, and his insights on the dangers posed by a resurgent Russia are second to none."
Heather Exner-Pirot is a Research Advisor to the Indigenous Resource Network. She has worked with the Indian Resource Council and National Coalition of Chiefs on advocacy and research, and has been a Board member with the Saskatchewan Indigenous Economic Development Network for eight years. She has held several positions related to health, education and development in northern communities at the University of Saskatchewan, the International Centre for Northern Governance and Development, and the University of the Arctic. She is currently a senior consultant with Morris Interactive.
With over 15 years of experience related to Indigenous and northern economic development, Exner-Pirot's large body of work has been recognized both nationally and internationally. She is the author or editor of dozens of peer-reviewed journal articles, book chapters, and more, presenting often at workshops and conferences provincially, nationally, and internationally.
According to Ken Coates, MLI Munk Senior Fellow and Indigenous Policy Program Director, "anyone who works with or has engaged with the work of Heather Exner-Pirot knows that she is among the brightest and most talented advocates for Indigenous economic reconciliation."
"With Heather on board as a Fellow, more Canadians will be introduced to her rich expertise. It is an honour to have her on our team."
For more information media are invited to contact:
Brett Byers
Communications and Digital Media Manager
613-482-8327 x105
brett.byers@macdonaldlaurier.ca