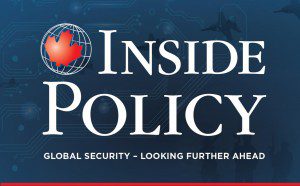 Recent arrests of Bombardier Transportation employees in Sweden reveal a web of corruption involving Russia, writes Marcus Kolga. Canadian companies and investors would do well to remember this danger when doing business in Russia.
By Marcus Kolga, March 30, 2017
 Doing business in Russia is a risky proposition. Canadians witnessed the latest evidence of this after a Russian employee in Bombardier Transportation's (BT) Sweden office was arrested on suspicion of aggravated bribery and several others staff members were questioned by Swedish authorities.
Bombardier has been implicated in web of corruption that was first revealed in the Panama Papers. At its center is a shady Kremlin connected offshore, Multiserv Overseas Ltd, which has served as slippery intermediary for transactions between BT Sweden and various Russian joint ventures.
Swedish prosecutor, Thomas Forsberg, told media that BT's European head of sales, Evgeny Pavlov, was suspected of colluding with Azerbaijan Railways in order to secure a $288 million contract. The winning bid was made by a joint venture called Trans-Signal-Rabita – primarily owned by BT Sweden and its joint venture with Russian Railways called BT (Signal) – to improve Azeri railroads as part of a large World Bank funded project.
Included in the court documents filed in Stockholm are corporate Bombardier emails obtained by Swedish authorities, which back up initial reports of Bombardier's connection with the Russian offshore company Multiserv Overseas. According to the reports and documents, Multiserv was used as an intermediary for sales between BT Sweden and its Russian joint ventures – BT (Signal) and Elteza (jointly owned by BT (Signal) and Russian Railways). The Panama Papers report claims that Multiserv bought railway equipment from BT Sweden and then sold it on to Trans-Signal Rabita in the case Azerbaijan (and BT [Signal] and Elteza more broadly) at steeply inflated prices.
In an official Bombardier email, filed as evidence by Swedish prosecutors, a member of the Bombardier corporate team writes that arrested employee Evgeny Pavlov, "more or less admitted that Multiserv is in his view owned by the management of the public sector companies involved in these trades and used as a vehicle to siphon monies from the public sector into private pockets? The question then was whether we really wished to be involved in that. Is there any update on this?" The email indicates that members of Bombardier staff were aware of Multiserv's function as a mechanism that facilitated corruption.
The role of former head of Russian Railways Vladimir Yakunin, a confidant of Putin and seemingly at the centre of many of these developments, is another factor.
What remains to be seen is how far and deep this investigation will spread. Did Bombardier officials in Canada know about the Multiserv connection? In addition to being named in the Swedish court documents, has Bombardier's joint venture with the ultra-corrupt Russian Railways, Elteza and BT (Signal), engaged in similar activities? The role of former head of Russian Railways Vladimir Yakunin, a confidant of Putin and seemingly at the centre of many of these developments, is another factor. Why the US government has placed him on their sanctions list, but Canada has not, is a question that needs to be answered.
Bombardier's Russian problems serve to underscore a simple rule that Canadian businesses and investors should follow: take extraordinary care if you risk doing business in Russia and avoid it if possible.
A perennial bottom dweller in most international corruption tables, Russia ranks among the most corrupt states on earth and is second only to China in the outflow of illicit funds. When doing business in Russia, corruption is unavoidable and theft and expropriation are commonplace.
The long list of global examples should be heeded by all foreign governments and investors.
Among them is the theft of Hermitage Capital, a Moscow-based fund, headed by US born investor Bill Browder, which was once the single largest source of foreign investment into Russia.
In 2007, Russian tax officials raided the Hermitage offices and seized critical corporate documents, seals, and other files. The practice, known as "corporate raiding," became commonplace in Putin's Russia throughout the early 2000's. The Hermitage documents were then used by Russian officials to seize control of three Hermitage subsidiaries which were then used to orchestrate the largest tax fraud in Russian history. When Hermitage lawyer, Sergei Magnitsky, exposed the fraud committed by Russian officials against the Russian State, he was arrested, jailed, and tortured. He would later die in a filthy Moscow prison after being beaten and neglected.
In the late 1990s, Shell signed an agreement to tap into Russia's far Eastern oil and gas reserves to develop capacity to extract and export the resources. As the project approached completion after years of work and an investment of over $22 billion, Russian Ministry of Natural Resources suddenly appeared and revoked building permits, delaying work and putting the entire project at risk.
The mysterious environmental issues, which suddenly emerged after 12 years of work, were leveraged by the Kremlin to force Shell and its Japanese partners to give up half of their stake in the Sakhalin II project to Gazprom.
The project was hijacked and held for ransom by Kremlin officials, leaving Shell with no other option but to hand over their shares in the project at a fraction of their real value.
One oil analyst characterized the Kremlin's position at the time: "When a guy says
'Give me half of what is in your pocket, or I shoot you and kill you'; you give him half and say, 'Thank God I am alive to live another day.'"
The Canadian government should be actively warning Canadian firms and investors about the risks of doing business in Russia and with Russian firms.
The Canadian government should be actively warning Canadian firms and investors about the risks of doing business in Russia and with Russian firms. Canada's Corruption of Foreign Public Officials Act must also be actively enforced to ensure that Canadian firms do not perpetuate corrupt practices and should be amended to force transparency disclosures whenever Russian corporations are engaged.
Ultimately, Canadian investors would be wise to approach any firms or groups with interests in Russia or with Russian companies with extreme caution and avoid them whenever possible.
Marcus Kolga is a Senior Fellow at MLI's Foreign Policy Centre. He is a documentary filmmaker, communications consultant, and the publisher of UpNorth.eu.