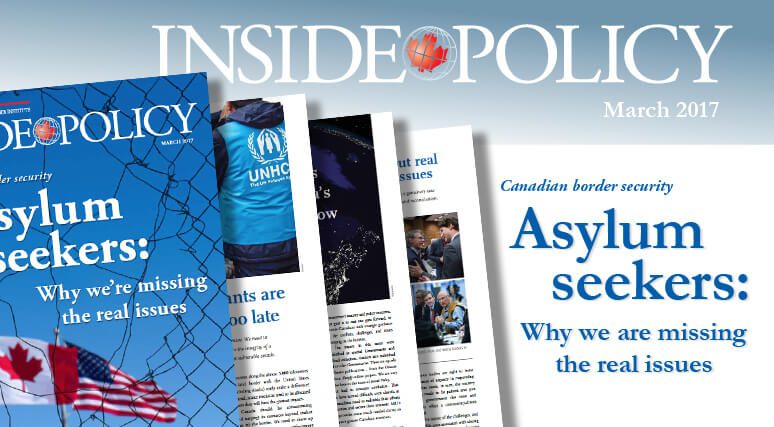 Christian Leuprecht on why the current influx of refugees from the United States into Canada should have us focusing on what we do before illegal border crossers arrive at our doorstep
OTTAWA, March 27, 2017 – A string of highly-publicized illegal border crossings has blown the lid off a simmering debate about resources at Canada's borders.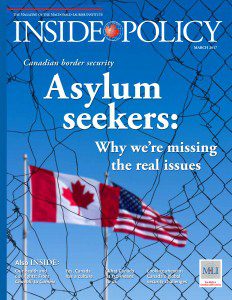 Do we have enough officers posted along the 49th parallel? Would a few more Mounties help stem the slight increase in refugee claimants?
But to Christian Leuprecht, MLI Munk Senior Fellow, these are the wrong questions to ask.
In the cover story for the March 2017 edition of Inside Policy, the magazine of the Macdonald-Laurier Institute, Leuprecht lays out an effective strategy for maintaining the integrity of Canada's refugee system.
"Canada should be concentrating – and surging — its resources beyond – rather than at – the border", writes Leuprecht. "We need to shore up intelligence and immigration enforcement capacity to ensure fair and equitable access to protection for the world's most vulnerable people".
To read the full edition of the magazine, click here.
The problem, says Leuprecht, is that by the time refugee claimants arrive at the border it is too late. Instead Canada should be bolstering its work with its allies to avert the flow of illegal migrants before they set out, and ensuring enough resources to enforcing the rules.
"Canada should be concentrating – and surging — its resources beyond – rather than at – the border" -Christian Leuprecht
The stakes are high, says Leuprecht. Canada's immigration and refugee policy exists on a delicate balance of welcoming people in greatest need of resettlement without letting in so many that the system is overwhelmed.
Also in this issue of Inside Policy:
Some of the top experts weigh in on the big global security challenges facing Canada, from MLI's Global Look Ahead project
Charlotte Gray and Ujjal Dosanjh on what Canada 150 means to them
Legal expert Stanley Hartt explains how we got from the Chaoulli to Cambie
Philip Carl Salzman asks: Does Canada have a culture?
Sean Speer says if Canada wants to avoid Trump-style populism it should pay attention to its stagnant labour force participation rate
Ken Coates on Ottawa's progress on Indigenous issues
Brian Lee Crowley on why we will never run out of work
***
Inside Policy, the flagship magazine of the Macdonald-Laurier Institute, is published four times a year.
The Macdonald-Laurier Institute is the only non-partisan, independent national public policy think tank in Ottawa focusing on the full range of issues that fall under the jurisdiction of the federal government.
For more information, please contact Mark Brownlee, communications manager, at 613-482-8327 x105 or email at mark.brownlee@macdonaldlaurier.ca.