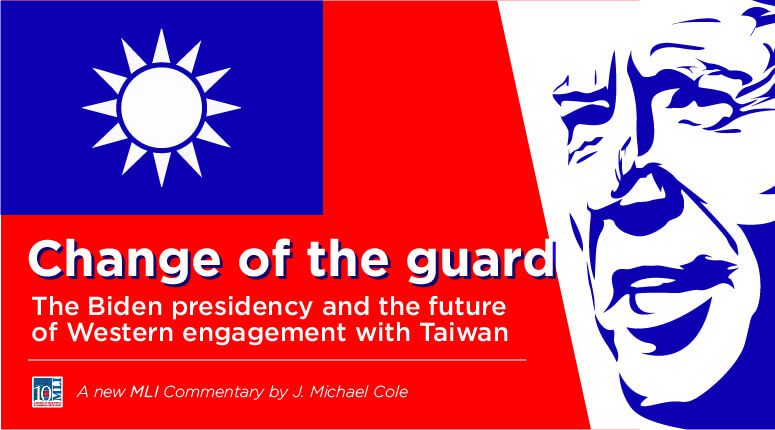 OTTAWA, ON (November 12, 2020): As the US transitions to a new administration, one of the biggest questions is how the Biden presidency will impact America's approach to foreign affairs. This is particularly a concern for vulnerable partner countries like Taiwan, which depend on stability and dependability in Washington.
In MLI's latest commentary titled "Change of the Guard: The Biden Presidency and the Future of Western Engagement with Taiwan," MLI Senior Fellow J. Michael Cole examines what the incoming Biden administration means for Taiwan and the implications for Canada. His analysis suggests that Biden's approach will have a large degree of continuity with the outgoing Trump administration.
"While the tone of US policy toward China and Taiwan is likely to become less bellicose under a Biden administration, we can nevertheless expect continuity in Washington's overall approach to the trilateral relationship," argues Cole. "This is largely due to a structural shift in Sino-American relations."
Cole delves into how, starting in 2016 and proceeding until present, the Trump administration began deepening its engagement with Taiwan and assuming a more assertive posture toward China. The sustained efforts by President Trump were a surprise to many observers, although Cole attributes the bulk of the policy to a natural, bipartisan shift in US strategic thinking.
Though Trump may have facilitated the shift away from Beijing and toward Taipei, Cole suggests that this transition would have likely occurred irrespective of who occupied the Oval Office. It is unlikely the Biden administration will reverse this policy shift. For his own part, President-elect Biden – who served as Vice President during the Obama administration's "pivot" or "rebalancing" to Asia – has indicated his support for Taiwan.
Even if Biden were inclined to soften his approach in the region, it is unlikely he would be able to do so. With Republicans likely to retain control of the Senate and a Congress that has also demonstrated high support for Taiwan, the political reality is that the incoming Biden administration will be obliged to maintain a tough-on-China policy while continuing robust engagement with Taiwan.
Furthermore, China's own aggressive actions, including its abhorrent human rights abuses against Uyghurs, military incursions on land, sea and air, and authoritarian oppression of Hong Kong, continue unabated. Cole argues that Beijing's belligerence will remain a major driver of US policy in the region.
With an incoming US administration that will likely be less hostile towards Canada, Cole suggests that Ottawa should seize upon this moment to strengthen engagement with Taiwan and assume a firmer posture toward China. Not only is this inherently in Canada's interests, but with continued US leadership, Canada can operate with greater certainty.
"The removal of the Trump irritant, along with assumed continuity in Washington's engagement with Taiwan on democracy promotion, should encourage Ottawa to initiate a more sustained – and public – relationship with Taiwan on such matters, possibly as part of a more multilateral approach."
To learn more about what the election of Joe Biden means for Western engagement with Taiwan, read the full commentary here.
***
J. Michael Cole is a Taipei-based senior fellow with the Macdonald-Laurier Institute, the Global Taiwan Institute in Washington, D.C., and the Taiwan Studies Programme at the University of Nottingham, UK.
For more information, media are invited to contact:
Brett Byers
Communications and Digital Media Manager
613-482-8327 x105
brett.byers@macdonaldlaurier.ca