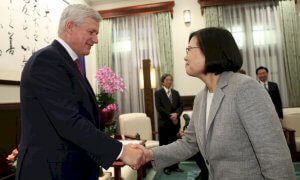 Canada should stand by its principles or, at a minimum, hold the line when it comes to protecting its interests and those of its private citizens, writes J. Michael Cole.
By J. Michael Cole, October 15, 2019
A recent visit to Taiwan by former Canadian Prime Minister Stephen Harper has drawn the ire of the Chinese government and the usual overcautious response by the Canadian government.
Besides promoting his 2018 book and his consultancy, Harper, who travelled in his personal capacity, delivered a keynote address at the annual Yushan Forum in Taipei and had private meetings with Taiwanese President Tsai Ing-wen of the Democratic Progressive Party as well as Wu Den-yih, the chairman of the opposition Kuomintang.
Beijing, which claims sovereignty over the democracy of 23 million, bristles at any notion that the Taiwanese government could have interactions with top foreign officials, current or former. Its response did not disappoint. In a statement to the Globe and Mail, the Chinese foreign ministry stated that "China expresses strong dissatisfaction with the relevant Canadian person's [Harper] visit to Taiwan and has lodged serious representations to the Canadian side … We urge Canada to fully recognize the sensitivity and complexity of the Taiwan issue, to earnestly abide by the one-China principle and properly handle Taiwan-related issues."
The US has been able to brush off such warnings largely because it is a superpower; former president Bill Clinton, for example, had visited Taiwan on a number of occasions, also in his personal capacity.
Middle powers like Canada, however, often are much more loath to attract Beijing's ire and will either yield to the pressure or refuse to admit they had anything to do with a visit by a former official, which is what Global Affairs Canada (GAC) did over Harper's travels to Taiwan earlier this month.  "The Government of Canada was not involved in the planning or facilitation of this visit in any way," a spokesman for GAC told the Globe, which suggests that if the government of Canada had been involved it somehow would have violated some unwritten rule.
As governments give in to this kind of pressure, Beijing feels emboldened and encouraged to persevere with its bluster – because it works. Far too often, governments back off and consequently engagement with Taiwan, even at the unofficial level, is curtailed. Given the allegations (denied by Ottawa) that the Prime Minister's Office earlier this year pressured David Mulroney, a former ambassador to China, to refrain from commenting on certain controversial issues on China, Beijing may have hoped that its warnings would perhaps dissuade Mr. Harper, or compel Ottawa to recommend to him that he skip his visit to Taiwan.
Risk avoidance only partly explains why governments tend to play into China's undiplomatic conduct, however. Another factor is the lack of awareness, even among government officials, about Canada's relationship with Taiwan and the "one China" policy that governs those interactions. Under Canada's "one China" policy – and it is important here to state that Ottawa adopted its own policy on "one China" upon establishing formal ties with the People's Republic of China – there is nothing that says that a former senior government official, party leader or even head of state cannot, in his or her personal capacity, engage with Taiwanese officials, visit Taiwan, or conduct business with Taiwan.
Beijing's démarche was mere bluster, a misreading of Ottawa's "one China" policy. In fact, even Beijing's "one China" principle, with which it often hopes to confuse its foreign interlocutors by making it coterminous with a country's "one China" policy, does not disallow such contacts. (Beijing's "one China" principle isn't a document or a law, but rather a rigid expression of its annexationist policy toward Taiwan; a "one China" policy is the text adopted by a country upon the establishment of formal diplomatic relations with the People's Republic of China; in Canada's case, the policy simply "takes note" of Beijing's contention that there is only "one China" and that Taiwan is part thereof.)
As there is no basis in law or diplomatic agreements for Beijing to set the rules on which private citizens of a country can or cannot interact with Taiwan, the fact that Beijing tried to do so signals vulnerability on Ottawa's part, a vulnerability that the Chinese have clearly identified. Rather than distance itself from Mr. Harper's visit to Taiwan, or rather, in addition to stating that it did not provide assistance to or facilitate the visit, GAC should immediately have emphasized that, under Canada's "one China" policy, it is entirely permissible for a former prime minister, as a private citizen, to embark on such a trip to Taiwan (in fact senior government officials are well within their rights to visit Taiwan).
In no way would this have violated the conditions under which Ottawa established diplomatic relations with the People's Republic of China. Instead, Ottawa's timid response underscored weakness, with the real possibility that Beijing will try again next time. By so doing, we are, quite alarmingly, giving Beijing undue extraterritorial powers: control over the free movement of our own people, and final say over Taiwan's control of its own borders and immigration.
Ultimately, Beijing's anger over Mr. Harper's visit to Taiwan demonstrates its extreme insecurity vis-à-vis Taiwan's ability to continue to engage the international community despite China's intensifying efforts since 2016 to isolate Taiwan. To its credit, the Tsai administration, even following the loss of seven official diplomatic allies, has successfully countered Beijing's coercive strategy through constructive engagement at the unofficial level with a number of significant economies and democracies.
Additionally, in an increasingly China-skeptic global context – the result, in part, of revelations of concentration camps in Xinjiang, "sharp power" operations undermining democratic institutions worldwide, and the unrest in Hong Kong – more and more, this kind of pressure by Chinese officials has tended to backfire, as we saw recently in Stockholm when at Beijing's behest a hotel refused to lend its venue to host Taiwan's Double Ten National Day celebrations, which was moved to a museum instead. Or with the City of Prague, which pulled out of a sister-city agreement with Beijing over its refusal to incorporate a "one China" clause in the deal.
If small countries – cities, even – can stand up to Beijing, surely a country like Canada can also, when the occasion calls for it, stand by its principles or, at a minimum, hold the line when it comes to protecting its interests and those of its private citizens.
None of this requires Ottawa to go out of its way to alienate Beijing; it simply calls for Ottawa to request that the Chinese authorities respect their part of the deal under the "one China" policy. This isn't only about showing strength – it's also about self-respect. If we can't hold our own, how can we expect a regime that is perpetually on the lookout for and seizes upon others' weakness to respect us?
Michael Cole is a Taipei-based senior fellow with the Macdonald-Laurier Institute, the Global Taiwan Institute in Washington, DC, and the Taiwan Studies Program at the University of Nottingham, UK.