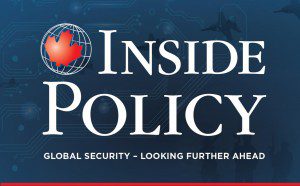 Canada's new defence white paper has created an image of a more muscular Canadian approach to defence, writes Andrew Richter. Yet its impact will likely fall far short of expectation.
By Andrew Richter, July 31, 2017
Prime Minister Justin Trudeau, never shy of media attention, was recently featured on the cover of Rolling Stone magazine. The opposition was quick to criticize what it saw as the at times fawning coverage in the magazine, even as supporters were keen to highlight the potential political capital afforded to what remains a very popular political leader, at home and abroad. One less noticed element of that story was the author's frequent mention of Canada's more muscular approach to security and defence – from the increase in defence spending to its current military deployment to Latvia.
Such comments are to be expected, following the government's recently unveiled defence white paper, which carried a more muscular tone and recognized the need for Canada to re-equip its military.  Yet a more careful parsing of this document also shows that they are misplaced. Despite some laudatory promises, most of the planned spending increases are not scheduled to kick in for several years. Thus, while perhaps the most significant defence review in decades, the new White Paper is unlikely to change the larger arc of Canadian defence spending.
Admittedly, Liberal leader Justin Trudeau did not exactly make defence one of his campaign priorities in the October 2015 election – although neither for that matter did Conservative Prime Minister Stephen Harper.  However, Mr. Trudeau did promise that should his party win power, it would undertake a thorough defence review.
Even after a decade in opposition, and two decades since the enormous defence cuts of the Chrétien era, the Liberals retained an uncanny ability to create defence controversies.
Yet the Liberals stayed largely silent on defence through the government's first six months in office. Indeed, defence did not figure prominently in their first budget in March 2016, outside of a promise to strip $3.7 billion in funding and "re-profile" it to some future point – an accounting trick borrowed from the Conservatives.  While the government maintained that this was not a spending cut, it was not a particularly auspicious beginning in terms of their defence governing.  Within a few weeks, however, the government bowed to pressure and announced the beginning of its promised defence review.
With regards to procurement, little progress was made during the government's first year in office. Several developments, however, did take place with regard to the fighter replacement program. And as they reveal, even after a decade in opposition, and two decades since the enormous defence cuts of the Chrétien era, the Liberals retained an uncanny ability to create defence controversies.
While in opposition, the Liberals had openly opposed procuring the F-35 Joint Strike Fighter, arguing that it was too expensive and was poorly suited for operations in Canada's North.  At the same time, Mr. Trudeau said that a Liberal government would hold an "open and transparent" competition to replace the aging CF-18s.  How to reconcile these two competing promises has never been made clear.
In the fall of 2016, the government came up with a partial solution – purchasing 18 new Super Hornets as an "interim" capability, since in their view the existing CF-18s were now incapable of carrying out Canada's defence commitments (a charge that the CAF vigorously denied, and which had never been made before).  At the same time, the government insisted it still intended to hold a permanent fighter competition, and further maintained that the F-35 would be invited to take part.
Given how the Liberals have approached the issue, there is plenty of grounds for scepticism regarding that promise. And the "interim" purchase plan is now in doubt. Just a few weeks before the White Paper's release, the government announced that it was "reviewing" all Boeing related procurement projects, owing to US trade action against Bombardier.  Thus, the government's plan on this critical file remains a mystery.
All of which brings us to the White Paper, which attempts to put defence spending on a more sustainable path.  Thus, it calls for a spending increase of $13.9 billion over the next decade, from about $19 billion in 2017 to $33 billion in 2027.   All told, the paper promises $62.3 billion in new spending over 20 years.  The additional funding will help pay for an array of procurement projects, allow the CAF to expand by 5,000 additional regular/reserve troops, and help increase Canada's capabilities in cyber protection and cyber warfare.  Also included were measures intended to please the party's progressive wing, by reducing the military's carbon emissions, increasing the number of women in the force (to 25 percent), and providing better health care and support for veterans and their families.
Notably, the review does not call for sizable spending increases anytime soon, but rather after the next election in 2019.
Spending increases were justified owing to three concurrent trends – growing tensions between global powers, the changing nature of conflict, and rapid technological advancements. In terms of spending as a percentage of gross domestic product, the review predicted that by 2025 the number would be 1.4 percent of GDP – still below the NATO target of 2 percent but considerably better than today's 1 percent.  However, part of that increase is from a change in how defence spending is calculated.[1]
Notably, the review does not call for sizable spending increases anytime soon, but rather after the next election in 2019.  Only $6.6 billion in new money comes during the plan's first five years, with about $24 billion earmarked between years 6 and 10.
A good chunk of the additional funding will go to procurement.  With regards to new warships, the price tag to design and build new frigates in Canada, which was budgeted a decade ago at $26 billion, has now been increased to a more realistic $60 billion. The uncertainty over the size of the program also ended, with the promise of 15 new ships to be built.  As for the fighter jet replacement, the government re-iterated its commitment to purchase a new fleet, and increased both the size of the planned purchase (from 65 to 88 aircraft), and its budget (from $9 billion to between $15 and $19 billion).
Perhaps wisely, the paper contained only a brief discussion of the "interim" purchase of F-18s, refraining from saying anything of substance.  Additional funding will also go to the purchase of new drones, improved space research technologies, and enhanced CAF joint capabilities.
Without question, the White Paper represents a pivot for a government that had not campaigned much on either defence or the need to re-equip the military, preferring instead extensive (and expensive) promises on education and health care.  In addition, it was an attempt to send a signal to its NATO allies, not least the US and its unpredictable new president, that Canada can be counted on to make a bigger contribution to Western defence.  Indeed, within days of the paper's release, US Defense Secretary James Mattis applauded it, saying that he welcomed "Canada's marked increase in investment in their military."
If the government was truly committed to strengthening the military, it would have increased spending immediately.
There is much to like in the White Paper, including its long-term funding plan, its more realistic projected procurement costs, and its commitment to Canada's veterans.  However, the biggest problem is the very long timeframe and the resulting doubts over whether future governments will feel bound to these spending pledges. Indeed, it is possible that even future Liberal governments will not feel bound.  Put simply, delaying spending for a decade or more raises serious doubts about the plan's prospects, and suggests that this is largely a symbolic exercise.
If the government was truly committed to strengthening the military, it would have increased spending immediately.  But Prime Minister Trudeau likely calculated that there was little political support for such a move, and as a result it was simply not worth the effort.  In this, he was largely following his predecessor, as Stephen Harper's initial enthusiasm for defence renewal gradually weakened over the course of his tenure.
An additional concern is how much of a difference the new money would make.  Thus, even with the full $62.3 billion accounted for by 2025 (as the document does not provide estimates beyond that year), and keeping in mind the change in how such spending is now calculated, spending will still only amount to 1.4 percent of GDP.  Analyst Thomas Juneau has determined that the new spending formula accounts for about half of the increase, and thus the "administrative magic" (as he terms it) is largely an accounting trick.
An entirely different concern relates to the larger strategic context of the White Paper. The paper commits the government to cooperate closely with its "most important military ally," the United States.  As it concludes: "This relationship is critical to every aspect of Canada's defence interests and economic prosperity" (italics added).  Cooperating with the US in the defence of North America and beyond has been an explicit Canadian defence objective since at least 1964.  In this regard, the White Paper merely repeats long established practice.
However, the government has also indicated that its view of the US has changed quite dramatically under President Trump.  Just before the White Paper's release, Foreign Affairs Minister Chrystia Freeland gave a speech in Parliament where she raised significant doubts about whether the US was still prepared to act as the leader of the free world – and whether Canada could consequently continue to rely on it.  As she noted, "the fact that our friend and ally has come to question the very worth of its mantle of global leadership, puts into sharper focus the need for the rest of us to set our own clear and sovereign course."
The discrepancy between this statement and the language used in the White Paper raises questions. If Canada can no longer look to the US for leadership, then why does it still seem prepared to accept the status quo vis-à-vis defence planning in North America?  While Freeland's concerns seem reasonable given some of President Trump's statements, they do not correspond with the larger defence picture laid out in the White Paper.
If Canada can no longer look to the US for leadership, then why does it still seem prepared to accept the status quo vis-à-vis defence planning in North America?
In sum, this observer cannot find much ground for optimism with regards to the new defence White Paper.  Despite some positive developments, such as its commitment to modernize the force, the time horizon is too long and the numbers do not quite add up.  As such, it is likely to mirror prior exercises in 1987 and 2008, when planned spending increases quickly disappeared in the face of ballooning budget deficits.
Unfortunately, whenever spending needs to be cut, the first option for the number crunchers at the Finance Department is to look toward the Department of National Defence, and its seemingly enormous and discretionary budget.  With Liberal deficit projections spreading literally as far as the eye can see – a Finance report in January warned that the red ink could flow to 2051! – it seems likely that the current exercise will suffer much the same fate.
The Trump administration may have taken note of the government's defence plans, as the Rolling Stone profile of Justin Trudeau argued. But that also raises an important question – how will Washington react when these much lauded promises are left unfulfilled?
Andrew Richter is an Associate Professor of Political Science at the University of Windsor.  He has published in a wide range of journals, including Comparative Strategy, Naval War College Review,  and American Review of Canadian Studies.  He is also the author of Avoiding Armageddon: Canadian Military Strategy and Nuclear Weapons, 1950-63.
---
[1] The White Paper said that in future, the calculation of defence spending will expand to include veterans' pension payments, peacekeeping and humanitarian operations, the Coast Guard, the RCMP, direct information technology support on defence, and direct program support to defence.