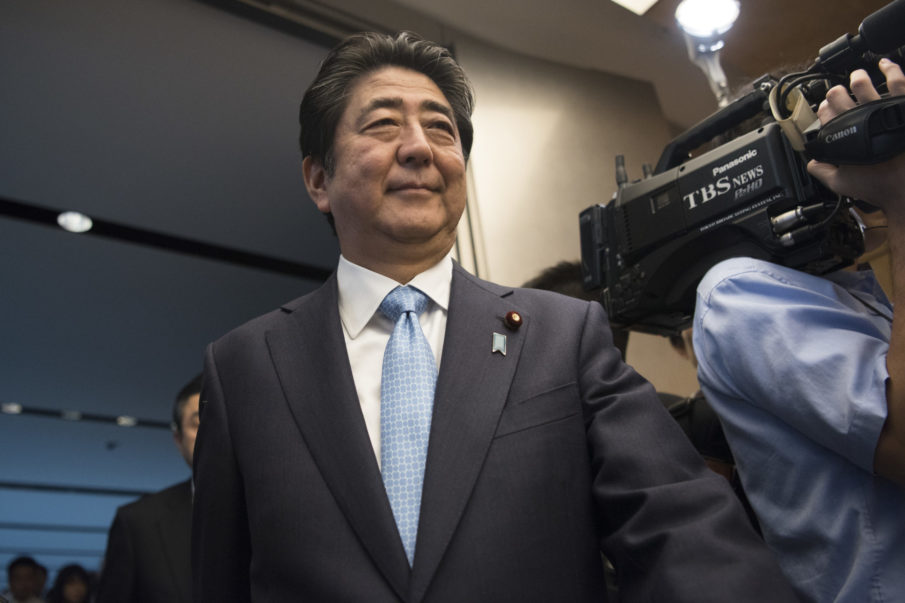 This article originally appeared in the Japan Times.
By Stephen Nagy, July 11, 2022
Japan and its longtime friends have looked at the assassination of former Prime Minister Abe Shinzo with shock and concern for its future. Japan's adversaries view it with opportunism.
The fact that a lone gunman used a handmade gun to kill Abe at a political rally in the city of Nara is the kind of political violence that we have not seen in Japan since the early 1960s. The assassination raises questions about the killer's motivations, the safety of Japanese society and, for some, the state of democracy in one of the most affluent and stable countries in the world.
Abe, the scion of a prominent political family, entered politics in 1993, and rose to political stardom when he was the chief Cabinet secretary of former Prime Minister Koizumi Junichiro in September 2005. He became a short tenured prime minister in 2006 before stepping down due to health issues.
He confidently returned to the office in December 2012 after the Democratic Party of Japan's leader, Yoshihiko Noda, nationalized the Senkaku Islands, creating the worst downturn in Sino-Japanese relations in recent memory.
Upon returning to office, Abe's first visit was to Southeast Asia, giving us a hint of his long-term vision of a Free and Open Indo-Pacific.
As prime minister, Abe pursued a proactive Japanese diplomacy that resurrected Japan's place on the global stage, making allies, friends and partners throughout the Indo-Pacific region, Europe and North America. The exceptions were China, North and South Korea.
Whether it was India's Narendra Modi, the United States' Donald Trump or European leaders, Abe was able to create rapport and communicate his vision and advocate for his signature Free and Open Indo-Pacific vision.
This vision focused on a rules-based approach to international affairs in the Indo-Pacific region. It included strengthening diplomatic engagement, development, infrastructure and connectivity, and building shared norms of how to negotiate and create a shared view of the region.
Abe, with like-minded partners, had China's rise in mind, seeing the Free and Open Indo-Pacific vision as an approach that advocated for a nonzero sum approach to the biggest geopolitical challenge of our times.
His vision was meant to prevent a Machiavellian, might-is-right approach to international relations in Japan's backyard and globally from emerging.
This fear manifested with Russia's invasion of the Ukraine. The deep concern for many states is that one day China, like Putin's Russia, may decide to use force to deal with many of the challenges that it's facing within the Indo-Pacific region, including territorial disputes with Japan in the East China Sea, concerns in the South China Sea about sea lines of communication and a forceful reunification of Taiwan with mainland China.
During Abe's tenure, Japan became known for multifaceted diplomacy and investment investing significant resources in Southeast Asia and South Asia, including being a key partner in the TPP, Quadrilateral Security Dialogue, the Japan EU-Economic Partnership Agreement, as well as many other multilateral organizations.
This proactive participation and leadership in international organizations was a demonstration of his vision that Japan's security was best achieved through a commitment to international organizations, rule-of-law, transparency and rules-based behavior throughout the region. It was not a nationalist, inward-looking nationalist agenda, something critics have accused him and the Liberal Democratic Party of pushing.
Abe recognized countries such as Vietnam, Indonesia, Singapore and regions such as the EU as key partners in contributing to his vision, which was not exclusive and not based on the promotion of democracy and human rights but rather based on shared interest and ensuring peace and stability through the region.
At home, using a mixture of quantitative easing, fiscal policy and deregulation under the umbrella of Abenomics, Abe tried to reform Japan's stagnant economy, as previous leaders of the Meiji Restoration have also tried. These leaders focused on economic growth as a prerequisite for security.
Reflecting upon Abenomics and Abe's sequential approach to building security, we saw that economics was initially prioritized over security, allowing him to accrue political wins that could contribute to strengthening Japan's position in the region through a collective security law in 2016 and the state secrets law in 2013.
Abe was seen by critics as a nationalist and conservative. He was labeled as a revisionist about his views of history and the direction of Japan and commitment to human rights.
These accusations were not borne out from facts. Rather, he was consistently a pragmatist on foreign policy. For example, spending valuable political capital, it was Abe who forged the 2015 comfort women agreement with South Korean counterparts in an attempt to finalize and move forward on bilateral relations in a more future-oriented relationship.
He also issued the 2015 Cabinet statement on "the history of the 20th century and Japan's role and the world order in the 21st century," which acknowledged Japan's imperial past while at the same time discussed its proactive approach to building an international community in the postwar period.
Importantly, it was Abe who brought back Japan-China relations from the abyss reached in 2012 after the nationalization of the Senkaku Islands. Working with Chinese counterparts and a corps of adept Japanese diplomats, Abe was able to visit Beijing in 2019 to hold a bilateral summit with President Xi Jinping.
They inked more than 50 agreements to build infrastructure and connectivity in third countries. There were also a host of business deals that were agreed upon. The return from the abyss was also leading toward what we call a fifth political document — the mutually agreed upon framework for how Japan and China would build their bilateral relations over the next 10 years. This was to be cemented by an official state visit by Xi to Japan in the spring of 2020.
Unfortunately, the COVID-19 pandemic, growing nationalism and concerns about China's behavior has put this fifth political document on hold. We've seen a downward spiral in not only Japan-China relations, but China's relations with much of the advanced world.
July 8 has become another day of deep concern by many leaders as Abe's vision for the region was based on a nuanced and balanced engagement with China. At the same time, Abe drew strong lines, such as explicitly conveying in November 2021 that a Taiwanese contingency will be a security concern for Japan and that the United States and Japan and like-minded countries would have to intervene.
With his sudden death, Japanese politics and the security that Japanese politics enjoyed for much of the past 50 years is now under question.
How much will Prime Minister Fumio Kishida embody some of Abe's signature initiatives such as the Free and Open Indo-Pacific vision, the strengthening of the U.S.-Japan alliance and being forthright about Japan's position on Taiwan and the Indo-Pacific region when communicating to China? Will Kishida continue to pursue a vision for revising Article 9 of the Constitution based on the understanding that Japan's security can no longer be guaranteed through the pacifist document that was made during a very different period of time?
The answer to these questions are still unknown. We are likely to see critics on both the left and the right attempt to shape the narrative of Abe's legacy in both a positive and negative way to try and fundamentally reshape the Japanese political landscape.
Abe will be missed in Southeast Asia and South Asia. In fact, India has declared July 9 a national day of mourning for Abe. In China, on the other hand, we've seen social media become a zone of shame, with Chinese netizens ridiculing, insulting and celebrating the death of Abe.
In an era of strong authoritarian leaders and a divided United States, Abe was a refreshingly stable, nuanced and thoughtful leader in terms of articulating how the Indo-Pacific region should evolve.
He provided a vision for Japan on the world stage with his uncompromising stance on Japan's democratic principles at home.
Stephen R. Nagy is a senior associate professor at the International Christian University in Tokyo, a Senior Fellow at the MacDonald Laurier Institute, a fellow at the Canadian Global Affairs Institute and a visiting fellow with the Japan Institute for International Affairs.