The Event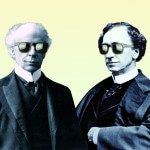 At the Macdonald-Laurier Institute we believe that Canadians should celebrate the very best of Canada's political traditions and history. That's why we're throwing a party! We are pleased to announce our second annual Macdonald-Laurier Soirée will be held on Flag Day, February 15, 2012, at the Fairmont Chateau Laurier in Ottawa. Join us from 5:30 to 7:30 pm as we celebrate two of our greatest Prime Ministers, Sir John A. Macdonald and Sir Wilfrid Laurier, on the day we also celebrate Canada's national flag!
The Hon. Peter Milliken, former Speaker of the House of Commons, will be the Honourary Chair for the evening and the Hon. Stéphane Dion and Hon. Michael Wilson will also be present along with Sir Wilfrid and Sir John A.! That's right, our favourite PMs will be in attendance and you will have the exclusive opportunity to get your photo taken with them.
The evening will be filled with great food and refreshments, wonderful company, a cake to honour our maple leaf flag, and inspirational music in one of Canada's landmark hotels…and you can enjoy all of this for only $100.00 per ticket!
You may also purchase a block of 10 tickets for $900.00, or 5 tickets for $450.00 and bring your friends along!  If you act now, you can enjoy our early bird discount of 10% off until January 15th.
Help us to support Canada's political traditions and support the work of the Macdonald-Laurier Institute by purchasing your ticket today!

Details
Where: Laurier Room, Fairmont Chateau Laurier Hotel, 1 Rideau Street, Ottawa, ON K1N 8S7
When: Wednesday February 15, 2012 from 5:30 pm to 7:30 pm EST
For more information, contact: Patricia Bouchard by phone, 613 482 8327 ext 104 or email, patricia.bouchard@macdonaldlaurier.ca
Sponsorship
Sponsorship opportunities are available for our 2012 Macdonald-Laurier Soirée. This is a great opportunity to network with Ottawa's political community, showcase your support for one of Canada's greatest traditions, and support the work of the Institute. For more information about our sponsorship opportunities, please click here. We appreciate your support!
Current Sponsors