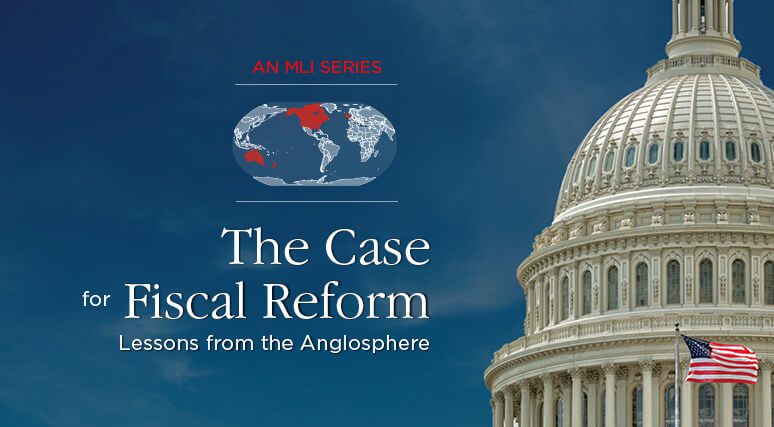 OTTAWA, ON (Nov. 29, 2017): The United States is over $14.8 trillion in debt and there seems to be little political will to do anything about its mounting deficit. But Canada has been there too, and has demonstrated the benefits of getting serious about fiscal reform.
Likewise, the U.K., Australia and New Zealand have their own experiences to draw on. And so, the Macdonald-Laurier Institute has brought together some of the top experts in the English speaking world, or Anglosphere, to work toward a global consensus on the benefits of cutting deficits, and how to do it right.
The result is a major new project from MLI: The Case for Fiscal Reform: Lessons from the Anglosphere. The project includes forewords from Canada's former Finance Minister and Prime Minister Paul Martin, Australia's former Treasurer Peter Costello, UK Member of Parliament Graham Brady and New Zealand's former Finance Minister Ruth Richardson.
"Australia, Canada, New Zealand and the United Kingdom have gone through precisely the same debates on debt, deficits and government spending that we have seen in the United States," said Macdonald-Laurier Institute Munk Senior Fellow Sean Speer. "At different times, these Anglosphere countries faced fiscal crises thanks to over-spending, high debt levels, and the same tendency to kick the can down the road that we see in Washington."
This essay compilation seeks to help US lawmakers derive some lessons from the Anglosphere experiences and put them into action to address Washington's long-term fiscal challenges. Lessons from each country's fiscal reforms include:
Transparency being essential to secure public support and build a coalition in favour of fiscal reform. Reformers must be clear about the scope of the problem and build broad-based support for solutions. This cannot be a party-line issue;
Clear fiscal rules, targets, and criteria can help to strengthen political will and demonstrate progress to the public. Bogus accounting or arithmetic complexity (such as we've seen in the tax reform debate) reduces the probability that fiscal reforms will ultimately be successful;
Focusing on reforming government spending rather than simply resorting to higher taxes. Raising taxes will only dampen economic growth and exacerbate the government's fiscal challenges at the precise moment that dynamism and growth are needed;
Fiscal reform involving a clear-eyed review of all government spending. The process must be equitable and fair. No sectors or areas should be protected. That means no ring-fencing; and,
Fiscal reform being part of a broader agenda focused on reviving US dynamism and opportunity. Eliminating the budget deficit and stabilizing the first debt should be the first step in more ambitious economic and fiscal programme.
"The potential lesson from the experience of each country is that well-designed fiscal reform can yield economic and social benefits," said American Enterprise Institute Resident Fellow Alex Brill. "We hope that lawmakers from across the political spectrum learn from this report and see how fiscal reform can ultimately strengthen the US economy now and in the future."
For more information media are invited to contact:
Cole Hogan
Communications Manager
613.482.8237 x105
cole.hogan@macdonaldlaurier.ca