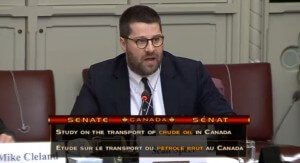 Macdonald-Laurier Institute Senior Fellow Sean Speer took to Parliament Hill this week to slay some of the myths about Aboriginal Canada and the development of natural resources.
The prevailing perception – that First Nations communities are largely opposed to natural resource development projects – is wrong, Speer told Senators during his testimony to the Standing Senate Committee on Transport and Communications.
"Something extraordinary is happening", says Speer. "Indigenous peoples and resource companies have, through a bottom-up process of experimentation and cooperation, begun to develop economic partnerships".
Speer is the co-author, with MLI Senior Fellow Ken Coates, of a commentary paper on how to build a new Aboriginal opportunities agenda.
To watch the full video of Speer's testimony, click here.