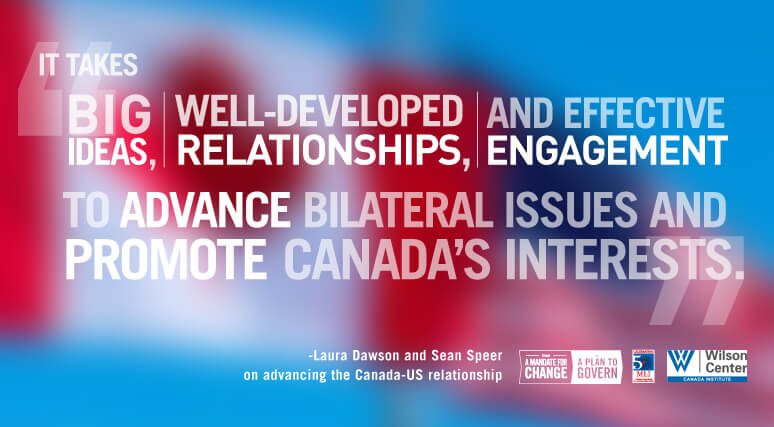 Paper published in conjunction with the Canada Institute offers a plan for ensuring success on key bilateral issues from the Trudeau-Obama honeymoon to the long term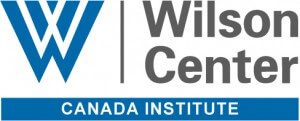 OTTAWA, March 8, 2016 – This week's state dinner for Canadian Prime Minister Justin Trudeau is an ideal opportunity to advance the economic interests of citizens in Canada and the United States, says a new Macdonald-Laurier Institute commentary.
MLI Senior Fellows Laura Dawson, who is also the director of the Wilson Center's Canada Institute, and Sean Speer say Canada and the United States should move closer on energy cooperation, climate change, softwood lumber, border security and the Arctic. This paper is published in conjunction with the Washington-based Canada Institute.
"Strong bilateral relations should not be taken for granted", write Dawson and Speer. "It takes big ideas, well-developed working relationships, and effective engagement to advance bilateral issues and promote Canada's interests".
To read the full commentary, titled "From A Mandate For Change To A Plan To Govern: Managing the Canada-US Relationship From the Honeymoon to the Long-term", click here.
Dawson and Speer present several recommendations for capitalizing on this week's state dinner and for managing the "special relationship" through the coming US election and beyond:
Move closer on energy policy: Canada and the United States should work together to achieve greater continental energy independence. The two countries should diminish the influence of OPEC countries since many of them are at best ambivalent to our interests and at worst outright hostile. This can best be done by constructing more binational energy infrastructure including, but not limited to, the Keystone XL pipeline. "Prime Minister Trudeau will need to make the case for infrastructure cooperation for oil and gas and also electricity, in a continued and sustained way", write Dawson and Speer.
Co-ordinate on climate policy:

Concerns about Canada's environmental policies fed into the United States' decision to reject the Keystone XL pipeline. Adopting common climate change targets will help establish Canada's climate change credibility and in turn its energy policy ambitions. It will also ensure Canada doesn't adopt stringent environmental standards that the United States doesn't match.

Resolve the softwood lumber issue:

Softwood lumber has been a trade irritant for decades. A 2006 agreement brought temporary stability but that expired in 2015. Now, with President Obama set to depart office shortly, the dispute could fester for a prolonged period. Dawson and Speer say Trudeau should appoint a high-profile conduit such as former interim Liberal leader, Bob Rae, or former ambassador Gary Doer to advance this file. The authors also suggest that Obama might be willing to renew the agreement as a parting gift or quid pro quo for Canadian cooperation on an important file such as an entry-exit program to enhance border security.

Keep border security on the agenda:

A bad outcome for Canada would be a resumption of the border security measures that slow down or raise the costs of legitimate trade and commerce. Prime Minister Trudeau will need to show that Canada takes border security seriously. Dawson and Speer recommend Canada look at implementing initiatives – such as spending infrastructure money on border security or agreeing to share more information on cross-border movements – that will encourage the United States to keep goods flowing.

Great co-ordination in the Arctic:

The Arctic is an important part of perimeter security. Russia's aggressive posture and other perimeter threats mean Canada and the United States have common interests in expanding our joint efforts in the Arctic to assert sovereignty and build our defence capabilities.
Canada's relationship with the US has been described in many ways, including by former Prime Minister Pierre Trudeau as "sleeping with an elephant". Speer and Dawson draw comparisons with a lighthouse, in that "Canada receives very short periods of intense attention from the US". When these periods occur, Canada needs to be positioned with policy ideas to advance this vital partnership.
This is the 12th paper in MLI's series, From A Mandate For Change To A Plan To Govern.
The series, which is publishing weekly from the Throne Speech to the first budget this spring, is designed to offer practical policy recommendations that help the newly-elected government follow through on its election promises.
***
Laura Dawson is Director of the Wilson Center's Canada Institute, a Macdonald-Laurier Institute Senior Fellow and the Adviser Emeritus at Dawson Strategic.
Sean Speer is a Senior Fellow at the Macdonald-Laurier Institute. He previously served in different roles for the federal government including as senior economic adviser to the Prime Minister and director of policy to the Minister of Finance.
The Macdonald-Laurier Institute is the only non-partisan, independent national public policy think tank in Ottawa focusing on the full range of issues that fall under the jurisdiction of the federal government.
The Woodrow Wilson International Center for Scholars' Canada Institute is based in Washington, D.C. and is the only public policy forum in the world dedicated to the full spectrum of Canada-U.S. issues.
For more information, please contact Mark Brownlee, communications manager, at 613-482-8327 x105 or email at mark.brownlee@macdonaldlaurier.ca.