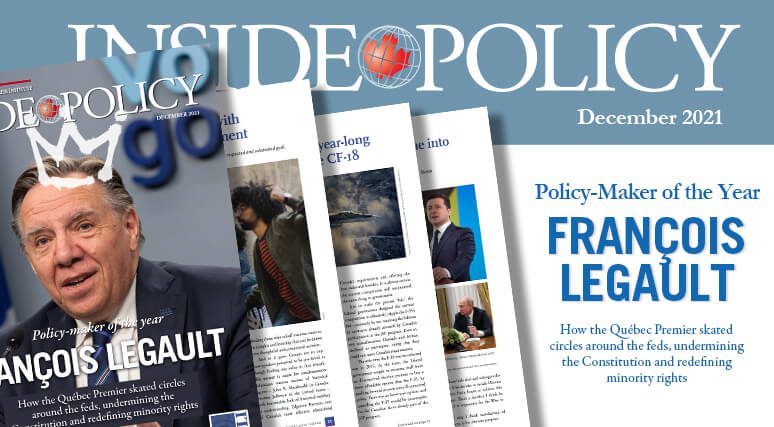 OTTAWA, ON (December 22, 2021): A Quebec Premier as the top federal policy maker? Believe it.
While in past years the Macdonald-Laurier Institute has named noted national leaders like Jody Wilson-Raybould, John Baird or Chrystia Freeland as Policy-Maker of the Year for their achievements, we believe that, in 2021, no one has had a bigger effect on the very fabric of this country than François Legault. Legault has skated circles around Ottawa as he advanced his agenda to sideline the Constitution, undermine federalism and redefine minority rights, issues that should matter to all Canadians.
The case of Fatemeh Anvari, who fell victim to Quebec's Bill 21 prohibition on religious symbols for government employees in positions of authority, is instructive. "Difficult as it may be to fathom, Canada in 2022 is a nation where a woman can be dismissed from her job as a school teacher simply because she chooses to wear a hijab," writes Dan Delmar, a Montreal-based communications consultant and former newspaper columnist, in the cover feature of this month's Inside Policy magazine (pour la version française cliquez ici).
Delmar, the writer credited with first reporting on the Pastagate language scandal, also raises the alarm over Bill 96, which adds an array of restrictions on linguistic minorities; the federal government's own expanding language-policing efforts with Bill C-32; and Legault's almost completely unopposed claim to "nationhood" for Quebec. Delmar argues that Legault scored a huge victory during the federal election when federal leaders and "the virtual entirety of Quebec's political class" came to Legault's aid over an awkwardly worded question about Quebec's ethnocentric policies during the televised debate.
Legault has manoeuvred brilliantly to gather political support across the spectrum while relegating the traditional sovereignty movement to niche status. Delmar observes: "Imagine the bewilderment of lifelong PQ militants who at points in Quebec's recent history must have asked themselves why their leaders had never thought of simply ploughing forward with their most unconstitutional proposals regardless of legal norms and without ever having to call a referendum or debate delicate questions of citizenship."
Finally, Legault seems to have even inspired a number of regional populism crises, where provincial nationalists across the country are joining the Quebec government in attempting to hastily redefine their place in the federation. The failure of Ottawa to defend Canadian unity and Canadian values has other premiers taking notice, with major implications for the country.
As other articles in this month's Inside Policy reveal, federalism across Canada faces significant challenges. MLI Distinguished Fellow Ken Coates and Senior Policy Analyst Heather Exner-Pirot point to the growing anger in the West, recently highlighted in Alberta's equalization referendum. As we pursue new emissions reduction targets following COP26, we need to manage the impact of such targets on economies, prices and jobs – a point raised by Jeff Kucharski. Indigenous reconciliation must also be embraced, with Coates and MLI Senior Fellow JP Gladu providing 10 priorities to guide this effort.
This issue reveals the wide range of domestic issues the federal government must address. Richard Shimooka points to the 12-year debacle to replace the CF-18 fighter jets. Daniel Sokol highlights the dangers of increasing regulation on Big Tech platforms, which will likely only chill innovation and harm consumers. Coates warns about the growing danger of polarization in our debates, while Chris Dummitt writes about the serious need for more diverse thinking in our universities. Coates shows how Indigenous peoples are holding Canada to account using Canadian legal standards.
Ottawa also faces significant challenges abroad. Balkan Devlen looks at the motivation and possible endgame behind Russia's military buildup on the border with Ukraine, Alireza Nader argues that Canada needs to support justice and closure for the family of PS752 victims, and J. Michael Cole offers his thoughts on who should replace Dominic Barton as Canada's ambassador to China.
To read the latest issue of Inside Policy, click the button below.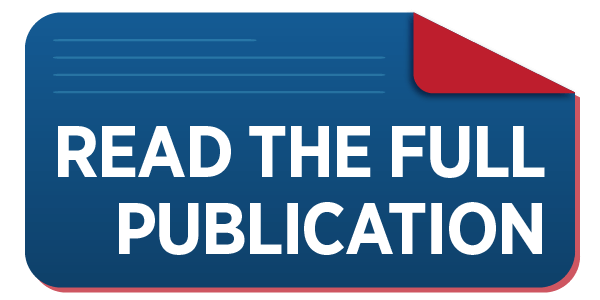 For more information, media are invited to contact:
Brett Byers
Communications and Digital Media Manager
613-482-8327 x105
brett.byers@macdonaldlaurier.ca