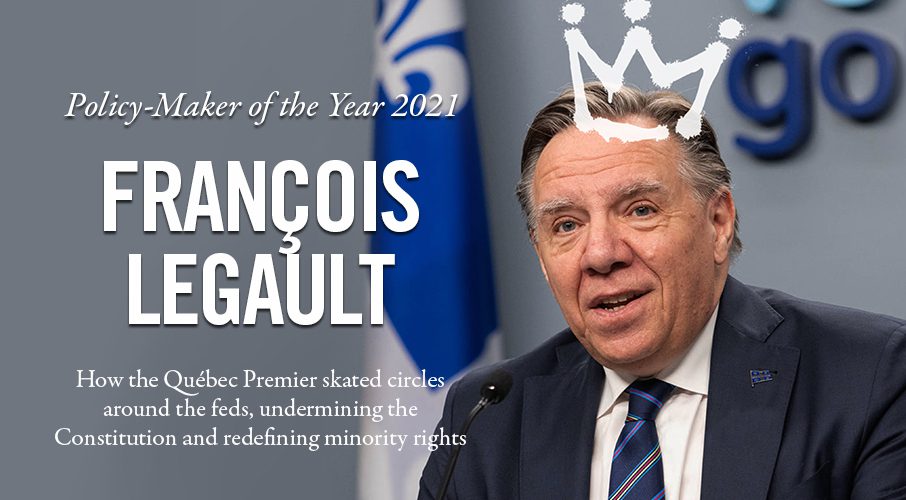 By Dan Delmar, December 22, 2021
Each year, the Macdonald-Laurier Institute looks back at who or what had the greatest impact on Canadian federal public policy over the past 12 months. That person or institution is named the Policy-Maker of the Year, and always graces the cover of the December issue of the institute's flagship magazine, Inside Policy. This year is no exception.
Policy-Makers of the Year have typically been Canadian leaders at the federal level, like former Justice Minister Jody Wilson-Raybould in 2017, but not always. MLI chose Chinese Communist Party General-Secretary Xi Jinping for 2019's edition, as a foreign leader who had a substantial impact on Canadian domestic policy.
This choice for federal Policy-Maker is unusual in that he is a provincial politician. Rarer still in the history of the Macdonald-Laurier Institute is a Policy-Maker of the Year so ambiguous about his allegiances.
Is François Legault Canadian? He is, technically. He holds a Canadian passport. Politically, he has renounced sovereignism and rejected calls for a third referendum. But the Quebec premier has also steadfastly refused to identify himself as a federalist, and his government has chosen to disregard parts of Canada's Constitution in ways that betray fundamental Canadian legal traditions on freedoms of expression.
Difficult as it may be to fathom, Canada in 2022 is a nation where a woman can be dismissed from her job as a school teacher simply because she chooses to wear a hijab.
Weeks before the holiday break, Grade 3 teacher Fatemeh Anvari of Chelsea Elementary School in western Quebec was shuffled out of her job and into an administrative "diversity" role. Comfortable with the result, Legault chastised the school board for hiring the teacher in the first place and compared the religious practice to wearing a Liberal Party t-shirt.
Ironically, the response from Liberals at both levels of government has been tepid, and less than liberal in spirit. Legault said he was even "glad" with Prime Minister Justin Trudeau's longstanding detachment on the secularism debate.
What Does Legault Want?
Who is François Legault and what does he want with Canada? It is a question that has dogged the premier and former Parti Québécois minister since his return to politics as a non-sovereignist a decade ago.
His Coalition Avenir (Future Coalition) burst onto the scene amid corruption scandals surrounding Quebec's establishment parties. Presented as a centre-right rainbow coalition of federalists, sovereignists and the noncommittal, traditionally described as soft nationalists, the founding Caquistes were an interesting, accomplished group of pro-business reformers. Many were former members of Mario Dumont's conservative Action Démocratique du Quebec.
The CAQ's history could be split between two half-decades, the first featuring a more mild, less confrontational brand of nationalism; a confusing stance vis-à-vis Canada didn't help him make permanent inroads among committed federalists or sovereignists.
Legault was a "traitor", charged his harshest critics in both political camps; but ultimately to whom?
Growing up modestly in the Anglo-majority West Island town of Ste-Anne-de-Bellevue, Legault's underdog success story is inspiring, and will presumably be put to film someday. He would attend church, according to the Montreal Gazette, in the shadows of the exclusive Beaconsfield Golf Club; it would have been a special moment indeed when Legault would walk through the club's gates for the first time as an accomplished entrepreneur. He went a few more times after that, too.
He is an accountant by trade, a former auditor with Ernst & Young, but had an eye toward the future, and the aviation industry specifically, where he would land a marketing role with the defunct regional carrier Québecair. When it failed and was sold by the Quebec government in 1986, a group of former employees including pilots and executives like Legault came together to launch a new carrier; his crowning achievement in business.
"It was a kind of dream to be a member of the Beaconsfield Golf Club… Before Air Transat, I wasn't rich," he told the newspaper, which described his rise 'From Milkman to Quebec Premier' in 2018.
The CAQ's Bleu Makeover
Legault is the most disciplined nationalist leader to emerge in some time, with a serious, calm demeanour not unlike that of former Premier Lucien Bouchard, himself an ex-Péquiste who renounced sovereignty after successfully courting both soft and hardline nationalists.
Revealing little of his personal views about Canadian federalism, what we do know of Legault's perspective is that it is in development, a policy direction sometimes vaguely described as autonomism.
"No one imagines he will become a sovereignist again tomorrow," wrote the Journal de Montréal's Mathieu Bock-Coté, a controversial nationalist philosopher the premier has publicly admired, in 2019. "But he serves his country, Quebec, which he does not see as a simple province of Canada."
While it is true to say that some of Legault's closest friends and colleagues are federalists – including his wife Isabelle Brais – his views on cultural sovereignty as expressed through legislation that came to a head in 2021 definitively position him against federalism.
Quebec's political landscape has been realigning rapidly and the CAQ has been an accelerant, which includes the marginalization of the PQ and its explicitly secessionist strand of Quebec's nationalist movement.
"The (new) axis has blurred traditional alliances that existed between sovereignists and progressives on the left, and federalists and conservatives to the right," wrote political scientists Éric Bélanger and Jean-François Godbout of McGill University and l'Université de Montréal respectively in a recent edition of Le Devoir. In Legault, "we see here the same message as in the 19th century, the epoque when the Bleus sought to defend the French regime's heritage, its Catholic faith, its institutions and its laws."
A Milder PQ?
The CAQ's pivot began with a visual rebranding in 2015; the rainbow coalition theme was discarded in favour of a familiar all-blue fleur-de-lys motif.
By 2016, the CAQ was aggressively moving in on the PQ, hiring a prominent strategist to former Péquiste premier Pauline Marois; by the spring, the PQ had suffered another major setback with the resignation of leader Pierre Karl Péladeau. The sovereignist party continues to wither as expected and currently holds seven seats in the National Assembly.
Legault was not about to lose a third election in 2018 and the familiar PQ-Lite plan resonated; strong on the French language but not so radical; in favour of laïcité but not applied widely across the entire public sector; and, unlike the PQ, finally promising to close the door on a third sovereignty referendum.
"I'm calling on all sovereignists to be pragmatic," went Legault's well-timed appeal ahead of the 2018 vote.
The right-of-centre Liberals of premier Philippe Couillard had begun deep and controversial reforms to various parts of the public sector, most notably in healthcare; the sort of overdue restructuring, including the introduction of new public-private partnerships and a reduction of administrative structures, that previously hindered Legault's efforts to win over hardline nationalists, supportive of a robust welfare state.
The gulf between the CAQ's founding neo-conservative reformers and newer big government ex-sovereignists — two vastly different perceptions of how governments tax, spend and organize resources — has not yet revealed itself as a political liability.
Charter-Testing Policies
The ban on visible religious symbols worn by public servants in positions of authority, as defined by the Legault government, is the most controversial part of Legault's legislative agenda. It was inspired by France's 2004 ban of "conspicuous religious symbols" for primary and secondary students, and the concept eventually found its way into a 2008 Quebec government secularism report by philosophers Gérard Bouchard and Charles Taylor (the latter would renounce his own work).
Legal reviews by previous governments concluded the banning of religious symbols would never survive constitutional challenges. The law is currently being reviewed by the Quebec Court of Appeal.
Public opinion polls, for whatever they are worth in the context of evaluating human rights issues, have suggested on the surface that Legault government policies on secularism and language are more popular than not, though they did not spring from popular movements; there was certainly no noticeable outcry outside of the nationalist-dominated commentariat for a larger and more onerous language bureaucracy amid a pandemic.
Bill 96, the update to the 1977 French language legislation still referred to as Bill 101 that is expected to pass in the National Assembly any day, is an omnibus-style bill touching many areas of public life. The 100-page plan to "strengthen" the French language includes measures such as the classification of anglophone citizens as members of either "Historic" or ahistoric communities, with the former group retaining Charter-protected rights to essential government services in English and the latter, not.
The Legault government has, however, defined a grace period for immigrants seeking government services: Newcomers will have a six-month window with which to learn basic French before their English-language services may be denied.
"Anything that restricts the right to health care services in English," wrote Sheila Kussner, founder of the cancer support nonprofit Hope & Cope, in The Gazette, "is a clear danger to the health and well-being of those who require that service."
Former Montreal Liberal MP Marlene Jennings told the Macdonald-Laurier Institute that in some ways, Legault is more radical than her former sovereignist opponents.
"He's a radical nationalist. With Bill 96, he has demonstrated that he is prepared to upend our democracy and the pillars upon which it was founded, the separation of powers," said the veteran federalist, and de facto head of the Bill 96 resistance movement as president of the Quebec Community Groups Network, the province's anglophone advocacy umbrella organization.
Some parts of Bill 96 not only subject the Charter to extreme stress tests but risk setting embarrassing legal precedents across western liberal democracies should, for example, Quebec language inspectors begin conducting high-profile raids on noncompliant businesses, as prescribed.
Domino Effect
"Members of a federation shouldn't need to agree on everything," tweeted a self-identified Bleu advisor close to Legault, consistent with the autonomist-style, hands-off view fostered under the previous Harper government that saw Quebecers as members of a nation within Canada. The 2006 motion to that effect was non-binding and criticized as tokenistic but, a decade and a half later, it has newfound relevance, frequently-cited by the Legault government and even the provincial opposition Liberals to justify ever-expanding autonomist demands, including but not limited to disproportionate representation for Quebec in Parliament.
The premier's political masterstroke on Quebec-Canada relations has been to simply extend the nationhood rhetoric to claim actual jurisdictional sovereignty on certain constitutional matters, presumably limited to those related to questions of cultural identity.
It is not only unusual for avowed federalists, Liberals especially, to entertain Charter-testing policies like the Bill 101 update, it is bewildering to Quebec federalists in particular for the Trudeau government to upload certain unconstitutional-in-spirit principles of the law. Bill C-32, an amendment to the Official Languages Act that uncontroversially protects the rights of francophones to work in French also creates enforcement mechanisms inside the Office of the Commissioner of Official Languages and at the Canada Industrial Relations Board, modelled after a language policing system in Quebec that even its strongest proponents admit failed to stem the tide of anglicization.
In this most influential year for Legault, another by-product of his bold nationalism has been the adoption by other premiers of similarly antagonistic positions toward Ottawa; what in Quebec might have been previously referred to as péquisteries, or expressions of performative militant sovereignism.
Legault's ambiguity on national unity and brazenly ethnocentric policies seem to have even inspired regional populism crises, where provincial nationalists are joining the Quebec government in attempting to hastily redefine their place in the federation. A series of constitutional crises sparked by recent Legault legislation have set the stage for years of complex and likely unproductive multilateral negotiations between Canada and its most aggrieved nation-provinces.
Saskatchewan premier Scott Moe tried to articulate his desire in November to push the prairie province toward nationhood: "We are talking about being a Saskatchewan cultural identity within the nation of Canada… being a nation within a nation."
In Ontario, premier Doug Ford invoked the Notwithstanding Clause in June to curb third-party election spending. Jason Kenney's October referendum polling Albertans on their views about equalization payments was widely seen as a pressure tactic against the federal government.
Kenney has been completely forthright about how Legault inspired his own regional nationalism.
"I've always said I think Alberta should emulate Quebec in the way that it has so effectively defended its interests," Kenney said in May. "I may not agree with Quebec on every point of policy, but they fight for their province using every legal tool at their disposal. Rather than fighting Quebec over the exercise of its powers, I look to Quebec with a degree of admiration."
Legault's Best Day
The very best day of François Legault's political career, or at least the point at which his political influence peaked, may have been September 19, 2021, the day before the federal election.
All major party leaders indicated throughout the campaign that they would not question Quebec's newfound jurisdictional powers. Legault was keenly aware of his favourable position and began to overplay his hand, observed Toronto Star columnist Chantal Hébert, repeatedly weighing in during the campaign, even expressing a specific preference for a Conservative minority government, later backtracking.
Quebecers didn't listen but polls suggested Legault paid no political price for his punditry; his approval ratings remained high into late 2021 and some projections even have the CAQ gaining seats in the fall provincial election.
In another twist of fate granting Legault even more leverage, the controversy over a jumbled leaders' debate question on the discriminatory nature of bills 21 and 96 placed Quebec squarely at centre stage in the final days of the campaign. The virtual entirety of Quebec's political class rallied behind Legault. It had no impact on the election's outcome but only further pulled the political centre of gravity toward Quebec.
Imagine the bewilderment of lifelong PQ militants who at points in Quebec's recent history must have asked themselves why their leaders had never thought of simply ploughing forward with their most unconstitutional proposals regardless of legal norms and without ever having to call a referendum or debate delicate questions of citizenship.
Storm Clouds
Legaut's gains for hardline nationalists in particular have been remarkable but like all winning streaks, it will come to an end. A slow denouement of this underdog story may have begun when Canadians voted on September 20.
Even in the best of scenarios for Legault — a projected second convincing majority government in November – it seems unlikely that he will be able to continue advancing his Charter-twisting agenda without triggering significant social tension, reopening old wounds between the two traditional cultural solitudes.
Although in polls, support for the principles of secularism and state religious neutrality remain strong, those same polls mostly fail to measure the real-world consequences of the Legault government's self-styled cultural policies. On the rare occasions pollsters do measure this impact, for instance on the question of whether or not to dismiss a public employee wearing a religious symbol, majority support for the measures is lost.
Stubbornly moving forward only seemed to increase social tensions in France when it was done there. It could fuel a cultural liability that will haunt all Quebecers on the world stage; like Pastagate but potentially much, much darker.
At the very end of Legault's best year, cracks in his government's obscurantist, populist-leaning agenda are being exposed. His government benefited from an extended grace period through much of the pandemic, perhaps due to the young CAQ's lack of historical stewardship over dysfunctional systems. As an election year begins, the honeymoon may be over.
Opposition parties have begun pressing the government to call a public inquiry to shed light on the over 4000 deaths that occurred during the pandemic within Quebec's network of public long-term care facilities. Coroner and ombudsperson reports support the demand, pointing to at least one important error in judgment: the transfer of seniors in long-term hospital beds to the long-term care homes that were already ill-equipped to manage the virus.
Quebec's economy continues to perform well but there are signs of stress there too, as Legault's language, education and immigration policies have been denounced by leaders of Montreal's business community for potentially worsening an already-dire labour shortage.
It's not a question of whether or not the unconstitutional policies will do damage, but how much and who in Quebec City or Ottawa is concerned about brewing international embarrassments.
"He has opened the door to other provinces. If he can do it, why can't they?" asked Jennings, concerned for the future of inter-provincial relations in a nation of nations with contrasting interests. "What it looks like is our judiciary being neutered, unless the Supreme Court rules the Notwithstanding Clause cannot be used pre-emptively. That may be the only way the judiciary can play its full role and protect our democracy."
Especially in crisis, the steady-handed former CEO may be the consensus leader of the moment for this period of realignment in Quebec. But despite François Legault's solid leadership credentials, it's the cultural blind spot that may ultimately define his tenure. He may be lauded in nationalist circles for decades but not far beyond them; not among Quebecers, particularly of younger generations, proud of their multilingualism and belonging to a cosmopolitan G7 nation. For all of his accomplishments, what Legault will never be to Canadians is forgiven.
Dan Delmar is a Quebec-based political commentator, a former journalist and newspaper columnist, and the co-founder of TNKR Media, a public relations and content marketing firm.