Leaders from across the country gathered in Ottawa on Feb. 21, 2017 to celebrate 150 years since Confederation with the Macdonald-Laurier Institute.
The Confederation Dinner, MLI's signature event for Canada's sesquicentennial, brought together members of Parliament, business leaders and academics for a gala event at the Canadian Museum of History in Gatineau, QC.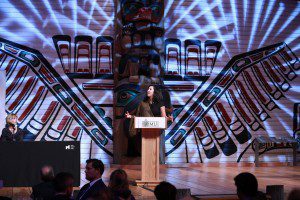 A panel of distinguished Canadians – with author and historian Charlotte Gray serving as moderator – defined the challenges and opportunities the country faces, including: welcoming and accommodating new Canadians, achieving reconciliation with Indigenous peoples, building new relationships with the US and the rest of the world, or finding new economic opportunities for Canada at a time of great change and upheaval.
Panelists included:
Mark Dockstator, President of First Nations University, a powerful voice for an opportunity agenda as the basis for reconciliation with Indigenous people

Ujjal Dosanjh, who, born in a small village in Punjab, India, went on to became Premier of BC, a federal cabinet minister, and an outspoken opponent of Sikh extremism

Doug Black, an elected Senator from Alberta, Senior Counsel at Dentons Canada LLP, and former chair of the Board of Governors at the University of Alberta.
Raven Smith, entrepreneur and member of the Carcross-Tagish First Nation, and Brian Lee Crowley, Managing Director of the Macdonald-Laurier Institute, served as the event's co-chairs. Ralitsa Tcholakova played the violin.
For photos from the event, click here.
For videos, click here.
The National Post's John Ivison quoted from Crowley's opening remarks in a recent column.