Last evening, MLI hosted an Ottawa launch party for Advisory Council Member Calvin Helin and his latest book, The Economic Dependency Trap. The event, held in Ottawa's historic Rideau Club, was a smashing success.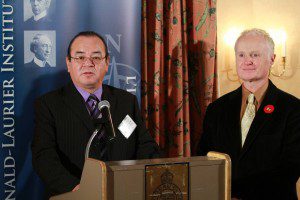 Following and introduction by Grand Chief Morris Swan Shannacappo (above), attendees listened to an insightful and thoughtful presentation by Calvin and they spent a good deal of time talking to the author.
Talking, that is, whenever Calvin wasn't busy signing copies of the the book.