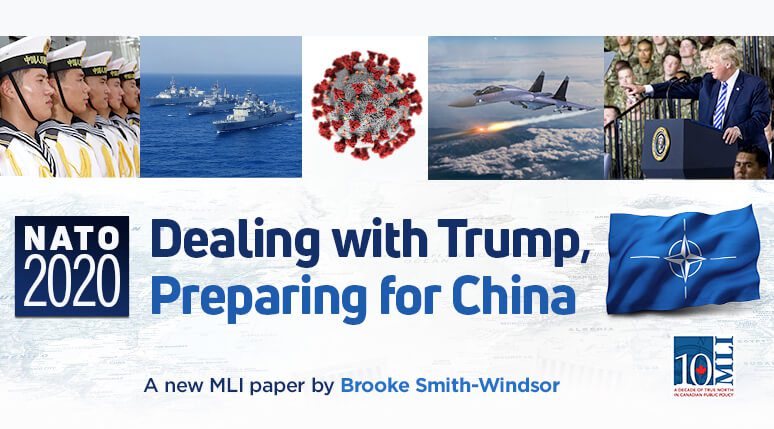 OTTAWA, ON (June 23, 2020): As we enter an age of volatile geopolitics post-COVID-19, it is necessary to consider how the North Atlantic Treaty Organization (NATO) will adapt to deal with both growing uncertainty around US leadership and the rising threat of the Chinese regime.
In MLI's newest paper titled "NATO 2020: Dealing with Trump, Preparing for China," author Brooke Smith-Windsor examines the internal and external challenges facing NATO during the past three-and-a-half years of the Trump presidency and the growing Sino-American strategic competition.
President Trump has made it clear he questions the continued relevance of multilateralism, openly threatening to withdraw the United States from NATO unless fellow allies increased their defence spending. In recent days, he has even stated his desire for a significant drawdown of US troops from Germany, though whether this plan is implemented and to what extent remains to be seen.
Despite Trump's rhetoric, however, it is notable that the overall US defence commitment to Europe has only increased during his administration. In fact, the 2018 National Defense Strategy includes strengthening alliances as among the top US priorities. As tensions with China only grow, Smith-Windsor adds that NATO is once again crucial to US interests and values.
"A shared transatlantic commitment to democracy, individual liberty, and the rule of law is more relevant than ever," explains Smith-Windsor.
While a resurgent Russia will likely remain NATO's primary security occupation, Smith-Windsor argues that the much larger global rivalry between China and the United States also should be a central focus. As the pandemic sweeps the globe, China has capitalized on the distraction of COVID-19 to undertake aggressive action. Mounting border tensions between Chinese and Indian militaries, an increase in military activity near Taiwan, and the US dispatching several warships to deter China's operations in the South China Sea are evidence of the security challenges China poses.
NATO's European members are also increasingly facing the security challenges that emanate from China's global rise. From Europe's growing economic reliance on Beijing, to questions around allowing Huawei into the continent's 5G networks, to the supply chain vulnerabilities exposed by the COVID-19 pandemic vis-à-vis China, Smith-Windsor argues that the People's Republic poses serious risks to NATO. A potential Sino-Russian naval strategic nexus in the European theatre is also a cause for concern.
Smith-Windsor lists several considerations for how for alliance members could move to a crisis management posture to counter Chinese aggression:
NATO is unlikely to intervene if its own values and interests are not at stake. However, with the growing possibility of threats or eruptions of violence in the East and South China seas, it is likely that NATO's interests and values will become at stake.
All NATO decisions are taken by consensus which could prove to be a barrier to intervention as allies across the alliance have different threat perceptions and priorities. However, as the Libya example demonstrated, members could acquiesce to other NATO allies intervening.
NATO usually seeks support of regional states or organizations before launching a crisis management operation, meaning that a request by NATO's Asia-Pacific partners for intervention or assistance is an important factor.
The decision to intervene would rest on the capability to mount an effective military operation. It would be beneficial to increase the maritime footprint of individual allies in the Asia-Pacific region, enabling interoperability with many official NATO partner nations.
NATO usually seeks international legitimacy – specifically, a UN mandate – for crisis intervention. However, the authorization of intervention would be unlikely due to Beijing's veto. NATO could pursue other mechanisms, as it did in the case of Korea in the 1950s.
The importance of NATO to American external interests and values has proven resilient and where Europeans have been challenged to pay more for their defence, overall, they have heeded Trump's call. Meanwhile, the momentum is building within NATO for a mature policy discussion on China. The COVID-19 global upheaval will only increase it.
"Simply put, it would be difficult for NATO to stand isolated from such issues at a time of accelerating strategic competition between China and the United States," writes Smith-Windsor.
To learn more about the challenges NATO faces in the post-COVID-19 era, read the full paper here.
***
Dr. Brooke Smith-Windsor has over 20 years of professional experience in defence strategy, capability development and interagency crisis management including time spent on field deployments in combat zones. His previous positions comprise Director of Strategic Guidance at the Canadian Department of National Defence, Commanding Officer and Senior National Representative (Canada) at the NATO Defense College, and Senior Research Leader and Senior Fellow at The RAND Corporation (Europe).
For more information, media are invited to contact:
Brett Byers
Communications and Digital Media Manager
613-482-8327 x105
brett.byers@macdonaldlaurier.ca