Former Assembly of First Nations Chief Ovide Mercredi, panel of experts, to take part in the MLI Dinner Series in Vancouver on Jan. 28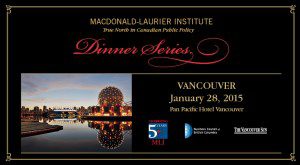 VANCOUVER, Jan. 20 – The Macdonald-Laurier Institute invites you to get involved in an engaging and informative evening exploring common interests between Aboriginal people and the natural resource economy in Vancouver later this month.
British Columbia's economic future hinges on the appropriate and well-managed development of the province's abundant natural resource potential.  Over the past thirty years, First Nations in the province have led Canada – and the world – in defining the extent and nature of Aboriginal land and resource rights.  Ensuring appropriate Aboriginal participation in the resource sector is urgently required if the province hopes to retain its vibrant and expanding economic base.
The MLI Dinner Series will feature networking and a reasoned but lively discussion on developing Canada's vast natural resource potential. The event will feature prominent leaders from the Aboriginal business community, industry, government and First Nations.
When: Jan. 28 at 6 p.m.
Where: The Pan Pacific Hotel in Vancouver, British Columbia
What: A three-course dinner, followed by a discussion
Who: A panel of experts, including:
Ovide Mercredi, former National Chief of the Assembly of First Nations
Brian Lee Crowley, Managing Director of the Macdonald-Laurier Institute
Ken Coates, Canada Research Chair, University of Saskatchewan, and MLI Senior Fellow
Anne Giardini, Chancellor of Simon Fraser University and previous president of Weyerhaeuser Company Ltd.
Dan George, President and CEO, Four Directions Management Services Ltd.
Doug Eyford, ​Barrister and Solicitor, ​Eyford Macaulay Shaw & Padmanabhan LLP
Harold Munro, Editor-in-Chief, Vancouver Sun
The Vancouver dinner is being presented in conjunction with the Vancouver Sun and the Business Council of British Columbia.
It is the first in a series of events taking place in 2015. MLI will also be bringing its dinner series to Toronto and Edmonton later this year.
Get involved by registering to participate in Vancouver and using #MLIDinner on social media.
Click here to register.
***
The Macdonald-Laurier Institute is the only non-partisan, independent national public policy think tank in Ottawa focusing on the full range of issues that fall under the jurisdiction of the federal government. Join us in 2015 as we celebrate our 5th anniversary.
For more information, please contact Mark Brownlee, communications manager, at 613-482-8327 x105 or email at mark.brownlee@macdonaldlaurier.ca.