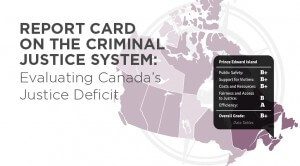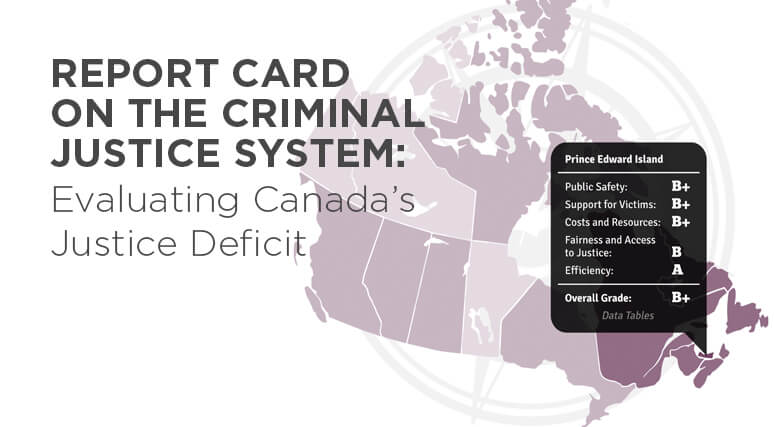 High crime rates, substantial costs and significant inefficiencies have Manitoba last among the provinces in MLI's inaugural justice system report card, write Benjamin Perrin and Richard Audas in the Winnipeg Free Press.
By Benjamin Perrin and Richard Audas, Sept. 21, 2016
Canada is suffering from a "justice deficit" — a large and growing gap between the aspirations of the justice system and its actual performance. With few exceptions, it is slow, inefficient and costly. In no other province is this harsh reality more apparent than in Manitoba, which ranked last among all provinces in our new report card on the criminal justice system.
Our inaugural justice system report card, published by the Macdonald-Laurier Institute for Public Policy, aims to enhance accountability and transparency, with a view toward ongoing reform and improvement. Using Statistics Canada data and statistical methods, we assessed each province's criminal justice system based on five key objectives: public safety, support for victims, cost and resources, fairness and access to justice and efficiency.
While the Atlantic provinces and Quebec did well (receiving grades of B+ and B), Ontario and the western provinces did poorly (C+) with Manitoba ranking dead last among the provinces (C). Driving Manitoba's poor performance is its high crime rates, substantial costs and significant inefficiencies.
Manitoba has among the highest violent and non-violent crime rates per capita of any province. Offenders here breach probation and fail to comply with court orders more frequently than elsewhere.
Public perception of the police in Manitoba is among the lowest in Canada, with dismal ratings for enforcing the law, ensuring safety, satisfaction with safety, supplying information, being approachable, being fair and responding promptly. With respect to support for victims of crime, Manitoba has, by far, the lowest proportion of offenders given restitution orders of anywhere in the country.
No other province in the country has a higher per capita cost of public safety and cost of corrections than Manitoba, giving it a failing grade on these metrics.
In terms of efficiency, Manitoba has a high proportion of criminal cases where charges are stayed or withdrawn (30.5 per cent) and a higher-than-average criminal-case length (223 days), which is among the longest delays in Canada. Manitoba has an extremely high number of accused persons on remand per 1,000 crimes, by far the highest of any jurisdiction in the country and also meriting a failing grade.
There are also concerns about access to justice and fairness in Manitoba's criminal justice system, with below-average legal aid expenditures on criminal matters per crime and disproportionate levels of aboriginal incarceration.
It's not all bad news, though. Manitoba performs better than most other provinces in a few important areas. Its police are relatively good at solving crime and being productive: they have a higher-than-average violent and non-violent crime weighted clearance rate and a higher-than-typical number of Criminal Code incidents per police officer. Manitoba has fewer accused persons failing to appear for court or being unlawfully at large. The province also has better-than-average referral rates for victim services.
There is a clear need for reforming Manitoba's criminal justice system. A top-to-bottom review, focusing on critical problem areas identified in this report card, should be conducted by the provincial government.
It will need the support and involvement of the chief justice of Manitoba and judges, heads of Crown prosecution services, members of the criminal defence bar, chiefs of police, RCMP and corrections system leadership, First Nations organizations and victim-services representatives, as well as public input. Clear and measurable targets for improvement should be set with adequate resources and accountability to see them realized. Manitoba may also look to other provinces that have already started to take action.
Health-care and education systems in Canada and around the world have benefited from regular report cards on their performance, although they were faced with strong resistance at first. It is our hope this inaugural criminal justice system report card will generate tough questions for the many actors responsible for administering the justice system in all provinces and territories, enhance the collection of key data on its performance and spur much-needed reform.
The findings in this report card should be a wake-up call for Manitoba and hopefully a catalyst for improvement.
Benjamin Perrin is a law professor at the University of British Columbia and a Munk senior fellow at the Macdonald-Laurier Institute. Dr. Richard Audas is a health statistics and economics professor at Memorial University.