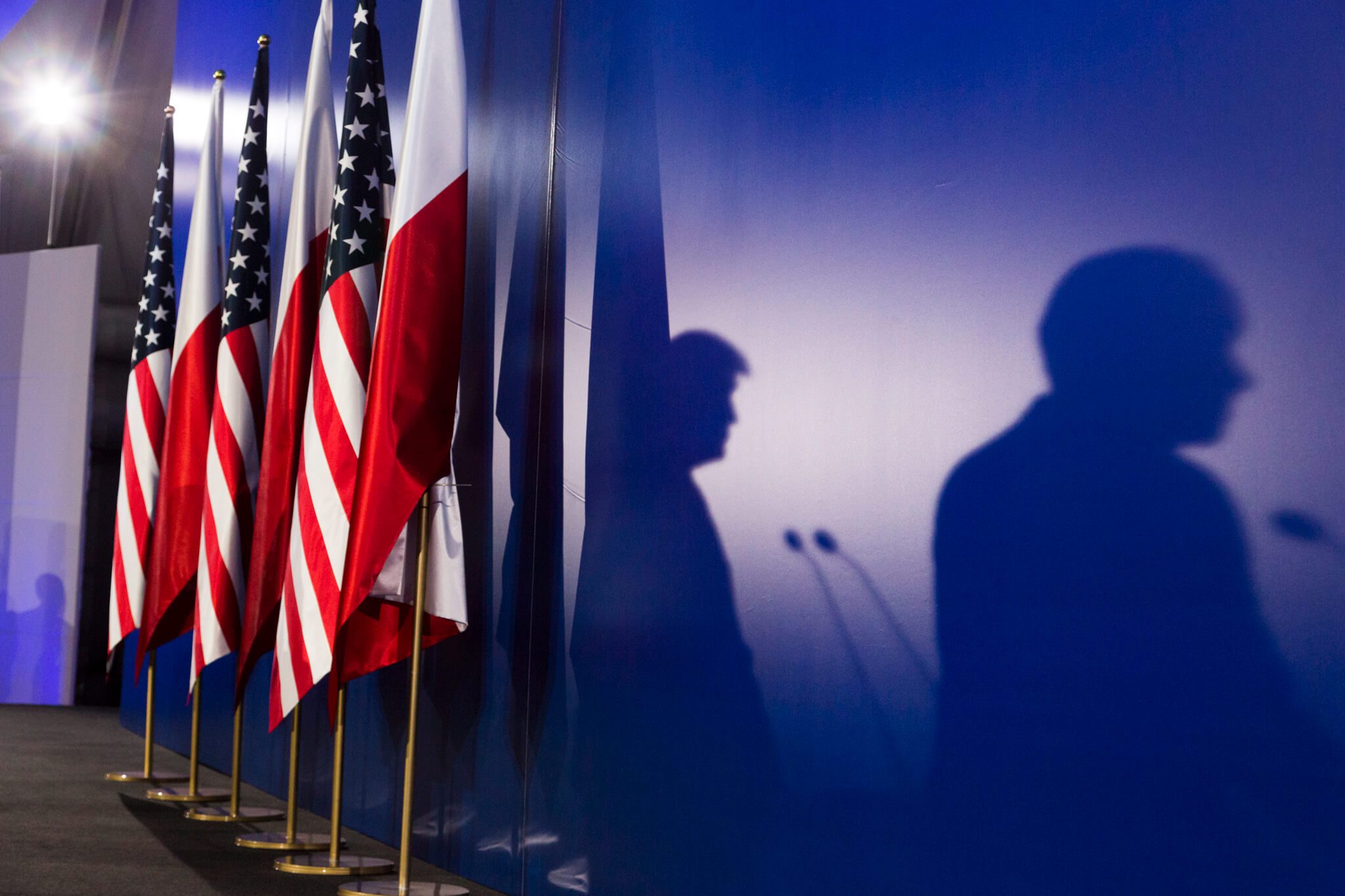 The President has a chance to send an unmistakable message of NATO and U.S. resolve by establishing a permanent military presence in Poland, writes Aurel Braun.
By Aurel Braun, November 19, 2018
President Trump never tires of repeating that "nobody's been tougher on Russia than I have." Yet, his unctuous performance at the Helsinki Summit, which opponents characterized as disastrous and even supporters called feckless, have made this claim seem tenuous at best.
Nevertheless, POTUS has an opportunity to alleviate some of these concerns by taking a step that will send an unmistakable message of combined NATO/U.S. resolve, deterring and reassuring in one action melding the symbolic with the substantive.
The Polish Ministry of Defense has requested that the United States establish a permanent military presence in Poland, and it has offered financial support of up to $2 billion for the deployment of an armored division. In September 2018, Poland's President Andrzej Duda not only repeated the offer during his official visit to the White House, but, tongue-in-cheek, even suggested that the permanent U.S. base might be called "Fort Trump." The U.S. government has been considering such a deployment since earlier this year, and there are signs it could well happen.
Such an American deployment would not be without risks and costs, but it would be timely, given Russia's aggressiveness and uninhibited regional hegemonic ambitions. It would also convey an unambiguous message, particularly if President Trump enunciates such an intent before the substantive meeting that he and Vladimir Putin are scheduled to have on the sidelines of the G20 summit in Argentina at the end of November. It would clearly and forcefully signal that America will counter Russia's malign activities.
There is little doubt that Russia, a non-superpower with superpower ambitions, would harshly condemn such a deployment. Russian media has already claimed that such a move would be an outright violation of the Russia-NATO Founding Act of 1997 and that Russia would likely target Poland with nuclear-capable Iskander missiles permanently deployed in Russia's Kaliningrad enclave.
Surprisingly, even some reputed hawks such as General Ben Hodges, retired Commander of U.S. Army Forces in Europe, have voiced their opposition to such a permanent deployment (of even an armored brigade). While General Hodges admits that this would not be a violation of the Founding Act, he is concerned with its impact on alliance cohesion, and the political and economic costs in the United States. Further, he points to logistical problems, to the fact that the U.S. military is already taking part in NATO's Enhanced Forward Presence, which involves rotation of troops in the Baltics and Poland, and to continuing Alliance exercises that improve reinforcement capabilities.
These are not insignificant concerns and are undoubtedly shared by others in the United States and in Western Europe. To be sure, any major change in policy requires carefully weighing the risks and benefits. In this case, the benefits considerably outweigh the risks.
First of all, symbolism matters. A permanent deployment would redress a slight suffered by the post-Communist members of NATO. In their haste to join the Alliance, the new members were not prepared to challenge NATO's decision, formalized in the NATO-Russia Founding Act, that would forego the permanent deployment of Alliance forces on their territory. This was a restriction that did not apply to the Western members of the Alliance, and it thus made them essentially second-class citizens of the Alliance, diminishing alliance reassurance as well as deterrence. In the wake of Russian military action in Georgia and Ukraine, this is keenly felt throughout Eastern Europe. Little wonder, then, that aside from Poland, a country like Lithuania also vehemently advocates for a permanent deployment.
Secondly, there is much misunderstanding of the Founding Act. It is not a legally binding document. Whatever political constraints it may have envisioned were contingent on the preservation of a status quo predicated on Russia continuing to build a democratic society, reducing its conventional and nuclear forces, and preventing any possibility of "returning to a Europe of division and confrontation or the annexation of any state." With today's Russia shrinking its zone of democracy domestically, aggressively occupying parts of Georgia and Ukraine, and threatening the newer members of NATO, it has demonstrated a behavior inconsistent with the security environment in 1997 and the Founding Act principles. Moscow should not expect that it can, for example, violate the Budapest Memorandum with impunity and have the West to unilaterally abide by the Act.
Third, though it may justifiably be argued that NATO's Enhanced Forward Presence is a helpful commitment to the newer NATO states, it is quite limited in capacity. (Even still, Russia has found it quite objectionable.) The four battlegroups in the Baltic states and Poland are minuscule and are deployed on a rotating basis only. And even if the rotations are continuous, the denial of permanence is psychologically and symbolically damaging; with each battle group numbering only slightly over one thousand troops, these are no more than tripwires. They do not rectify the well-founded concerns expressed in a 2016 RAND Study that Russia could seize the Latvian capital of Riga in 60 hours or less, and that they would present the West with a fait accompli before the West could get troops in place. Further, there is much reason to be concerned about the vulnerability of a thin piece of land—the Suwalki gap that connects Poland to Lithuania—which if captured by Russia would cut off the three Baltic states from the rest of the Alliance.
While NATO's Readiness Initiative agreement at the Brussels summit is a welcome development in terms of strengthening the alliance, it is still inadequate. Certainly, the creation of larger allied units—30 land battalions, 30 air fighter squadrons and 30 navy ships, which can respond to Russian aggression in 30 days or less—would make it more difficult for Russia to continue threatening Eastern Europe. But these forces would have to be brought to the area, and Russia would have ample opportunities for anti-access and area denial actions. The Readiness Initiative, therefore, is not a sufficient substitute for a substantive armored U.S. presence close to the Suwalki gap. A permanently stationed armored unit of no more than 15,000 troops would create an enhanced defense and deterrence capacity but would not present an offensive threat to Russia.
And although the United States has a thousand troops on a rotational basis in Poland as part of the Alliance's Enhanced Forward Presence, this presence does not offer the symbolic or substantive benefits of a permanent armored division stationed there. As helpful as increased European defense spending in Eastern Europe has been, the United States is indispensable in providing the hard security guarantees that underpin the Alliance.
Fourth, though deployment of armored forces would be fairly expensive, significant savings could be generated by further reducing the 35,000-troop U.S. presence in Germany. Germany could easily compensate for that reduction by increasing its very low military expenditures, which are at barely 1.25 percent of GDP, well below the 2 percent NATO guideline. In terms of Alliance cohesion, it would be ironic (and unjust) if wealthy West European countries such as Germany, Italy, and the Netherlands, which have greatly underspent on defense and feel few threats from Russia, would veto such an American deployment, and thereby deny the frontline Alliance states security from threats that the latter view as all too real. And with the increase of the U.S. defense budget to $700 billion in 2018, there is room for flexibility and fund re-allocation. (The U.S. government ought to even consider deploying a NATO flotilla to the Black Sea, to help reassure Romania and Bulgaria.)
Poland's difficulties with the European Union over Warsaw's decision to constrain the independence of its judiciary may, ironically and perhaps perversely, help its position with the Trump Administration. Yet whereas the EU leadership is alarmed by the nationalism, populism and Euroskepticism of Poland's ruling Law and Justice (PiS) government, these selfsame views align with President Trump's in non-trivial ways. If the President wanted to signal displeasure to Berlin and favor to Warsaw, he may end up pulling the trigger on the plan.
And the U.S. Senate will likely back the decision. Senators James Inhofe and the late John McCain supported a provision in the annual defense authorization for the Pentagon to do a feasibility study on a permanent basis in Poland, and were both very much in favor of such a deployment. The 2018 midterm elections have not likely changed the Senate's strongly favorable disposition.
Many have suggested that Trump would be reluctant to so directly confront Russia, and certainly his remarkably deferential attitude towards Putin, whenever they meet, seems to back up the case. There are, however, sharp differences between Trump's own often obsequious rhetoric towards Moscow, and the actual policies of his administration. It is not only America's participation and leadership in NATO's Enhanced Forward Presence and its command of the battlegroup in Poland, or its support of the forthcoming 30, 30, 30 and 30 NATO Readiness Initiative, that tells a different tale. It is also the Brussels Declaration itself, which President Trump signed shortly before the Helsinki summit with Putin, that showed a great deal of toughness. It not only reiterated a commitment to Article 5 of the Washington Treaty, but leveled withering criticism at Russia and issued tough warnings to Moscow. The Declaration also condemned Russia's aggression in Ukraine, provocative Russian activity on NATO's borders, its modernization of strategic forces, and "its irresponsible and aggressive nuclear rhetoric." Moreover, it affirmed that the Alliance, including the United States, viewed Russia's annexation of Crimea as illegal and illegitimate.
Furthermore, Moscow can't be happy about the massive increase in American defense expenditures in both 2018 and 2019; or Trump's relentless (and partially successful) push for greater NATO defense expenditures; or America's leadership of the huge 50,000-troop Trident Juncture NATO military maneuvers in Norwaythat clearly envision Russia as a potential aggressor; or the U.S. offer to supply large quantities of LNG to Europe in order to diminish Russian energy leverage over the continent.
The inner workings of the Trump Administration remain as clear as mud; it's never clear how decisions end up being made, and thus nothing should be taken for granted. Should the decision to move ahead be made, it would take quite some time to operationalize such a permanent deployment. An announcement now by the U.S. President would be important. It would send a powerful message to Moscow, and yield critical benefits well before even the first dollar was spent. And yes, politically President Trump may even do well by doing good.
Aurel Braun is a professor of International Relations and Political Science at the University of Toronto and an Associate at the Davis Center at Harvard University. He is also an MLI author.