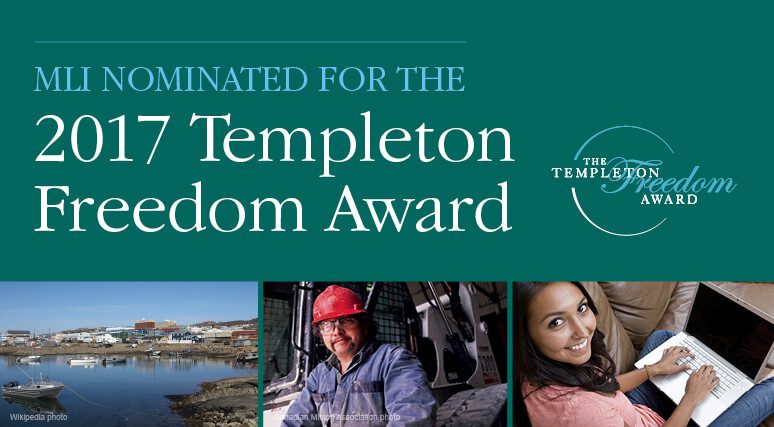 MLI's thought leadership on Indigenous issues has earned it a nomination for the Atlas Network's Templeton Freedom Award
OTTAWA, Sept 5, 2017 – The Macdonald-Laurier Institute's groundbreaking work on Indigenous affairs has led to a nomination for the prestigious Templeton Freedom Award.
The prize, which the US-based Atlas Network awards annually, recognizes "the most exceptional and innovative contributions to the understanding of free enterprise, and the public policies that encourage prosperity, innovation, and human fulfillment via free competition."
MLI has earned the nomination for its work on creating new opportunities for Indigenous communities, which has been recognized for fresh thinking on overcoming the challenges of state dependency and lack of opportunity.
"I am immensely proud that MLI has put unlocking prosperity for the Indigenous people of Canada at the forefront of its work," said Brian Lee Crowley, managing director of MLI. "For too long Aboriginal people have been forced by government policy to live outside the institutions that confer opportunity on everyone else. Our Aboriginal Canada and the Natural Resource Economy Project aims instead to bring Aboriginal communities into the economic mainstream while giving them more power and authority over their own lives and ensuring that development takes place in a way that is respectful of the environment and Indigenous priorities."
MLI's multi-year Aboriginal Canada and the Natural Resource Economy project has made the case that Indigenous engagement in the Canadian resource economy provides a once-in-a-century opportunity to set right the fundamental inequalities within Canadian life.
"I am immensely proud that MLI has put unlocking prosperity for the Indigenous people of Canada at the forefront of its work" -Brian Lee Crowley
MLI has employed rigorous policy analysis and an ambitious plan to disseminate its findings through regional summits between business and Aboriginal leaders, Parliamentary testimony, and broader communications. MLI's unique use of a 12-person Aboriginal advisory team composed of reform-minded Aboriginal business leaders, lawyers, economists, public policy analysts, and other scholars informed and oversaw its work, which has given the project greater resonance in Aboriginal communities.
Through its advocacy of strategies such as revenue-sharing agreements, legal certainty, and frameworks for Aboriginal equity investment, MLI's project to improve the lives of Aboriginal Canadians is having a strong impact. It has won widespread buy-in not only from Aboriginal and business communities but also from the Canadian government.
"Beyond its obvious positive consequences inside Canada, MLI's work with Aboriginal communities is potentially a model for others around the world," said Atlas Network CEO Brad Lips. "Too often, governments have created dependency among populations that would benefit most from economic engagement. MLI's project shows a constructive way forward."
The award will be presented during Atlas Network's Freedom Dinner on Nov. 8 in New York City at the historic Capitale. The winning organization will receive a $100,000 US prize, and five additional finalists will receive $25,000 US prizes.
***
The Macdonald-Laurier Institute is the only non-partisan, independent national public policy think tank in Ottawa focusing on the full range of issues that fall under the jurisdiction of the federal government.
For more information, please contact Mark Brownlee, communications manager, at 613-482-8327 x105 or email at mark.brownlee@macdonaldlaurier.ca.