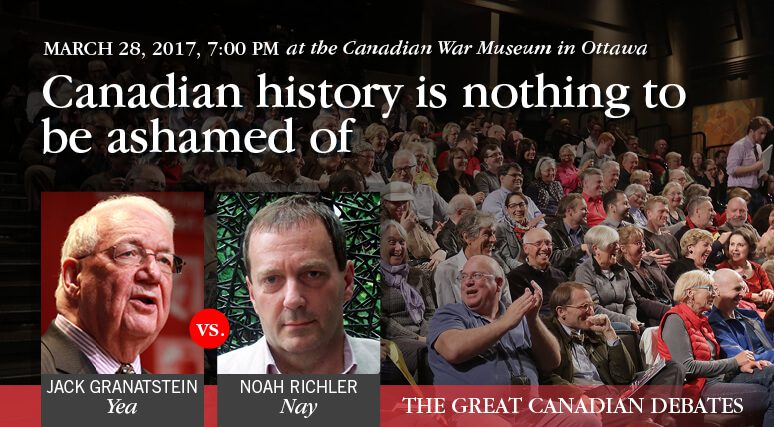 Latest entry in the Macdonald-Laurier Institute's series of Great Canadian Debates takes place March 28 at the Canadian War Museum
OTTAWA, March 21, 2017 – A respected historian and a well-known author will square off in Ottawa later this month over one of Canada's most contentious contemporary issues: Should Canadians be ashamed of their history?
Historian Jack Granatstein and author Noah Richler will take part in the latest entry in the Great Canadian Debates, the Macdonald-Laurier Institute's celebrated debate series, on March 28 at the Canadian War Museum in Ottawa.
Granatstein, the author of many influential Canadian history books, will argue in favour of the resolution ""Canadian history is nothing to be ashamed of". Noah Richler, a writer, former political candidate and author of The Candidate, will argue against.
As Canadians mark the 150th year of Confederation, there is a resounding celebration of Canada today, but not so much about Canada's past. Some would argue that we Canadians should take great much greater pride in our history, that we neglect the vision of our founders, our contribution to the great wars, and the course of historical events that have shaped this country. Others would caution against a too-rosy vision of the country's past. Our leaders have had many failings; Canadians have discriminated against immigrants, mistreated Indigenous peoples, and violated the rights of minorities. And where are the women in the story of Canada's history? While we have become a great nation, we weren't always the inclusive society we are today. Who's right? Is Canada's history nothing to be ashamed of?
When: 7 p.m., March 28, 2017
Where: Barney Danson Theatre, Canadian War Museum, 1 Vimy Pl., Ottawa, ON
Who: Jack Granatstein and Noah Richler
If you are a reporter interested in covering the debate, please contact Mark Brownlee at mark.brownlee@macdonaldlaurier.ca or 613-482-8327 x105.
To purchase a ticket, click here.
***
Born in Toronto in 1939, Jack Granatstein is a historian of Canada who has written numerous books and articles on political history, foreign policy, military history, and defence. Dr. Granatstein often comments in the media on matters concerning the Canadian politics and history.
Noah Richler made documentaries and features for BBC Radio for fourteen years before returning to Canada in 1998. He was the books editor and then the literary columnist for the National Post, and has contributed to numerous publications in Britain, including The Guardian, Punch, The Daily Telegraph, and in Canada to The Walrus, Maisonneuve, Saturday Night, the Toronto Star, and The Globe and Mail. He is the author of "This Is My Country, What's Yours?", "The Candidate", and "What We Talk About When We Talk About War".
The Macdonald-Laurier Institute is the only non-partisan, independent national public policy think tank in Ottawa focusing on the full range of issues that fall under the jurisdiction of the federal government.
For more information, please contact Mark Brownlee, communications manager, at 613-482-8327 x105 or email at mark.brownlee@macdonaldlaurier.ca.