Writing in the Globe and Mail, Macdonald-Laurier Institute Managing Director Brian Lee Crowley says that Ottawa has gone back into hiding after only a few months ago making big noises about pushing interprovincial trade in Canada.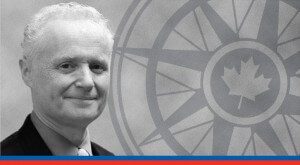 Only a few months ago, Crowley writes, the federal government was promising to attack the issue head-on. Now? Ottawa is silent on interprovincial trade.
"Sadly the feds seem to concur with the provincial view that this is none of Ottawa's business", Crowley writes.
By Brian Lee Crowley, Nov. 17, 2014
As we head toward the federal election due in October 2015 the federal government is chalking up impressive progress on trade deals, including free trade with the 500 consumers in the European Union and with South Korea, one of Asia's most dynamic economies. We are at the table negotiating the Trans-Pacific Partnership with 11 other Pacific nations. Yet free trade between Canadians, an economy-strengthening measure worth as much as $10 billion annually, has yet again slid from the national agenda.
Just a few months ago Industry Minister James Moore was making the most hopeful noises we'd heard in years in this perennially disappointing file. The glimmer of light he saw on the horizon came chiefly from the commitment he sensed from the strongly federalist government that emerged from the last Quebec election. Premier Philippe Couillard wants to prove to Quebeckers that belonging to Canada is in their interests and wants concrete economic gains over the course of his mandate.
But while Minister Moore pointed to the lessening of Quebec's dogged resistance to a pan-Canadian deal as the chief reason for optimism, behind the scenes more was happening. Manitoba's Jobs and Economy Minister Teresa Oswald had emerged as a powerful and effective champion for progress among her provincial colleagues. That in itself was huge: Manitoba has Canada's only NDP provincial government, and the NDP have traditionally been the party most sceptical about the benefits of trade liberalization both foreign and domestic. It is also the only western province not to have signed on to the New West Partnership, a regional free trade bloc. Minister Oswald had the wind in her sails and credibility with her colleagues.
Due to internal Manitoba politics, however, Minister Oswald and four of her colleagues recently resigned from cabinet. Whatever momentum existed within the provinces to move ahead on domestic free trade has evaporated. The planned meeting of provincial ministers responsible scheduled for earlier this month fell by the wayside. A phone call will take its place next week but ominously the stakeholders who are pushing for action have been excluded. Minister Moore has gone radio silent.
For Ottawa simply to go back into hiding on this issue is no help. If anything, the collapse of the alleged historic conjuncture of provincial support for recognising Canadians' rights to carry on their business or trade in every part of Canada proves yet again that the provinces cannot solve this problem and federal leadership is indispensable.
The fact that success or failure might hang by the presence of an individual minister in this or that province proves how shallow the commitment to progress is on the part of the provinces collectively. Since the provinces have created most of the barriers themselves and would pay a political price for eliminating them, their will is weak to begin with. Add to that the fact that the provinces work by consensus and that puts protectionist provinces like Ontario in the driver's seat. All they have to do is say no and nothing happens.
Sadly the feds seem to concur with the provincial view that this is none of Ottawa's business. I attended an internal trade event a few months ago where Minister Moore spoke and his reaction to the notion that Ottawa might take the lead in tearing down these barriers was that it was not "the Canadian way."
Perhaps it's time we revisited the Canadian way. The federal government is in possession of legal opinions from some of the country's great constitutional minds that it has lots of scope under the constitution to seize the initiative. Moreover that's why we have a federal government in the first place. For years the attitude of the provinces has been that whatever they regard as under their jurisdiction is completely off limits for Ottawa, but whatever is under Ottawa's power must be negotiated with the provinces.
Ottawa should be muscular in its defence of federal power, not to be confrontational, but because we created a federal government and parliament so that they could act strongly and decisively in the national interest. That government and parliament were given power over trade and commerce among other things so that, in Father of Confederation George Brown's immortal phrase, Ottawa could throw down barriers between provinces, thus making "a citizen of one [province] a citizen of the whole."
Asserting Ottawa's power to protect Canadians' economic rights goes to the heart of the nation-building we undertook in 1867 but have not yet completed. It's never too late to do the right thing.
Brian Lee Crowley (twitter.com/brianleecrowley) is the Managing Director of the Macdonald-Laurier Institute, an independent non-partisan public policy think tank in Ottawa: www.macdonaldlaurier.ca.