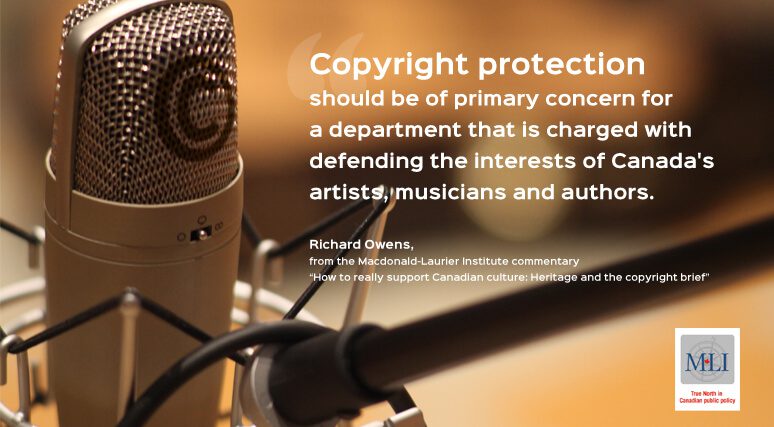 New study explores the many copyright issues facing the Heritage minister, and shows that supporting Canada's artists, musicians and authors is about more than government programs and subsidies
OTTAWA, July 13, 2016 – The marching orders for Canada's Heritage Minister have nothing to say about copyright protection, but those issue will loom large in the coming year.
Intellectual property expert Richard Owens, in a new commentary for the Macdonald-Laurier Institute, lays out a road map for Ottawa as it prepares for next year's mandatory Parliamentary review of the Copyright Act.
The paper examines the importance of copyright and intellectual property issues to the mandate of Heritage Minister Mélanie Joly, and a number of emerging issues the new minister will face on this file.
"Protecting Canada's artists, musicians, and authors with fair and balanced intellectual property legislation is crucial for the flowering of Canadian content and for the future vitality and vibrancy of Canadian culture", writes Owens.
To read the full commentary, titled "How to really support Canadian culture: Heritage and the copyright brief", click here.
Joly will, however, need to demonstrate a level of interest in protecting intellectual property that has been absent in Ottawa since last year's election. Owens notes that there is no mention of intellectual property law in Prime Minister Justin Trudeau's mandate letter to Heritage Minister Joly, which concentrates on the use of public funds to support Canada's cultural industries.
Prime-ministerial concern or not, amendments to the Act must deal with such pressing technological issues as the encroachment of technologies that allow Canadians to resort to piracy for their own entertainment pleasure; the implementation of international treaties, including the Trans-Pacific Partnership; artist resale rights; term length for copyright protection; efficient collective management; and effective enforcement.  
Also crying out for reform is the issue of fair dealing in determining exemptions for the copying and distribution of material in schools and other institutions.The current situation, created partly by the Supreme Court of Canada's too-broad interpretation of the law, lends itself to a growing dearth of Canadian content as authors turn away from a market that expects them to provide their intellectual property for free.
Enforcement provisions in the Act could use toughening up as well. One controversial standard is notice-and-notice, which means that an Internet service provider who is informed of copyright infringement need only send notice to the misbehaving user. Notice-and-takedown, which requires concrete action, would be far more effective at stopping copyright infringement.
This paper's recommendations include calling for a legislative fix to narrow the SCC's interpretation of fair dealing rights for educational institutions; extension of copyright protection to at least 70 years after the author's death; using notice-and-takedown or a graduated response system in enforcement; supporting implementation of the Trans-Pacific Partnership and its consequences for the Act; and championing a stronger Act to reflect the significance of copyright to cultural and economic policy.
***
Richard Owens is a lawyer who has specialized in business and commercial law, regulation of financial institutions, intellectual property and technology. He is an adjunct professor with the University of Toronto Faculty of Law and has served as the Executive Director of the Centre for Innovation Law and Policy at the University of Toronto. Richard has written and published widely on intellectual property law, the law of information technology, privacy, and the regulation of financial institutions.
The Macdonald-Laurier Institute is the only non-partisan, independent national public policy think tank in Ottawa focusing on the full range of issues that fall under the jurisdiction of the federal government.
For more information, please contact Mark Brownlee, communications manager, at 613-482-8327 x105 or email at mark.brownlee@macdonaldlaurier.ca.