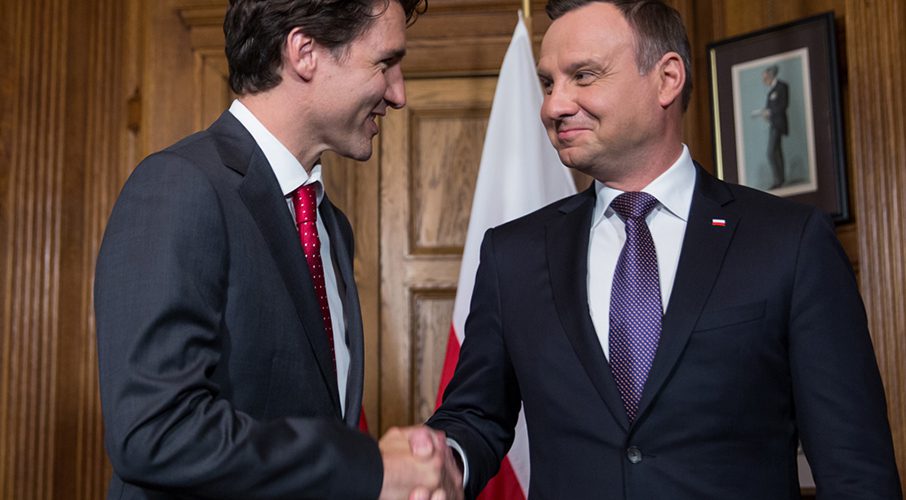 By Paweł Markiewicz, February 23, 2022
On December 2, 1991, Canada and Poland were the first Western countries to recognize the results of a referendum on Ukraine's declaration of independence. Canadian Prime Minister Brian Mulroney called the vote a testament to the Ukrainian people's desire for an independent country. Polish President Lech Wałęsa expressed his conviction that cooperation with an independent Ukraine would benefit the Central and East European neighborhood and Europe as a whole.
Russian President Vladimir Putin's escalation of tensions with the West, however, raises questions about the 1991 results. Besides invading Ukraine in 2014 and recently recognizing the separatist-controlled regions of Donetsk and Luhansk in eastern Ukraine as "independent" states, he plays on historic Russian imperialist thought to justify aggression. He excludes the idea that Ukrainians are a distinct nation – arguing that they are "one people" with Russians – while resorting to the threat of war to gain leverage over future decisions by NATO and the West in Central and Eastern Europe.
By amassing up to 190,000 armed troops on Ukraine's borders, Putin has signalled his intent to forcefully overturn the sovereign will of the Ukrainian people and achieve the goal of restoring Russian greatness. For Putin, this means rebuilding an empire akin to the Soviet Union that includes Ukraine and acquiring influence over Central Europe, thereby pushing the West out of the region.
In fact, he's already taking steps to do so. The Russian-led "peace operation" in Kazakhstan, which followed the eruption of civil unrest and peaceful protests, revealed Putin's desire to maintain Russian influence in Central Asia by re-imposing order with an iron fist. The same is true in Belarus. Strongman Aleksander Lukashenko, a close ally of Putin's, continues to cling to power after rigged presidential elections in 2020 and unlawfully arrests opposition leaders. Recently, he engineered an irregular migrant crisis on the borders with Poland, Latvia, and Lithuania, amounting to a hybrid attack aimed at destabilizing the European Union (EU) in response to sanctions the EU imposed (together with the US, UK, and Canada) on his regime in June 2021. Lukashenko pledged greater political and economic dependence on Russia while acquiescing to Russian military control over his country. The recent announcement that 30,000 Russian troops currently training in Belarus would stay in the country indefinitely presents the danger of a concentrated military build-up directly on NATO's eastern flank.
Since recognizing its independence in 1991, Canada and Poland are two of Ukraine's most important transatlantic allies and partners. Canada stood by the principle that no nation should be excluded from joining NATO a priori and supported expanding Alliance membership to Central Europe, seeing these new allies as willing and able to assume their responsibilities and obligations. Since 2016, Canada is one of four NATO allies that leads a multinational battlegroup in North-Central Europe as an added means of defence and deterrence in the region. Additionally, beginning in 2015, it has contributed to the security of Ukraine by training troops through Operation Unifier. Scheduled to cease in March 2022, the Trudeau government announced an extension of this mission in the face of Russian aggression in Ukraine.
Regionally, Poland has also been vocal and proactive. Since day one, it has strengthened its eastern political and security partnerships bilaterally and multilaterally, such as by forming the Lublin Triangle Format with Lithuania and Ukraine. Warsaw fully supported Ukrainian efforts toward democratic transparency during the Orange Revolution and the Revolution of Dignity. It also backs the Belarusian democratic opposition and the self-determination of Belarusians to choose their government freely and fairly. Under its current chairmanship of the Organization for Security and Cooperation in Europe (OSCE), Poland urges members to respect the fundamental principles that all, including Russia, agreed to – specifically, the right of others to choose their alliances and partnerships.
Putin's Soviet revisionism also turned history into something Central and East Europeans are unifying around. In 2021 the foreign ministers of Lithuania, Poland, and Ukraine reaffirmed the European culture and values the three countries and Belarus share in common – a clear signal to Putin that Belarusian and Ukrainian history isn't simply rooted in Russia but also in the West. Of all the countries supporting Ukraine's Euro-Atlantic and Belarus' democratic aspirations, it is former satellites or republics like Poland and Lithuania, who through their own volition successfully transitioned from the Soviet sphere to Western democracy, that are actively involved in shepherding them along. This lies in Poland's policy of being a Western bridge in the East and an Eastern ambassador in the West.
However, as important as Canada and Poland's roles have been in Central and Eastern Europe, both countries should work more closely together in light of Putin's aggressiveness. At no time more than now does Europe and NATO need more of the Canada that played a key role in designing the international order while continuing to defend it.
The increasing presence and activity of Russian troops along NATO's eastern border weakens Alliance security. The Biden administration's deployment of American troops to NATO's eastern flank as an added measure of deterrence also reverberated with the Trudeau government. It announced plans to add an additional 460 troops on top of the 540 already stationed in Latvia as part of a NATO battle group. Like Poland, Canada also provides Ukraine with lethal military equipment for their defense capabilities.
Canada should add to its already valuable NATO commitment and diversify its positioning in Central Europe with an additional military deployment to Poland – the largest and most central ally in the region. By cooperating with the multinational Polish-Lithuania-Ukraine Brigade based in Lublin, Canada would be able to further integrate itself into a key Central European security framework. Canada's NATO know-how would prove invaluable in further integrating this Brigade (consisting of 4500 troops) with Western Alliance partners, even as it helps tie Ukraine closer to Western military structures in a multilateral (and truly Canadian) way.
As a top global producer and exporter of energy, Canada does not have to worry about its energy security and independence. The same cannot be said for Central and Eastern Europe. A series of pipelines running from Russia through Belarus and Ukraine provide the continent with natural gas. These, along with the Nord Stream 1 and 2 lines running across the Baltic Sea from Russia to Germany, illustrate how Putin leverages vital energy exports to drive a wedge between Europeans. These exports not only fund his war machine but also fattens the wallets of his kleptocratic circle of oligarchs.
Unfortunately, Canada has no global LNG export capabilities. However, this doesn't mean that it can't play a role. To curtail Central and East European reliance on Russian gas, Canada should consider following in the footsteps of the United States by politically endorsing the Three Seas Initiative (TSI) – a vast, multilateral collaboration among 12 Central European states focused on developing local energy, transportation, and digital infrastructure throughout the region. Key is creating an LNG network that would enable supplying the region with gas (like from the US), thereby facilitating the transition towards a carbon-neutral economy.
The TSI Investment Fund provides an added avenue for commercial partnerships while directing funds to priority projects. The US has already earmarked US$1 billion for the fund. Canada's federal government, provincial legislatures, and business community should consider investing in the fund to rectify the longstanding infrastructure gap in the region. Contributing to regional prosperity and stability via the TSI will bring political and economic dividends to Canada in the long run.
Canada and Poland should also take the lead in strengthening democratic transparency in Eastern Europe. In 2014 both partnered on a joint package aimed at stabilizing Ukraine's economy, consolidating its democracy, and supporting civic engagement. Both financed a joint Democracy Support Program (valued at $6.3 million for 2014-2017) that engaged Ukrainian citizens in creating democratic institutions, especially at the local government level, and strengthening media independence. Canada's recent announcement to loan a total of $620 million to Ukraine in support of the country's economic resilience and government reforms are also a good sign. Like Poland, the Trudeau government has also actively engaged with Belarusian opposition leader, Sveltana Tikhanovskaya, and supports her cause.
However, Canada and Poland should consider coordinating a multilateral package with partners both inside (e.g., an updated Democracy Support Program or Solidarity Fund 2.0) and outside the region (via the G7, G20, and United Nations forums) to further strengthen democratic practices in Ukraine and support the democratic Belarusian opposition. Contributing financially to the democratic success of these two countries not only aligns with Canadian values and strengthens Canada's ties with its valuable partners in Central Europe but it would also serve as an emphatic counterargument to the lure of authoritarianism worldwide.
Paweł Markiewicz is a historian and international security analyst at the Polish Institute of International Affairs (PISM) in Warsaw. He specializes in topics concerning Poland's transatlantic relations as well as US and Canadian foreign-domestic policy. Markiewicz is the author of Unlikely Allies: Nazi German and Ukrainian Nationalist Collaboration in the General Government during World War II (Purdue University Press, 2021).