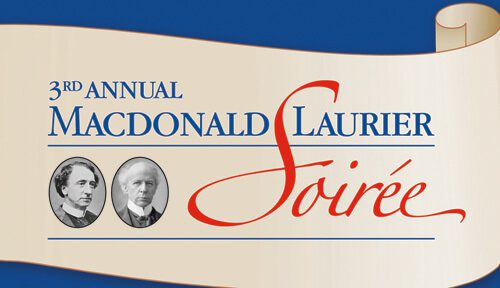 February 14, 2013 – The Macdonald-Laurier Institute once again celebrated Canada's flag and political traditions at our annual Soirée yesterday evening. A sold out crowd of over 200 guests enjoyed fabulous food (thanks Rideau Club!), conversation, and speakers. The Honourable Peter Milliken once again served as Honorary Chair, while the Honourable Jason Kenney, Minister of Citizen, Immigration and Multiculturalism, and Elizabeth May, leader of the Green Party of Canada, regaled the crowd with some wonderful stories about their favourite prime ministers (John George Diefenbaker and Sir John A. Macdonald respectively). The crowd included ministers, MPs, senators and many senior figures from business, the civil service, the media, the arts and members of the public, all of whom were there to help us celebrate another successful year for MLI.
Our thanks again to our sponsors, Spectra Energy, Intuit, and iPolitics, for their support, without which the evening would not have been possible.
Photos from the evening's festivities are displayed below.
We hope to see you next year!
—