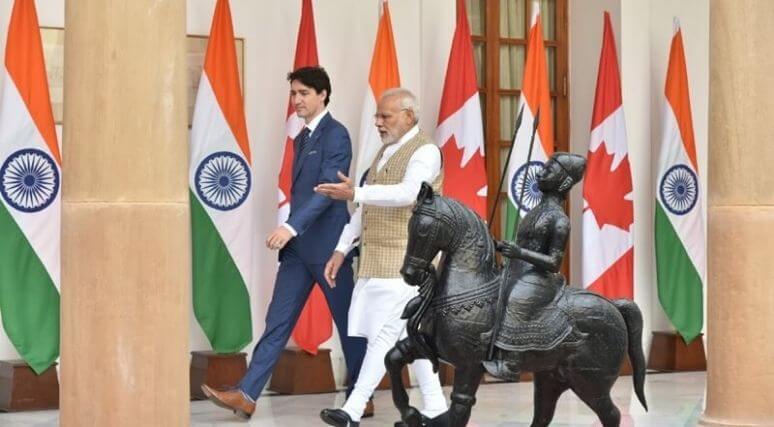 This article originally appeared in the Province.
By Karthik Nachiappan, November 14, 2022
Canadian Foreign Minister Mélanie Joly and India's Foreign Minister Subrahmanyam Jaishankar had a busy week at this year's UN General Assembly. That the two chief diplomats did not meet — bilaterally or at multilateral or trilateral conversation — might not be a surprise given the tepid state of Canada-India relations.
It is surprising, stupefying even, that no meaningful steps are being taken to revive ties between the countries. Both are working separately through the Comprehensive and Progressive Agreement for Trans-Pacific Partnership and the Quadrilateral Security Dialogue (known as the Quad) to tackle such challenges, making their partnering a natural and necessary extension.
India's future as a reliable Indo-Pacific security partner hinges on how New Delhi advances two goals: Digital transformation and climate change. Simply put, an economically vibrant India helps Canada weather an increasingly hostile Indo-Pacific by deftly balancing China's rise.
Undoubtedly, politics hampers progress. The Trudeau government's inability to devise strategic foreign policy has left diplomacy to the whims of personal preference, international optics and domestic politics. Working with pluralistic democracies like India should be in Canada's national interest, but perhaps the effects of electoral politics, party preferences and possibly institutional inertia has complicated the issue.
For India, its rise as an influential power has resulted in an increasingly instrumental and interest-based foreign policy that prioritizes major powers like the United States, France, China, Japan and Russia. Canada does not feature here. However, forces are perhaps congealing through the Indo-Pacific to give Ottawa and New Delhi a chance to fashion a viable, new partnership.
How would this partnership manifest?
There is a possibility to anchor Canada-India relations on an innovation-centric agenda that emphasizes the digital economy and climate change/energy nexus. This would cover issues like the digital economy, 5G, cybersecurity, space, start-ups, energy access and distribution, green technologies and electric vehicles. Such a multi-dimensional pact could be fruitful for both sides.
COVID-19 greatly accelerated the rise of India's new-age digital consumer, and almost every segment of the Indian economy is getting digitized. Critical technologies like artificial intelligence (AI), cloud computing, autonomous systems, the Internet of things (IoT) and 5G are turbocharging India's digital transformation.
Canada can and should facilitate India's economic transformation centred on digital innovation. In health care, education, finance and agriculture, there's growing demand for advanced computing techniques to fulfill tasks like predicting and managing disease outbreaks, understanding crop yield patterns given unpredictable climate events and developing tools to expand access to education.
Canada's pronounced strengths in advanced computing, particularly machine learning and AI, can help Indian entrepreneurs address such challenges. Natural synergies exist between India's information and communications technology and Canada's renowned AI capabilities. Canada's technological expertise, financing and collaboration can lift productivity, generate jobs, safeguard digital openness and stimulate India's economic growth.
Canada and India can also craft a mutually beneficial climate partnership grounded on innovation. India has crafted ambitious pledges to decarbonize and become a leader on issues like renewable energy. Rather than decarbonizing at the expense of development, India plans to remake its economy by exploiting low-carbon opportunities that generate ancillary benefits, like creating new industries, new jobs and cleaner air and water for its citizens.
Ottawa should engage New Delhi at this climate-development intersection. So far, climate co-operation has been limited, focused on knowledge and experience sharing. It's time to get concrete. Opportunities abound in climate technology transfer, particularly water, waste management, carbon capture and storage, green hydrogen and developing reliable smart grids.
Helping India reduce carbon emissions, deepen energy access and fortify its thriving but largely insecure digital infrastructure will have knock-on effects back home vis-a-vis climate change, deterring cyber threats and inking digital links between two dynamic innovation sectors.
Canada and India will have to overcome challenges to realize the potential of their partnership. Both governments need to map out how and where Canadian firms can unlock value. Policy co-ordination across agencies should occur on both digital and climate issues that could otherwise stifle co-operation. Above all, for Canada and India to avoid the kind of discord that has limited bilateral ties, political leaders in Ottawa and New Delhi must strive to develop a greater understanding of one another's strategic interests.
Karthik Nachiappan is a senior fellow at the Macdonald-Laurier Institute as well as research fellow at the Institute of South Asian Studies, National University of Singapore.