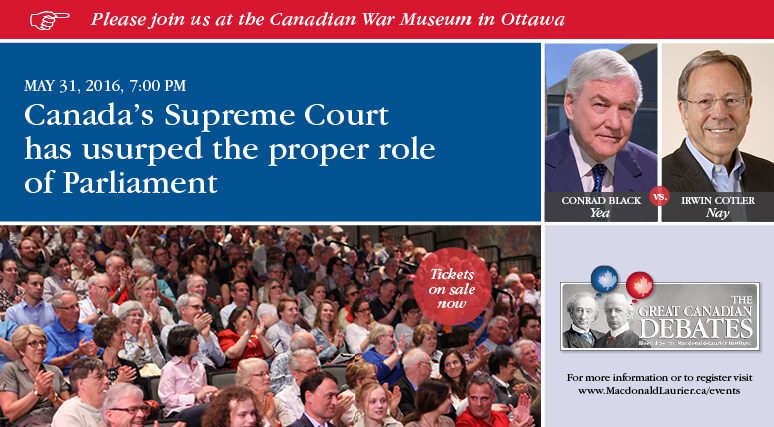 The latest entry in the Great Canadian Debates, which delves into whether Canada's Supreme Court is intruding on the democratic rights of Parliament, has sold out!
OTTAWA, May 20, 2016 – Is Canada's activist Supreme Court running roughshod over Parliament?
Lord Conrad Black and the Hon. Irwin Cotler will debate that question at a sold-out event on May 31, 2016 at the Canadian War Museum in Ottawa. This is another entry in the Macdonald-Laurier Institute's Great Canadian Debates series.
If you are a member of the media interested in covering this event, please contact Mark Brownlee at 613-482-8327 x105 or mark.brownlee@macdonaldlaurier.ca.
Since the adoption of Canada's Charter of Rights and Freedoms in 1982, there has been concern by traditionalists that the entrenchment of individual rights could diminish the role of Parliament, even leading to "judge-made law" by the Supreme Court.
On issues from abortion to same-sex marriage, it was indeed the court that took the lead, striking down legislation that it deemed violated the rights of Canadians while Parliament sat back, often unwilling to risk votes on touchy social issues.
More recently, a string of apparent losses for the federal government has reinvigorated the debate over the top court's role.
Have our appointed justices usurped power from Parliament, and thus the will of the people? Or is our Constitution a "living tree", whose meaning should be adapted to changing times, whether the government accepts it or not. Who is right? Is an activist Supreme Court a threat to Canada's democracy?
Black, a financier, author and columnist, will argue in favour of the motion: "Canada's Supreme Court has usurped the proper role of Parliament". Cotler, a former federal Justice Minister, will argue against.
When: 7 p.m., May 31, 2016

Where: Canadian War Museum, Ottawa

Who: Conrad Black and Irwin Cotler
To read more about the debates, click here.
***
Conrad Black is a financier, author and columnist.
Irwin Cotler is a former federal Justice Minister.
The Macdonald-Laurier Institute is the only non-partisan, independent national public policy think tank in Ottawa focusing on the full range of issues that fall under the jurisdiction of the federal government.
For more information, please contact Mark Brownlee, communications manager, at 613-482-8327 x105 or email at mark.brownlee@macdonaldlaurier.ca.