Event hosted by the Macdonald-Laurier Institute takes place at the Canadian War Museum in Ottawa on May 26
OTTAWA, May 25, 2015 – Voter turnout is falling. The Senate is overrun with scandal. MPs are powerless. Parties can win a majority in Parliament with the support of less than 40 per cent of voters.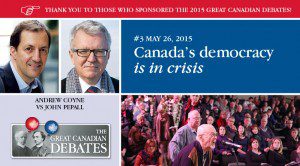 Is Canada's democracy in need of reform? Or will radical changes have unintended consequences for the institutions that have made Canada so successful?
On May 26, 2015, the Macdonald-Laurier Institute's Great Canadian Debates will bring together two of Canada's most influential thinkers to debate the resolution: "Canada's democracy is in crisis".
Postmedia columnist Andrew Coyne will argue in favour of the motion, while John Pepall, author of Against Reform, will argue against.
For tickets to this debate, click here.
The event will be moderated by Peter Milliken, former speaker of the House of Commons.
Where: The Canadian War Museum, 1 Vimy Pl, Ottawa, ON
What: Part three of MLI's 2014-15 Great Canadian Debates series
When: May 26, 2015
Who: Andrew Coyne and John Pepall
The event is the third and final entry in the Spring 2015 schedule of the Great Canadian Debates.
On March 31, Frank Buckley and Chrystia Freeland squared off over income inequality. On April 29, Ken Coates and Lloyd Axworthy debated the proposition that too many Canadian kids are going to university.
***
The Macdonald-Laurier Institute is the only non-partisan, independent, national public policy think tank in Ottawa focusing on the full range of issues that fall under the jurisdiction of the federal government. Join us in 2015 as we celebrate our 5th anniversary.
If you are a reporter interested in covering the debates, please contact David Watson, managing editor and communications director, at 613-482-8327 x 103 or email at david.watson@macdonaldlaurier.ca.