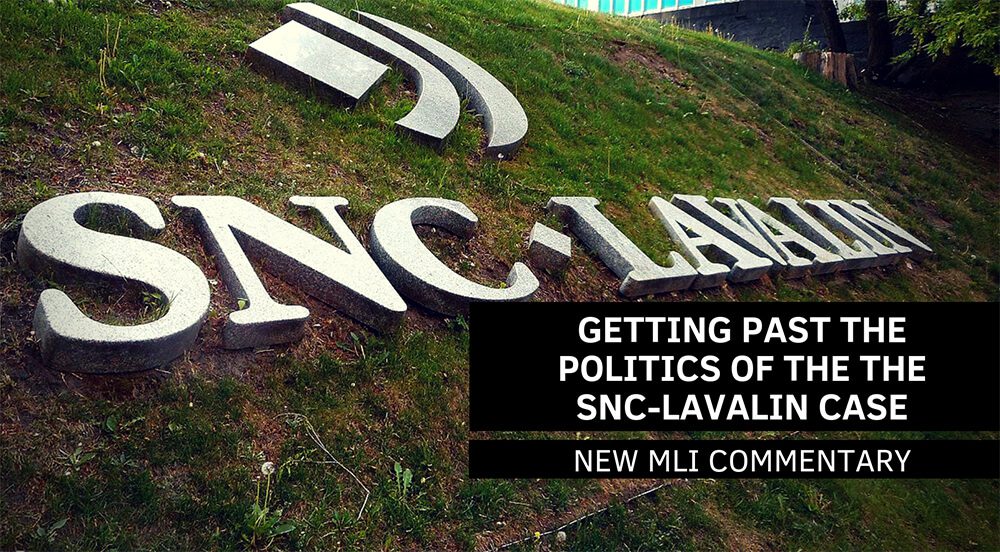 OTTAWA, ON (March 21, 2019): News watchers in Canada have had front row seats to the so-called "LavScam," along with all the political games that accompany such a scandal. Putting aside optics and politics though, what does the SNC-Lavalin case actually mean? And what changes should the government implement to prevent similar scandals from erupting?
A new MLI commentary by Scott Newark seeks to clarify these important but as of yet unanswered questions. Titled The SNC-Lavalin Case: Getting Past the Politics and Identifying Necessary Changes, Newark argues that independence, transparency, and de-politicization are all important and achievable improvements that can be made in the wake of this case.
"Given the high-profile subject of this case, the political and official actors involved and the unprecedented resignation from Cabinet followed by explosive condemnation and expressions of loss of confidence in the Prime Minister, it is not surprising that the current political firestorm rages on," writes Newark.
"Hopefully, attention will also be given to why this controversy happened and if there are legislative and policy reforms that could help prevent it from happening again."
In his dispassionate analysis, Newark reviews the events that were alleged to have transpired. In large part, the processes and rules related to the case are unclear, poorly worded, or even contradictory in nature. Whether it is Deferred Prosecution Agreements, what constitutes undue pressure, or the nature of the relationship between senior governmental offices, he finds that there is plenty of room for improvement.
"Public confidence in our justice system is essential. Having a clearly defined process that stresses independence, transparency and informed rather than political decision making is a cornerstone of maintaining that public confidence."
Newark also suggests that some of the conduct by the Prime Minister's Office and other officials to pressure the former Attorney General Jody Wilson-Raybould was inappropriate in nature.
"When the [Attorney General] has considered a specific issue, like economic impact and job loss, and reached a decision, having outside political or official actors re-argue the same issue without new facts to try and change the exercise of discretion is highly questionable."
According to Newark, there are several actions that the government could consider in order to prevent a repeat incident. His recommendations to the government include:
Implementing changes to Public Services and Procurement Canada's policy banning convicted companies from bidding on federal contracts for 5-10 years to allow full discretion as to imposing a ban or what its length will be;
Including security-based intelligence considerations in assessing bans on companies bidding on federal contracts;
Amend the Criminal Code to remove contradictory considerations and retain potential domestic job loss as valid criteria in whether to approve a Deferred Prosecution Agreement;
Develop government protocols for the AG to give formal notification of decisions regarding case prosecutions as well as a defined mandatory process for any subsequent Ministerial, staff or official contact with the AG on the case or issues related to it;
Review whether the AG and Minister of Justice should be separate with defined roles;
Consider the reports of the Ethics Commissioner and the House Justice Committee regarding any official misconduct in the entire SNC-Lavalin case.
While Newark does not claim that these measures would fix the entire complex web of problems identified in the "LavScam" case, he believes that improvements are nonetheless possible and important.
"We can learn from this case…so it doesn't happen again."
To better understand the issues underpinning the SNC-Lavalin case and what should be done moving forward, read the full commentary here.
For more information media are invited to contact:
Brett Byers-Lane
Communications and Digital Media Manager
613-482-8327 x105
brett.byers-lane@macdonaldlaurier.ca