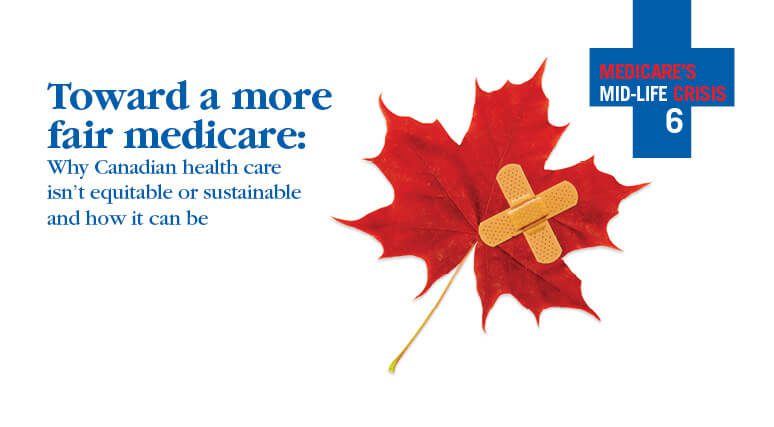 MLI paper offers solutions for making Canada's health care system more equitable and sustainable
OTTAWA, July 19, 2016 – Canada's much-celebrated health-care system is failing to live up to the lofty principles of universality for which it aspires, a new paper from the Macdonald-Laurier Institute finds.
Authors Sean Speer and Ian Lee find Canada's single-payer model for hospital and physician services leaves little public monies left over to help low- and middle-income Canadians cover the costs of uninsured services and treatments such as drugs, dental, and out-patient services.
The result is Canadians must pay these costs through private insurance or out-of-pocket spending irrespective of income or family circumstances.
"Put simply: Canada's current system of public health insurance is a mile deep and an inch wide", write Speer and Lee.
To read the full paper, titled "Toward a more fair medicare: Why Canadian health care isn't equitable or sustainable and how it can be", click here.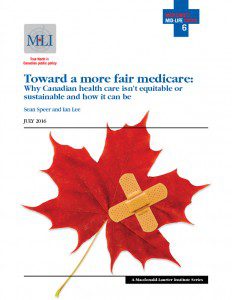 Health care is going to loom large at Prime Minister Justin Trudeau's meeting with provincial and territorial premiers. The Trudeau government has committed to a new health accord and there are plenty of unanswered questions about the goals and design of such an agreement.
Expanding access to low- and middle-income Canadians and ensuring the long-term fiscal sustainability of the health-care system ought to be the focus. Speer and Lee chart a path forward.
The study examines how health care is financed in Canada, how its financing differs with comparable jurisdictions, and how the present imbalance between public and private financing actually makes Canada's health care system less egalitarian and universal and frankly more American than we may think.
It then sets out recommendations to draw on greater private financing for hospital and doctors' services from high-income Canadians in the form of patient cost-sharing in order to enable governments to extend public financing to low- and middle-income families to help cover the cost of presently uninsured services and treatments.
"Put simply: Canada's current system of public health insurance is a mile deep and an inch wide"
One potential model could be the Trudeau government's changes to federal child-care benefits, whereby means-testing was used to provide more generous payments for low- and middle-income families. The prime minister has frequently said that child benefits shouldn't go to wealthy families like his own. The same principle ought to apply to how we finance the health-care system.
The result would not be to undermine universality but rather to strengthen it, say Lee and Speer. "Governing is about making choices on how to use scarce public resources and the present health care financing model is both increasingly unsustainable and failing live up to the principle of universality", say Speer and Lee.
"The goal of the prime minister and the premiers should be to make progress on both fronts by using private financing to broaden universal health care coverage and minimize the strain on government budgets".
***
Ian Lee teaches strategic management at Carleton University's Sprott School of Business.
Sean Speer is a Senior Fellow at the Macdonald-Laurier Institute. He previously served in different roles for the federal government including as senior economic adviser to the Prime Minister and director of policy to the Minister of Finance.
The Macdonald-Laurier Institute is the only non-partisan, independent national public policy think tank in Ottawa focusing on the full range of issues that fall under the jurisdiction of the federal government.
For more information, please contact Mark Brownlee, communications manager, at 613-482-8327 x105 or email at mark.brownlee@macdonaldlaurier.ca.