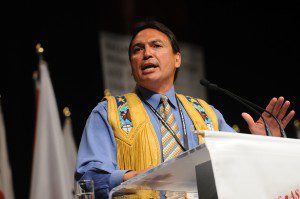 Throughout his tenure, Bellegarde has searched for balance between pro-development First Nations and those opposed to major projects, particularly the Trans Mountain pipeline, writes Ken Coates in iPolitics. Below is an excerpt from the article, which can be read in full here. 
By Ken Coates, February 3, 2021
National Chief Perry Bellegarde has announced he won't be seeking a third term as leader of the Assembly of First Nations (AFN), following seven eventful years as one of the country's most prominent political leaders. Bellegarde reached this renown by maintaining a consistent, positive, and expansive role in national affairs.
Bellegarde, former grand chief of the Federation of Sovereign Indigenous Nations in Saskatchewan, assumed office in 2014. His predecessor, Shawn Atleo, had stepped down after intense debate about the AFN's relationship with then-prime minister Stephen Harper's government, specifically over the First Nations Control of First Nations Education Act. Bellegarde, like all previous national chiefs, has had to deal with: considerable dissent within the AFN; tensions with the government of Canada; and considerable push-back from the public at large.
The national chief holds an exceptionally high profile, and faces the daunting challenge of knitting together a loose coalition of chiefs from well over 600 Indigenous nations across Canada. The election is indirect, for the national chief is selected by the chiefs, not through a direct vote by First Nations people. Therefore, the national chief's authority comes from the chiefs, not the broader Indigenous population.
The AFN plays an important role in national affairs, perhaps more so during the tenure of Prime Minister Justin Trudeau. Far more than a traditional lobby group, the AFN negotiates with Ottawa directly through the national chief, debating programs and funding. The AFN provides coordinating services for First Nations, and has often used its power to bring First Nations together with business, government, and international organizations. More than any other Canadian institution, the Assembly has helped to keep Indigenous issues in the public eye. Bellegarde has been particularly effective in his relations with news media.