Co-sponsored with the American Enterprise Institute (AEI) 

Event Date: Tuesday, September 18, 2012   |   2:00 PM – 4:00 PM

Location: American Enterprise Institute, Twelfth Floor
1150 Seventeenth Street, NW
Washington, DC 20036
Videos from the event below:
About this event
In the 1990s, Canada suffered from the same economic malaise that plagues the U.S. today: slow economic growth, heavy government spending and a rising national debt. Canada's remarkable turnaround relied relatively little on raising taxes; instead, federal program spending was cut by nearly 10 percent over a two-year period to restore its budget to balance. Its federal government also devolved greater responsibility to provincial governments, leading to a decade of strong growth in employment, gross domestic product and investments. Despite the political challenges of reform, the governments responsible were consistently re-elected both federally and provincially.
This joint AEI/Macdonald-Laurier Institute event will feature a distinguished group of Canadian politicians who managed the difficult politics of this period of powerful reform. The keynote speech will be provided by the Right Honourable Paul Martin, former Canadian Finance Minister and Prime Minister, under whose leadership many of Canada's reforms were enacted.

Agenda
1:45 PM     Registration
2:00 PM     Opening remarks by Henry Olsen, AEI
2:10 PM     Introductions by Mary O'Grady, The Wall Street Journal
                       Panelists
Andrew G. Biggs, AEI
Stockwell Day, Stockwell Day Connex
Ron Kneebone, University of Calgary
Janice MacKinnon, Former Finance Minister of Saskatchewan
3:10 PM     Break
3:15 PM     Introduction by Brian Lee Crowley, Macdonald-Laurier Institute
                       Remarks by Paul Martin, former Canadian Finance Minister and
Prime Minister
3:45 PM     Question and answer session
4:00 PM     Reception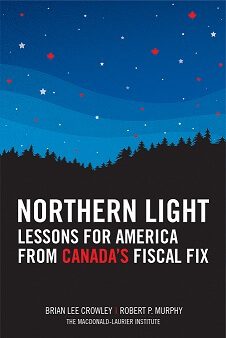 The Macdonald-Laurier Institute's book, Northern Lights: Lessons for America from Canada's Fiscal Fix, is now available. Description: As the US wrestles with its growing fiscal crisis, Northern Light examines what lessons Americans and their political leaders might draw from how Canada in the 1990s slew its deficit dragon, balanced the budget, fixed public pensions and social welfare and in so doing helped forge a national consensus in favour of responsible public finances that endures to this day.
Northern Light Video:
Event contact information
For more information, please contact Robin Bourke, robin.bourke@macdonaldlaurier.ca, 613-482-8327 ext. 101.
For media inquiries, please contact Tripti Saha, tripti.saha@macdonaldlaurier.ca, 613-482-8327 ext. 105.