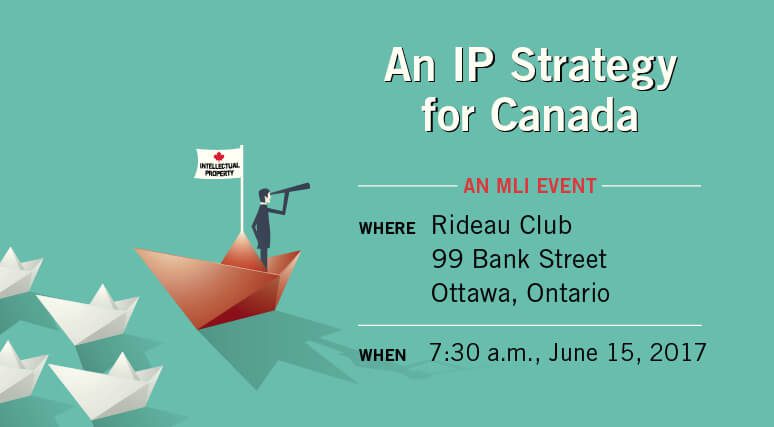 The media is invited to attend MLI's event on an intellectual property strategy for Canada
OTTAWA, June 12, 2017 – Intellectual property rights are a hot topic in Canada, with federal government promising to develop an "intellectual property strategy" in this year's budget. This idea is welcome. Canada has an uneven record on intellectual property policy.
With a major new project, the Macdonald-Laurier Institute is seeking to start a national conversation about the importance of IP, and how it positively contributes to investment, innovation, and job creation. On June 15 we will hear from Parliamentary Secretary David Lametti about the government's plans, and we have convened a high-level panel to discuss the state of intellectual property rights in Canada. We hope you will join us.
Where: Rideau Club, 99 Bank St. Ottawa
When: June 15, 2017, registration and breakfast served at 7:30 am, program begins at 8 am
***If you are interested in covering this event click here to register or email info@macdonaldlaurier.ca***
Host: Brian Lee Crowley, Macdonald-Laurier Institute Managing Director
Opening Remarks: David Lametti, Parliamentary Secretary to the Minister of Innovation, Science and Economic Development
Presentation: Richard Owens, MLI Munk Senior Fellow
Panel Moderator: Sean Speer, MLI Munk Senior Fellow
Panellists:
Barry Sookman, Senior Partner, McCarthy Tétrault
Erin Finlay, Chief Legal Officer, Canadian Media Producers Association
Stephen Ezell, Vice President, Global Innovation Policy, at the Information Technology and Innovation Foundation (ITIF)
Declan Hamill, Vice-President, Legal and Regulatory Affairs & Policy, Innovative Medicines Canada
** Dress code reminder – Please note that a collared shirt, business jacket, dress pants and dress shoes are required for men when visiting the Rideau Club **
**Dresses, suits, skirts with blouses, dress pants required for women visiting the Rideau Club**
***
The Macdonald-Laurier Institute is the only non-partisan, independent national public policy think tank in Ottawa focusing on the full range of issues that fall under the jurisdiction of the federal government.
For more information, please contact Mark Brownlee, communications manager, at 613-482-8327 x105 or email at mark.brownlee@macdonaldlaurier.ca.