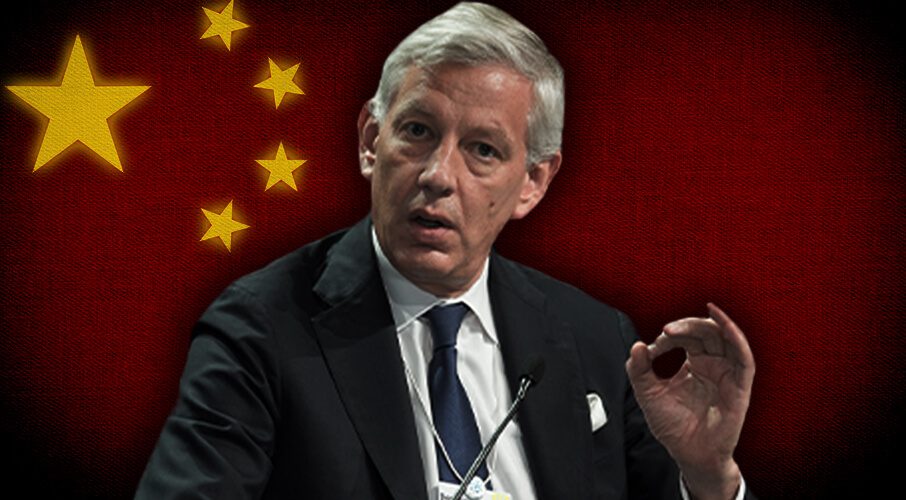 Claims that Barton was one of "Canada's great diplomats" may have been greatly exaggerated, writes J. Michael Cole in The Line.
By J. Michael Cole, December 16, 2021
Dominic Barton, Canada's ambassador to the People's Republic of China for the past two years, has announced he will step down at the end of this month. Despite Foreign Affairs Minister Mélanie Joly's contention that he "will be remembered throughout history as one of Canada's great diplomats," Mr. Barton will instead serve as a footnote to a difficult period in Sino-Canadian relations, during which Ottawa chose to put trade ahead of the values and principles that ostensibly define our country.
When Prime Minister Justin Trudeau appointed Mr. Barton to the post in Beijing after John McCallum called it quits, it was clear the new envoy would face extraordinary challenges. At the time, China had imposed sectoral trade sanctions on Canada, and bilateral ties were at an all-time low amid a dispute over the detention of Huawei CFO Meng Wanzhou and the retaliatory kidnapping of two Canadian nationals, Michael Kovrig and Michael Spavor.
This kind of diplomatic impasse — one made all the more challenging due to the fact that the other side was ruled by a Marxist-Leninist, ultra-personalistic authoritarian regime — would have been formidably daunting to the most seasoned of diplomats.
Unfortunately for Canada, Mr. Barton not only didn't have any diplomatic experience, but he walked into the job with a pedigree, as the head of the China operations at global consulting firm McKinsey and Co., that raised many questions over potential conflicts of interest. Among McKinsey's top clients are Chinese state-owned enterprises that work hand-in-hand with the Chinese Communist Party in expanding its authoritarian influence worldwide.
Ottawa's decision, therefore, was terrible optics. It made it very easy for Trudeau's critics to conclude that our fundamental differences with the CCP over human rights, military expansionism, and emerging signs of genocide in Xinjiang were of lesser importance than maintaining good relations with the regime and protecting trade. It looked as if the decision to appoint Mr. Barton hadn't originated in the Prime Minister's Office, but rather at the Canada China Business Council or the executive suite of some large multinational.
Perhaps Ottawa hoped that picking someone whose previous job was a top executive handling the China portfolio would provide the access needed to navigate Beijing in difficult times. Whatever the aim may have been, that strategy largely failed and the two Michaels languished in prison, their release only secured after the U.S. struck a deal that led to Ms. Meng's return to China (the extent to which Mr. Barton played a role in the negotiations surrounding their release is very much in contention). The sectoral sanctions, meanwhile, remain in place, and Beijing is as belligerent, anti-democratic, and destabilizing as ever before.
Of course, we cannot go back in time and see what would have happened if Ottawa had dispatched a more seasoned diplomat to Beijing, someone who would have spoken with more authority, and perhaps more forcefully, on matters of the greatest importance. Perhaps he or she would also have failed to sway a party that, under Xi Jinping, doesn't seem to care about world opinion and that will not cede an inch to anyone; but at least Canada would not have undermined its claims to moral authority in the process, let alone give the impression that trade and appeasement were now the guiding lights of our foreign policy.
With Mr. Barton, and Mr. McCallum before him, the results have been less than stellar. It is now time to try something else and to clearly state where we stand on matters of human rights and democracy. It is past time we brought back diplomatic skill and dignity to the post of ambassador to one of the world's most important countries, one where the very future of global governance — democratic or authoritarian — is being defined.
We once again need someone who will unashamedly champion the values that define us, someone who will stand tall and who, along with likeminded allies who expect Canadian participation, will not hesitate to do what's right in the face of this undeniable assault on the world order.
Above all, this means a diplomat who will not hesitate to give Ottawa his or her unfiltered assessment of what is going on in China and to challenge, where necessary, the wrong assumptions that for far too long have shaped Canada's approach to the country. In other words, our next ambassador to China needs to be someone who will truly earn the right to "be remembered throughout history as one of Canada's great diplomats."
J. Michael Cole is a Taipei-based senior fellow with the Macdonald-Laurier Institute in Ottawa. He is a former intelligence officer with the Canadian Security Intelligence Service.