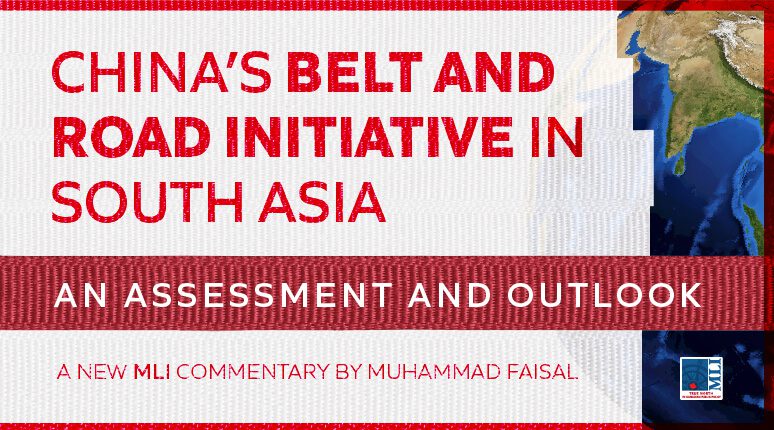 OTTAWA, ON (June 29, 2021): China's Belt and Road Initiative (BRI) – perhaps President Xi Jinping's signature policy program – is hitting major roadblocks in South Asia. These challenges present significant opportunities for the international community, including Canada, to balance China's influence in the region.
In a new MLI commentary titled "China's Belt and Road Initiative in South Asia: An assessment and outlook," Muhammad Faisal writes that, beyond an investment and infrastructure development strategy, the BRI is used to influence economically weaker countries and develop assets that help accomplish China's greater geostrategic goals. The BRI has also been criticized for leveraging "debt trap diplomacy," by which China develops assets in countries that it knows have limited long-term means to pay for them, thus incurring unsustainable levels of debt. As a result, host countries are eventually forced to forfeit the assets to Beijing.
In this context, South Asia is crucial for the BRI. South Asian countries need large amounts of infrastructure investment and are experiencing economic growth that China hopes to tap into. The region is also situated close to China and its large population centres.
Yet China has also begun to experience setbacks in South Asia. As Faisal notes, India in particular has been skeptical of China's intentions with the BRI, leading to tensions with other smaller economies that Delhi sees as being within its sphere of influence. Additionally, Chinese investment into Pakistan has stalled. Despite some development successes, the Maldives and Sri Lanka confront rising debt levels that – being driven in part by the BRI – have made leaders in both countries increasingly wary of China's true intentions.
"The popular idea of a grand vision behind BRI, with Chinese leaders and strategists leveraging their thousands of years of his­tory to achieve that goal, is just a myth," writes Faisal. "The unfolding of BRI projects has demonstrated that China has turned South Asia into a large trial-and-error experiment for its global engagement."
China's challenges in pursuing BRI investments in South Asia stem from a lack of preparedness and an inability to fully grasp the domestic and international factors influencing national governments. Rather than simply accepting easy money from Beijing, countries are pursuing their own interests, creating alternative infrastructure investment opportunities for the international community.
"For Western governments looking for a policy response to China's BRI, the first step ought to be the expansion of economic, trade, and development cooperation with every South Asian country," says Faisal.
Through multilateral partnerships, institutional dialogue with organizations such as the South Asian Association for Regional Cooperation, providing enhanced technical and support systems to infrastructure, and establishing best practices for China-funded projects, Western governments can begin to counterbalance China's influence.
Most importantly, Faisal argues that the international community must invest the time and energy necessary to understand the local dynamics in the different South Asian states and understand their specific development needs. This will allow South Asian countries to have a greater range of options when looking to address their development needs.
To learn more about the troubles facing the BRI and how the international community can step in to offer better development options, click the button below.
***
Muhammad Faisal is an Islamabad-based foreign policy analyst. He was an SAV Visiting Fellow at the Stimson Center in January 2018.
For more information, media are invited to contact:
Brett Byers
Communications and Digital Media Manager
613-482-8327 x105
brett.byers@macdonaldlaurier.ca