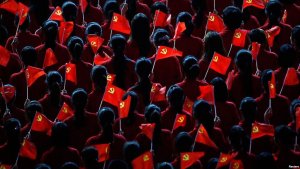 Ignorance and dearth of policy are effectively aiding, abetting, and enabling China's influence activities in Canadian universities, writes Christian Leuprecht.
By Christian Leuprecht, November 12, 2018
Waterloo, Toronto and McGill universities are touting their ranks among the best universities in the world.
They also have the dubious distinction of ranking in the top 10 universities outside of China for collaboration with the People's Liberation Army (PLA) — the armed wing of the Communist Party of China — as measured by the number of peer-reviewed publications co-authored by PLA researchers between 2006 and 2017.
According to the PLA Daily, the National University of Defence and Technology (NUDT) and similar institutions have been "picking flowers in foreign lands to make honey in China." Since 2007 they have sponsored over 2,500 military scientists and engineers to infiltrate universities abroad, leverage overseas expertise, research and training and strategically develop relationships with researchers and institutions in technologically advanced countries to improve military technology.
According to Australia's Strategic Policy Institute, the PLA's collaboration is greatest in the United States and the United Kingdom (about 500 each), Canada and Australia (300 each) and Germany and Singapore (about 100 each) — and is often unwittingly supported by taxpayers.
Operatives actively disguise their military affiliations, such as claiming to be from non-existent academic institutions, to work in areas such as hypersonic missiles, navigation technology, quantum physics, signal processing, cryptography, and autonomous vehicles.
PLA scientists sent abroad are Chinese Communist Party members who return to China. Western universities and governments seem ignorant of what the PLA refers to as "civil-military fusion" to modernize the PLA. Clear government policy direction is lacking on what President Xi Jinping has described as a cornerstone of People's Republic of China national defence reform to build strategic capabilities and a strong military.
Claiming affiliation with the Zhengzhou Information Science and Technology Institute (ZISTI), while visiting McMaster University in 2011, Zhu Yijun worked on wireless communications technology with wide-ranging military applications. ZISTI exists on paper only; Zhu Yijun is actually associate professor in signals engineering at the PLA's Information Engineering University.
Ignorance and dearth of policy are effectively aiding, abetting, and enabling other illegal activities. An investigation published in Foreign Policy found that visiting students from Chinese universities were coerced to report on subversive opinions held by their peers. It stands to reason that the PLA has similar expectations of its researchers overseas. Indictments and research in the U.S. suggest that overseas PLA operatives may also be engaging in espionage or stealing intellectual property.
In 2014, the U.S. government indicted five Chinese military hackers. Owing to security fears, telecommunications giants Huawei and ZTE have been since banned from sensitive projects or acquisitions, including participation in the construction of the United States' and Australia's 5G network.
The U.S. has repeatedly implored Canada to follow suit, including a recent bipartisan missive by the ranking Republican and Democrat on the U.S. Senate Intelligence Committee. Prime Minister Justin Trudeau's response has been muted, while the incumbent director of the Communication Security Establishment's new Canadian Centre for Cybersecurity, Scott Jones, played down the risk. Indeed, the risk of Chinese cyber espionage had been largely theoretical.
Now a secret intelligence report has emerged that outlines how the Chinese government used Huawei as a conduit: staff were pressed for passwords and network access codes to enable Chinese intelligence to exploit a foreign network.
Whether the attempted hack was successful remains and whether the reported breach is the same as the allegedly nightly "transfer" (theft) of data from the African Union's Ethiopia headquarters over the course of five years, in which Huawei had previously been implicated, is unclear.
The Australian government gauges the risk posed by a network vendor as a function of capability, form, and intent: Does a company have the capability, history, or intent to breach a network? Huawei retorts that rival vendors of 5G technology source their hardware from China in joint venture with state-owned enterprises. However, Eriksson and Nokia do not operate in a jurisdiction where corporations can be compelled to provide information to intelligence services.
Last year China passed its National Intelligence Law; it obligates citizens and organizations to co-operate and collaborate with China's intelligence services.
Keep your friends close and your enemies closer. The dubious result: finally, a ranking where Canadian universities outperform their American peers.
Christian Leuprecht is a Professor in Leadership at the Royal Military College and Queen's University, and a Munk Senior Fellow at the Macdonald-Laurier Institute.