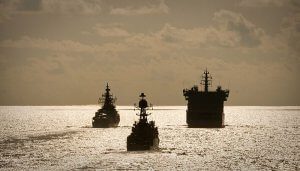 The crisis in the Maldives highlights the growing rivalry between India and China in the Indian Ocean, writes Mohan Malik. Part one of his article examines the context for this current crisis. (Click here for Part two.)
By Mohan Malik, March 15, 2018
Asia's old rivals, China and India – each a rising power in its own right – are competing to establish bases for the forward deployment of their naval assets and to gain relative advantage and leverage over the other. Consequently, life in the idyllic Maldives, an Indian Ocean archipelagic nation of 390,000 people, has been thrown into turmoil. In early February, the Maldives' president, Yameen Abdulla Gayoom, declared an emergency in response to a Supreme Court order for the release of political opponents, including his rival and former president Mohamed Nasheed, sacked police chiefs, chief justices and prominent parliamentarians being thrown behind bars.
This "all-out assault on democracy" by President Yameen drew widespread condemnation, including from the UN human rights chief. While India and the United States deplored the move and called for the restoration of the constitutional order and release of opponents, President Yameen dispatched envoys to "friendly nations" China, Pakistan, and Saudi Arabia to shore up support. Since becoming president in 2013 after a controversial election, Yameen has systematically weakened democratic institutions, crushed all dissidence, curbed civil liberties, and actively courted Beijing.
In response, former President Nasheed, who now lives in exile, appealed to rival India to send a military-backed envoy to resolve the crisis. He accused China of "buying up the Maldives," adding that this year's presidential election could be "the last chance to extricate the Maldives from increasing Chinese influence." Beijing, of course, dismissed Nasheed's accusations, claiming that "China has offered selfless assistance" for social development.
Amidst reports of India putting its special forces on alert, Beijing voiced its opposition to external interference, saying that "China did not want Maldives to become another 'flashpoint' in bilateral relations." While Foreign Ministry spokesperson invoked the "principles enshrined in UN Charter," the Global Times reported that China had threatened to "take action to stop" an Indian intervention in the Maldives. China then indeed took action to match its words. To deter Indian intervention and to show solidarity with the beleaguered autocrat, a Chinese naval flotilla entered the Andaman Sea through the Sunda Straits, emboldening Yameen to extend the state of emergency despite India's strong opposition.
Thus, six months after the military standoff over Bhutan's disputed Doklam territory in the Himalayas, China and India are again watching each other warily, this time in the Indian Ocean. The growing political crisis in the Maldives is a direct consequence of the intensifying Sino-Indian geopolitical rivalry. As their need for resources, markets, and bases grows, Asia's rising powers are increasingly running into each other in third countries.
China and India are again watching each other warily, this time in the Indian Ocean.
For both China and India, "forward presence" has acquired greater salience in their national security strategies to achieve "situational awareness" in areas of strategic interest. For Beijing, this means having a presence in the Indian Ocean; for Delhi, having a naval presence in the Pacific Ocean becomes critical for its strategic deterrence against Beijing. Having consolidated its hold over the South China Sea by militarizing artificial islands, China's navy has now set its sights on the Indian Ocean. Beijing's stance that the South China Sea is China's sea, but the Indian Ocean cannot be treated as India's ocean, has drawn Delhi's ire and derision.
Historically, small states are the first to experience major geopolitical shifts. Usually "the bit players" on the periphery of rising powers play a disproportionate role in triggering major crises, which prove to be turning points during power transitions. Tiny Bhutan and the Maldives fit the bill.
Move over, India – here comes China
Until the ouster of President Nasheed in 2012, the Maldives was tied closely to India economically and militarily under its "India First policy." In 1988, when a group of mercenaries tried to seize power, India intervened militarily in support of then President Maumoon Abdul Gayoom, who ruled for three decades, and later aided the Maldives' transition to democracy.
However, over the last five years, Beijing has made significant inroads into the Maldivian economy and politics. The shift began with the abrupt termination of a contract to an Indian company to develop the Malé international airport in 2012 and its subsequent award to a Chinese company. Following Chinese President Xi Jinping's visit to the Maldives in 2014, the Yameen government amended the Constitution to allow foreign ownership of land, thereby paving the way for the island of Feydhoo Finolhu to be leased to China for 50 years. Since then, large Chinese investments in infrastructure, housing projects, and tourism have drawn the tourist paradise in the Indian Ocean into Beijing's tight embrace. Faced with the possibility of extinction due to rising sea levels, the Maldives also hopes to leverage Chinese technical prowess in land reclamation and in creating artificial islands via dredging.
Meanwhile, ties with Delhi plunged to an all-time low as the Yameen government adopted a "go-slow" policy on India-backed economic and defence projects. While India boycotted China's Belt and Road Forum held in May 2017, the Maldives enthusiastically supported the Belt and Road Initiative (BRI), which envisages linking China with Africa, Asia, and Europe through a network of ports, railways, roads, and industrial parks. Then came Yameen's decision to allow three Chinese ships to make "good will visits" in August 2017, which raised hackles in Delhi.
Media reports suggest a dual-use, Chinese marine observatory might be constructed on one of the islets not far off from the Indian coast. Furthermore, days before President Yameen's meeting with President Xi in Beijing in December, a hurriedly convened parliamentary session rammed through a 1,000-page free trade agreement with China in less than an hour, leading to sharp criticism from the opposition. At Beijing's behest, the Maldives recently turned down invitation to participate in India's premier multinational annual MILAN naval exercise, thereby signaling China's growing heft in India's front yard.
For small states, economic engagement with China has strategic consequences. Electoral politics provides Beijing with the opportunity to court and bribe politicians of fragile democracies along the Belt and Road to gain an advantageous position for itself over its competitors. In actual fact, China's investments in littorals are less about development and more about Beijing's desire to establish itself as a "resident power" in the Indian Ocean – much as the United States, Britain, and France have done. There is invariably a strategic element attached to enterprises that begin with commercial port construction or management and end with a naval presence and long-term ownership rights, as in Sri Lanka and Pakistan.
The secrecy surrounding the financing terms of various development projects arouses suspicions about a hidden political agenda. An International Monetary Fund report projects the Maldives' external debt will hit 51.2 percent of GDP in 2021, up from 34.7 percent in 2016. The Maldives also has a US$286 million trade deficit with China. Former President Nasheed claims that 80 percent of the Maldives' foreign debt (approximately US$1.5 to $2 billion) is owed to Beijing and that inability to repay the debt would "force the Maldives to cede territory to China as early as 2019." Alleging that "China has already taken over 16 islands," he claimed that "[w]ithout firing a single shot, China has grabbed more land than the East India Company at the height of the 19th century."
Beijing denies any ulterior motives. True or not, the pouring in of Chinese money has the fledgling democracy in tatters and its future mortgaged to the Middle Kingdom. Though Nasheed promises to review deals signed with Beijing if he is returned to power, he may find his hands are tied in the same way as Sri Lanka's President Sirisena did over the Hambantota and Colombo port projects.
Distant countries and regions have now become part of China's critical interests as Beijing invests heavily in those countries. Beijing is indeed on a base-buying spree. Nearly two-thirds of the world's 50 major ports are either owned by China or have received some Chinese investment. The People's Liberation Army (PLA) Navy is militarizing the first island chain, which stretches from the Japanese archipelago to parts of the Philippines and Malaysia and encompasses the South China Sea. And Beijing is busy expanding into the second island chain further into the Pacific Ocean. Projections are that within a decade, China will have the largest naval and submarine fleets in the world. Despite China's propensity to conceal its naval ambitions, and despite the rhetoric of mutually beneficial "win-win" relationships, the strategic approach dominates in the Indian Ocean.
Nearly two-thirds of the world's 50 major ports are either owned by China or have received some Chinese investment.
China's strategy of fusing its maritime expansion with regional economic development and multilateral integration is yielding rich dividends. Having acquired leasing rights to Pakistan's Gwadar port for 40 years, Greece's Piraeus port for 35 years, Djibouti port for 10 years, Sri Lanka's Hambantota port for 99 years, 20 percent of Cambodia's total coastline for 99 years, and the Maldivian island of Feydhoo Finolhu for 50 years, Beijing is now pressuring Myanmar to raise China's stake from 50 percent to 75 to 85 percent in the Kyaukpyu port on the Bay of Bengal, and to lease it for 99 years as well – at least if Myanmar does not want to pay a penalty for reneging on the $3 billion Myitsone energy dam deal.
A military base in Djibouti, along with major port development projects in Kenya, Pakistan, Sri Lanka, the Maldives, Bangladesh, Myanmar, Malaysia, and Cambodia define the contours of China's Maritime Silk Road (MSR) – an oceanic connectivity project that is part of the Belt and Road Initiative centered on the Indian Ocean. The assumption underlying this strategy is that China's rivals, finding themselves encircled or obstructed by countries aligned with Beijing, will be sufficiently deterred from threatening China's economic and security interests.
Not surprisingly, India is increasingly uneasy with China's maritime forays. The internal power struggle in the Maldives has provided yet another opportunity for the Chinese to entrench their naval presence among the islands strung along the south of India. As corrupt, weak regimes addicted to cheap Chinese loans keep falling into Beijing's strategic debt traps, Delhi's traditional influence is now under serious challenge.
China's MSR has prompted the Indian navy to unveil a three-pronged strategy: fortify its defences in the Indian Ocean by acquiring privileged access to bases in the Maldives, Mauritius, the Seychelles, Madagascar, Oman, and Iran; conduct joint naval exercises in the East and South China Seas; sign logistics exchange agreements with the United States, Singapore, and France to gain access to naval bases in the Indo-Pacific, and launch an ambitious naval expansion program. Furthermore, India has stepped up aid to littorals and has offered an alternative vision to China's MSR with "Project SAGAR" (Security and Growth for All in the Region) – a counter-move designed to revive India's ancient trade routes and cultural linkages around the Indian Ocean.
Mohan Malik is a professor in Asian security at the Asia-Pacific Center for Security Studies, Honolulu, and is the editor of Maritime Cooperation in the Indo-Pacific Region (Rowman & Littlefield, 2014) and author of China and India: Great Power Rivals (Lynne Rienner Publishers, 2011). The views expressed here are his own.