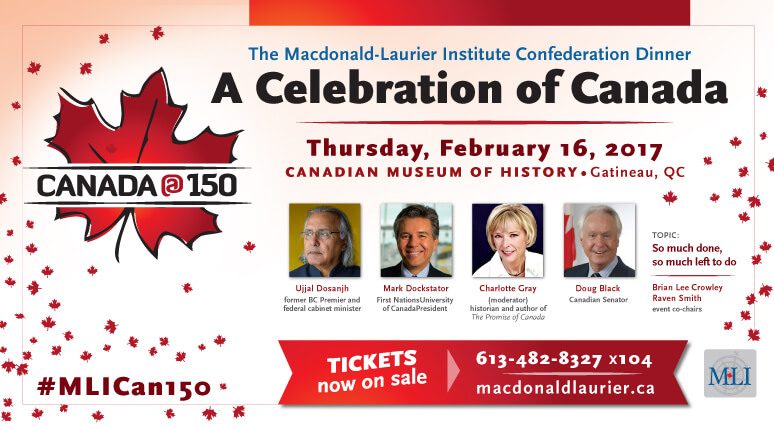 Panel discussion to feature distinguished Canadians discussing the topic "Canada at 150: So much done, so much left to do"
OTTAWA, Feb. 13, 2017 – The Macdonald-Laurier Institute will mark the 150th anniversary since Confederation with a star-studded event at the Canadian Museum of History in Gatineau, QC on Feb. 16, 2017.
The Confederation Dinner will feature a panel of distinguished Canadians who will help us all define the challenges and opportunities Canada faces.
This includes welcoming and accommodating new Canadians, achieving reconciliation with Indigenous peoples, building new relationships with the US and the rest of the world, or finding new economic opportunities for Canada at a time of great change and upheaval.
Our panel will be moderated by award-winning biographer and historian, Charlotte Gray, who has published most recently The Promise of Canada.
Panelists include:
Mark Dockstator, President of First Nations University, a powerful voice for an opportunity agenda as the basis for reconciliation with Indigenous people
Ujjal Dosanjh, who, born in a small village in Punjab, India, went on to became Premier of BC, a federal cabinet minister, and an outspoken opponent of Sikh extremism
Doug Black, an elected Senator from Alberta, Senior Counsel at Dentons Canada LLP, and former chair of the Board of Governors at the University of Alberta.
MLI's Confederation Dinner will be co-hosted by Raven Smith, entrepreneur and member of the Carcross-Tagish First Nation, and Brian Lee Crowley, Managing Director of the Macdonald-Laurier Institute.
The evening will include entertainment, food, mingling with Ottawa's leaders in business, media and politics, and an opportunity to pay tribute to our great country. Ralitsa Tcholakova will play the violin.
If you are interested in covering this event, please contact Mark Brownlee at 613-482-8327 x105 or email at mark.brownlee@macdonaldlaurier.ca.
***
The Macdonald-Laurier Institute is the only non-partisan, independent national public policy think tank in Ottawa focusing on the full range of issues that fall under the jurisdiction of the federal government.
For more information, please contact Mark Brownlee, communications manager, at 613-482-8327 x105 or email at mark.brownlee@macdonaldlaurier.ca.