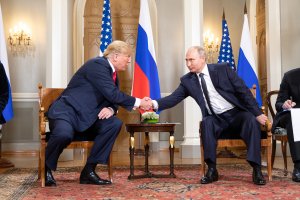 What Canada can take from the summit is this: we need to continue developing our global leadership, writes Marcus Kolga.
By Marcus Kolga, July 23, 2018
Western democracy and the transatlantic alliance face their greatest challenges since the end of the Cold War. Canada must be prepared for what comes next and to reinforce our existing relations with European and other like-minded nations as Donald Trump and Vladimir Putin work to subvert and undermine them. 
The surreal post-summit press conference confirmed that Putin is very close to achieving his goal of destabilizing the western alliance and deeply eroding US global leadership. During the press conference, Donald Trump only reinforced Putin's impunity when he explicitly chose to accept the Russian strongman's denial regarding the undisputed fact of Russian election meddling.
It was a stunning admission, which Trump tried to correct on Wednesday, yet left his own intelligence and law enforcement community unfairly maligned and discredited.
When pointedly asked, Trump even refused to hold Putin's Russia accountable for any of its actions. Rather than mentioning the shooting of MH17, the annexation of Crimea, the invasion of Ukraine, the support for Assad's bloody regime, to say nothing about Russia's global disinformation campaign and election meddling, Trump opted to place the blame for Russia's poor relations with the U.S. and the West. 
What has become very clear is that Donald Trump has no interest in maintaining or growing existing U.S. relations with its key allies, instead taking his direction and cues from Russia's kleptocratic dictator.
One only needs to look at Putin's offer to swap information regarding 12 Russian military intelligence agents indicted for hacking Democratic Party and Hillary Clinton's email and computers, for access to anyone connected with Putin critic (and global Magnitsky human rights sanctions campaigner) Bill Browder – something that the U.S. President later called "an incredible offer," all but demonstrating Trump's complete surrender to Putin. If allowed, Donald Trump would be directly facilitating the export of Russian repression and human rights abuse.
US reaction to the failure in Helsinki has been unanimous across party lines: the summit represented a historical low for the United States and the office of the President.
Trump's most ardent Republican supporters criticized his submissive approach to Putin in Helsinki, including former House Speaker, Newt Gingrich and current Speaker Paul Ryan who said, "the president must appreciate that Russia is not our ally. There is no moral equivalence between the United States and Russia, which remains hostile to our most basic values and ideals."
Former Bush-era U.S. Ambassador to Russia William J. Burns told CNN's Christiane Amanpour that the "press conference was the single most embarrassing performance by an American president on the world stage that I've ever seen." And former CIA director John Brennan was even blunter, calling the summit and Trump's press conference "nothing short of treasonous." 
When taken in the context of Trump's anti-Western comments at the G7 summit in Quebec and consistent anti-NATO remarks, Canadian leaders and their European partners must prepare for a world where a Kremlin-aligned US puts western interests and values at risk.
The summit in Helsinki has laid bare the intent behind Trump's recent statements that "NATO is as bad as NAFTA" and that the EU was 'set up to take advantage of the United States, to attack our piggy bank'.
Canada and NATO now must take very seriously Trump's stated willingness to abandon critical NATO military exercises in the Baltic Sea region if asked by Putin: a region that Putin seeks to control and at greatest risk of future Russian aggression. Such an outcome could very well have been discussed and agreed to by Trump and Putin during their private one-on-one. What else may have been agreed to is unknown.
What Canada can take from the summit is this: we need to continue developing our global leadership. Magnitsky sanctions, which were adopted unanimously by Canada's parliament, have exposed an extremely sore spot for Russia's human rights abusers. In addition to being at the centre of the Mueller probe, Putin brought up Magnitsky legislation on his own – a fact that clearly demonstrates their effectiveness. Canada must continue its expansion of this regime and help other allied nations adopt similar legislation to help contain the Putin and his cabal of kleptocrats.
If there is a silver lining to be found in the summit, it may be that the bond between allies in Canada and Europe are growing stronger because of Donald Trump and the decline of U.S. leadership that he is presiding over. While the dictators and autocrats in Moscow, Damascus, Minsk, Pyongyang, Tehran and beyond, rejoice in the retreat of US moral leadership, Canada and our allies have an opportunity to step in to defend the values of freedom, democracy and human rights that we all share.
Marcus Kolga is a specialist on Russian disinformation and foreign policy and is a documentary filmmaker, writer and digital communications strategist. He is a senior fellow at the Macdonald-Laurier Institute's Centre for Advancing Canada's Interests Abroad.