Former diplomat Robert Hage analyses risk and opportunity for the BC Coast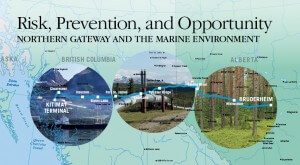 with Northern Gateway and other energy projects, and recommends Canadians learn from Alaska's example in working with indigenous communities
OTTAWA, March 13, 2015 – The builders of the Northern Gateway pipeline still have work to do in engaging with First Nations and other local communities to help manage the risks of oil spills, according to a new report from the Macdonald-Laurier Institute.
"Risk, Prevention and Opportunity: Northern Gateway and the Marine Environment" examines the next steps for the Northern Gateway project now that it has been approved by a federally-appointed Joint Review Panel, and 18 other proposed projects that have received less attention.
To read the full report, click here.
Author Robert Hage, a diplomat with the federal government for 38 years, says it's time for Canadians to focus on working together to ensure the project benefits all Canadians. That means looking to the example Alaska has set in working with Aboriginals to prevent environmental damage.
"Can the debate over Northern Gateway go beyond 'it ain't going to happen', to opening a door to new, co-operative, government-led initiatives that will realize the opportunities that West Coast energy offers?" Hage asks.
Hage's study demonstrates that while Gateway has been one of the nation's most carefully scrutinized projects, it has suffered from "conflicting narratives, paradoxes, misunderstandings and missed opportunities". He finds that the risk of a significant spill is low and that effective measures for spill response and compensation will be in place. He also notes that the project's terminus at Kitimat is already a lively industrial hub, rather than the pristine wilderness portrayed in some of the media. But more can be done.
In particular, Hage believes there's more that Northern Gateway and the federal and provincial governments can do to engage Aboriginal peoples in helping to minimize environmental risks, which will have the vital benefit of gaining First Nations support for development.
Hage cites two government reports that show there has not been a constructive dialogue with First Nations on energy projects and that there has been no shared understanding across Canada of the regimes in place to prevent oil spills.
"There is still an opportunity for the Government of Canada, BC, and Alberta to overcome the mistakes of the past and to build public awareness and engage in collaborative regional planning among themselves, First Nations, and local communities", he writes.
Canada would be well-advised to look to Alaska's example, he writes. The 1989 Exxon-Valdez oil spill in Alaska created several lessons from which to draw.
Hage makes four key recommendations:
Establish a true, independent citizens' advisory council with Aboriginal membership for the northern BC Coast using the Alaska experience as a model to promote the environmentally safe operation of oil and LNG terminals and the tankers that will use them.
Provide guarantees of Aboriginal employment along pipeline routes, at terminals, and in oil spill prevention and response, focusing on the establishment of Aboriginal enterprises drawing on First Nations' energy-related experience in Saskatchewan, Alberta, British Columbia, the North, and Alaska.
Work with the First Nations Financial Management Board and project backers to ensure First Nations are able to obtain equity interest in Northern Gateway and other projects including, if necessary, federal and provincial loan guarantees.
Review the costs and benefits of upgrading crude oil prior to overseas shipment.
"Alaska's 25 years of experience is instructive on the value of industry-funded regional citizen's advisory councils and the role of Aboriginal enterprises in supervision and protection", he writes. "Canada can learn from that experience".
Canada already has a lot of the fundamentals in place to prevent an oil spill.
Hage writes that some of the "heated debate and rhetoric" has obscured the fact that Northern Gateway has been through a rigorous approvals process.
The paper examines in detail the "extraordinary" consultation process that began in 2006 with the establishment of the Joint Review Panel and ended last year with its approval, subject to 209 conditions.
The panel heard from 1,450 participants in 21 different communities, reviewed over 175,000 pages of evidence and received 9,000 letters of comment.
"Many Canadians do not understand the spill prevention and response measures already in place and so underestimate Canada's ability to address oil spill risks", writes Hage.
***
Robert Hage was a Canadian diplomat with the Department of Foreign Affairs and International Trade for 38 years and served as Canada's Ambassador to Hungary and Slovenia, as Director General for Europe and Director General for Legal Affairs.
In Ottawa, Mr. Hage was also the Director of four divisions including International Financial and Investment Affairs and relations with the European Union. He was Principal Counsel for the Canada-USA Free Trade Agreement, Counsel on the Environmental Side Agreement to NAFTA and was a representative for Canada at the United Nations Conference on the Law of the Sea.
He is a Senior Fellow with the Graduate School of Public and International Affairs at the University of Ottawa.
The Macdonald-Laurier Institute is the only non-partisan, independent national public policy think tank in Ottawa focusing on the full range of issues that fall under the jurisdiction of the federal government. Join us in 2015 as we celebrate our 5th anniversary.
For more information, please contact Mark Brownlee, communications manager, at 613-482-8327 x105 or email at mark.brownlee@macdonaldlaurier.ca.