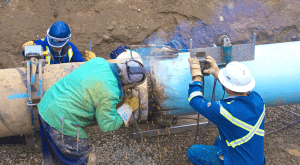 We could pursue policies that impact a critical U.S. export to Canada: digital services writes Jack Mintz in the Financial Post. Below is an excerpt from the article which can be read in full here. 
By Jack Mintz, January 20, 2021 
Well, that was fast. On day one, the new U.S. president, Joe Biden, is reportedly willing to gut-punch his northern neighbour by cancelling a presidential permit for the construction of Keystone XL.
It is an insult. Full stop. Mineral fuels are Canada's largest export to the U.S. — at over US$89 billion in 2019 — two-thirds more important than auto vehicles and parts. Almost 3,000 direct jobs and another 14,000 indirect jobs will be lost in Canada with the cancellation of Keystone XL. Because of reduced pipeline capacity, Canadian heavy oil will often sell at a discount, resulting in billions of dollars in lost GDP and federal and provincial tax revenues.
It will be a no-win decision for the United States, as well, if Biden goes ahead. The discrimination against Canadian oilsands production will lead to a loss of 42,000 direct and indirect jobs even as the pandemic recession rages on. When no longer piped, oil will travel by rail, which is less safe and environmentally more harmful. For every barrel of imported Canadian oil lost, the U.S. will import more heavy oil from other countries.
Who are the competing oil suppliers to the United States? In 2019, they included Mexico (US$12.3 billion), Saudi Arabia (US$11.5 billion), Iraq (US$7 billion) and Colombia (US$6.5 billion). These producers, as well as others, including Russia (US$3.5 billion) and Venezuela (US$1.4 billion), will be important beneficiaries from President Biden's decision to cancel Keystone XL.So why did he decide to discriminate against Canadian oil? The official reason is to combat climate change. But the latest oilsand technologies have reduced GHG emission intensity by over 30 per cent, so that new Canadian oil has the same GHG emission per barrel as other oil consumed in the U.S.