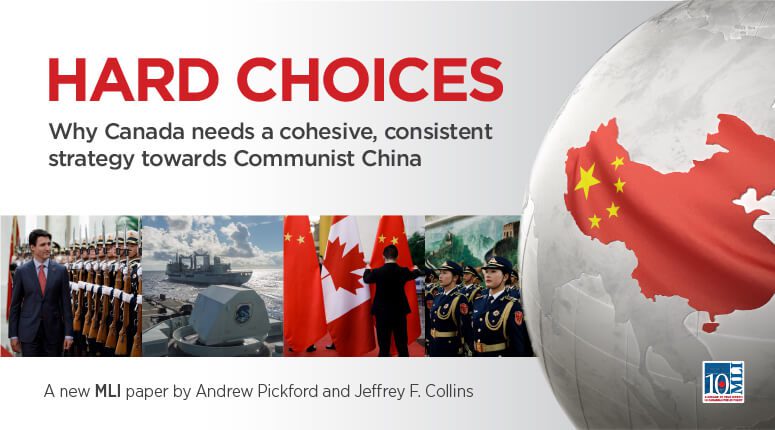 OTTAWA, ON (October 15, 2020): This week marks the 50th anniversary of the establishment of diplomatic relations between Canada and the People's Republic of China (PRC). Ottawa has finally indicated a desire to rethink its approach to Canada-China relations. But what should this new strategy look like?
In MLI's latest paper, titled "Hard Choices: Why Canada needs a cohesive, consistent strategy towards Communist China," authors Andrew Pickford and Jeffrey F. Collins detail how Canada needs to rethink its relationship with the PRC, especially in light of China's "mounting coercive and destabilizing activities" toward Canada's national security, sovereignty, and the rules-based international order.
In China's stated plans to "create a new global power structure by 2049," Canada is seen as a soft target for Beijing's ambitions in North America. It is therefore imperative for Canada to develop a strategy which takes seriously the threats posed by the PRC. Canada can no longer adopt foreign policies that are agnostic to the PRC, particularly given how the Chinese regime's political, social and economic institutions are so incompatible with our own.
As MLI Senior Fellow Charles Burton wrote in the foreword to this report, "Canada needs to form a coherent policy and legislative response to this threat to Canada's sovereignty, security and our rights and freedoms. The China challenge is here before us; we have little time for further dithering and delay."
To that end, Pickford and Collins suggest that Australia in particular offers a useful model for Canada, given that it has already gone through a similar policy shift.
They explain that, despite greater economic interdependence and similarly long-held soft opinions on China, "Australia has put in place institutional and legal measures to shore up the country's sovereignty and national security." This includes laws against foreign interference, greater control over foreign investment into critical infrastructure, banning Huawei from 5G, and more.
"Canada can use Australia's actions as a framework for this country to reconsider its relations with the PRC," explain Pickford and Collins. "Australia's firm stance has shown Beijing that it cannot paralyze foreign policy-making in Canberra like it can in Ottawa."
Canada's indecision in responding to Beijing's aggression has left us vulnerable, but there are a number of actions that policy-makers can take to reverse this trend, including:
Develop a bipartisan consensus on strategy toward China;
Ban Huawei from our 5G network;
Deepen trade ties with Taiwan;
Coordinate a multilateral approach to combatting China's economic coercion;
Improve our defence capabilities in the Indo-Pacific and work more closely with the Quad (an informal defence arrangement made up of the United States, India, Australia, and Japan);
Review and update foreign investment rules, and more.
"Canada's relationship with the PRC is at a crucial juncture," write Pickford and Collins. "The actions that Canada's decision-makers take now will determine the nation's economic and strategic future for decades. The events of the past several years highlight the importance of Canada having a cohesive, consistent PRC strategy."
To learn more about how Canada should counter China's aggression, read the full report here.
***
Andrew Pickford works between North America and Australia in the areas of strategy, economic analysis, and energy with a range of organizations, both private and public. Jeffrey F. Collins is a fellow at the Canadian Global Affairs Institute, as well as a research fellow with the Centre for the Study of Security and Development at Dalhousie University, and the University of Manitoba's Centre for Defence and Security Studies.
For more information, media are invited to contact:
Brett Byers
Communications and Digital Media Manager
613-482-8327 x105
brett.byers@macdonaldlaurier.ca