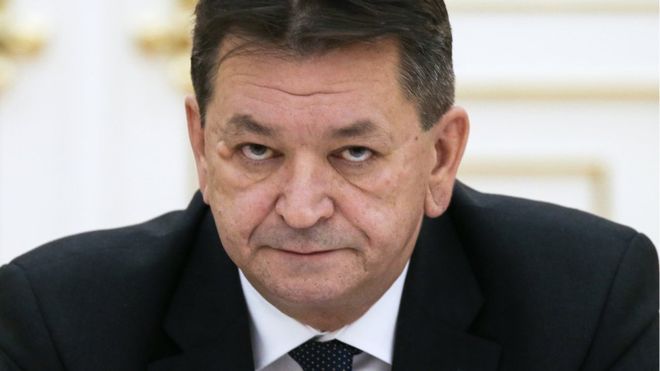 The Canadian government and all lawmakers must be alert to the serious threat that the Kremlin's takeover of Interpol poses to international human rights, writes Marcus Kolga.
By Marcus Kolga, November 20, 2018
On Wednesday, Interpol will be electing a new president to head the international criminal policing agency and a member of the Putin regime is currently the lead candidate. Should Interpol confirm the Kremlin's candidate, the move would be akin to letting a ravenous fox out in the international human rights hen house.
While Interpol's charter forbids it from engaging in political activity, this hasn't stopped the Kremlin and other repressive regimes, from trying to subvert Interpol's mandate to help them achieve their political objectives.
Among the tools available to Interpol member states, are the Red Notice and Diffusion notices, which are formal requests, made by one member state to all other Interpol members, to arrest and extradite an individual. These are important tools when used by law abiding nations but have terrifying potential when abused by regimes that engage in political repression — such as Russia, China, Venezuela and others.
The number of Red Notices and Diffusions have exploded over the past decade, doubling since 2016. Activists believe that many of them are frivolous or politically motivated according to Fair Trial, a U.K.-based rights group.
The leading candidate to become head of Interpol is a Russian, former Major-General Aleksandr Prokopchuk. The previous president, Meng Hongwei, was kidnapped by his own government when visiting China in the September and a letter of resignation from Interpol was delivered the next month.
Should a Russian intelligence officer succeed in becoming the next head of Interpol, the threat of it becoming an international tool of Kremlin repression is very real. The Kremlin has a long history of attempting to use Interpol as a tool of global repression.
Among them, is investor and global human rights activist, Bill Browder, who has been aggressively pursued by Kremlin authorities since 2008. Vladimir Putin tried him in absentia in 2017 on politically motivate charges aimed at silencing the global Magnitsky human rights campaign he leads.
A leading source of foreign investment to Russian in the early 2000's, Browder's company, Hermitage Capital, was the target of a $230 million tax fraud, committed by organized criminals working with Kremlin officials. In 2008, Hermitage lawyer, Sergei Magnitsky was detained, after he reported the theft by Russian officials. He died in prison a year later from systematic negligence and being viciously beaten by prison officials. Since his death Browder has embarked on a campaign to bring his killers to justice by promoting international sanctions legislation targeting global human rights abusers with visa bans and asset freezes in the West, including Canada.
Browder's human rights campaign has become a major threat to the oligarchs who keep Vladimir Putin in power and the Russian president himself. It became a central theme of the Putin-Trump summit in Helsinki this summer, and is at the core of the Mueller Russia probe. It has also put Bill Browder in the Kremlin's crosshairs, along with other prominent Russian pro-democracy and human rights activists, including those in Canada.
The Kremlin's toolbox of political repression has expanded over the past decade, to include legislation that crudely restricts various forms of freedom of speech and allows the Kremlin to prosecute violators both in Russian and abroad.
Among the most severe is the Russian "gay propaganda" law. The draconian anti-LGBTQ law makes advocacy for gay rights or any public support for gay issues, a crime. The law also applies to foreigners who promote gay rights in Russia.
Most worrying, is that the Kremlin has prosecuted and convicted many individuals in absentia. An Interpol led by the Kremlin, would allow Putin to apply Interpol Diffusion and Red Notices on its critics and those of its allies, without any hesitation.
Canadians have also been targeted with Kremlin repression. In March 2016, the Kremlin lawyer at the centre of the current Mueller probe, Nataliya Veselnitskaya, brought Russian government attention to a memorial event I organized for assassinated Russian opposition leader and my friend, Boris Nemtsov, at the University of Toronto. The event included a panel discussion with Bill Browder, opposition leader, Vladimir Kara-Murza and Boris Nemtsov's daughter Zhanna. Within days, a formal request into the event and my involvement by the Office of the Prosecutor General, Yuri Chaika, was made by a Russian Duma member, Georgy Federov.
There is no reason to believe the Kremlin would not expand its abuse of the Red Notice system to silence international critics once its candidate takes control of the organization, including those in Canada and in the nations of our allies.
The Canadian government and all lawmakers must be alert to the serious threat that the Kremlin's takeover of Interpol poses to international human rights. Canada can join calls by other nations, including Ukraine, to suspend Russia from the organization and actively seek a new international alternative to form a new international law enforcement body among law abiding nations.
Marcus Kolga is a specialist on Russian disinformation and foreign policy. He is a senior fellow at the Macdonald-Laurier Institute's Centre for Advancing Canada's Interests Abroad.